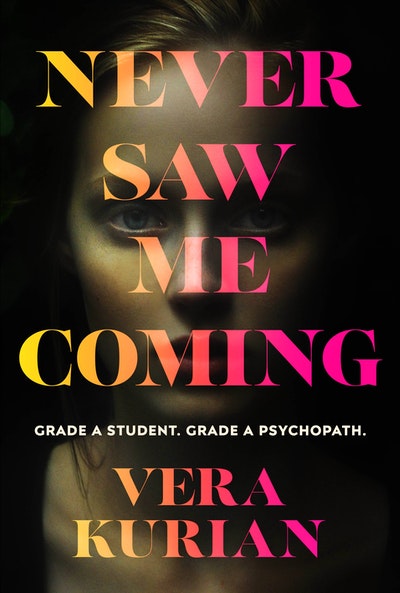 Published:

14 September 2021

ISBN:

9781787302877

Imprint:

Harvill Secker

Format:

Trade Paperback

Pages:

400

RRP:

$37.00
Never Saw Me Coming
Grade A student. Grade A psychopath.
---
---
---
Chloe looks like an ordinary university student, but she's actually a highly intelligent psychopath on a revenge mission. When two students are found dead, she discovers there are more like her on campus and a gripping competition to find the killer begins.
'Gripping! With a college campus setting, charming psychopaths, and a bitingly clever voice, Never Saw Me Coming is a dazzling debut from a bold new talent.' Tess Gerritsen
Meet Chloe. First-year student, ordinary, legging-wearing, girl next door...and highly intelligent diagnosed psychopath. Her hobbies include yogalates, parties, and plotting to kill Will Bachman.
Chloe is part of a secret clinical study of young psychopaths run by the university's Psychology Department. Most psychopaths aren't criminals, but when a string of murders on campus causes upheaval, Chloe's private vendetta is sidelined. Partnered with fellow study participants she can't trust - and distracted by typical university life - Chloe has to walk the line between hunter and prey.
Never Saw Me coming is a sharp, electrifying and hugely entertaining thriller with an antiheroine who will work her manipulative magic on you.
'Fresh, fast-paced and fiendishly clever! If you love watching true crime and wonder about the psychopaths among us, this is the book for you! Never Saw Me Coming will have you never sleeping again.' Lisa Gardner
'Welcome to your new problematic fave. I fell in love with self-confessed psychopath Chloe on page one, and even as she plotted murder, found myself cheering her on.' Erin Kelly, author of He Said/She Said

Published:

14 September 2021

ISBN:

9781787302877

Imprint:

Harvill Secker

Format:

Trade Paperback

Pages:

400

RRP:

$37.00
Praise for Never Saw Me Coming
A powerful puzzle of a murder mystery, as impossible to solve as it is to put down. What starts as a delicious thriller becomes a fascinating investigation of amorality, vengeance, and redemption. A powder keg of a debut.

Robin Wasserman, author of Girls on Fire
Stick a bunch of devious psychopaths together and what could possibly go wrong? (...) a completely original, clever whodunit from a talented new arrival to the world of psychological suspense.

Mary Kubica, New York Times bestselling author of The Other Mrs.
Gripping! With a college campus setting, charming psychopaths, and a bitingly clever voice, Never Saw Me Coming is a dazzling debut from a bold new talent.

Tess Gerritsen, bestselling author of the Rizzoli and Isles thrillers
Fresh, fast-paced and fiendishly clever! If you love watching true crime and wonder about the psychopaths among us, this is the book for you! Never Saw Me Coming will have you never sleeping again.

Lisa Gardner, Sunday Times bestselling author of Before She Disappeared
Witty, acerbic and utterly compulsive, Never Saw Me Coming is a razor-sharp thriller with an irresistibly wicked central character. I couldn't tell if I was scared of, amused by, or attracted to Chloe Sevre. One thing's for sure: I will never forget her.

Kia Abdullah, author of Next of Kin
Welcome to your new problematic fave. I fell in love with self-confessed psychopath Chloe on page one, and even as she plotted murder, found myself cheering her on.

Erin Kelly, author of bestseller He Said/She Said
A razor-sharp, brilliantly plotted and utterly gripping page-turner. I couldn't put Never Saw Me Coming down. Takes us to the darkest of places, with a lightness of touch and a keen intelligence: Vera Kurian's debut deserves to be a huge hit.

Sanjida Kay, author of One Year Later
Whip smart, very sharp, thrillingly sassy. What a refreshing take on the psychopath. And how much did I enjoy learning about the evolution of such a personality disorder from grassroots level... A brilliant read; unusual, clever and one-of-a-kind. Just like Chloe.

J. M. Hewitt, author of The Night Caller
Kurian expertly threads revenge and cat-and-mouse story arcs with Chloe's frank, show-stealing narration...Kurian's highly anticipated thriller will undoubtedly lead fans of Gone Girl, Dexter and Patricia Highsmith's Tom Ripley novels to hope for Chloe's return.

Booklist, starred review
Utterly gripping

Sunday Telegraph
Truly original. Vera's main characters are believable and likeable, despite their nature. A very intriguing read.

Joy Kluver, author of Broken Girls
Sharp, original and extremely entertaining. The portrayal of psychopathy is nuanced and sensitive - something you don't see enough of in thriller fiction.

Nancy Tucker, author of The First Day of Spring
The brilliantly original concept makes this an addictive read.

Prima
A compulsive read...unreliable narrators and plot twists aplenty...goes beyond the tropes of psychopathy, showing the reality of living a normal, average life too. Dark, complex and gripping

The Skinny
An audacious, break-the-mould thriller from a new voice

Sarra Manning, Red
An up-and-coming voice in fiction...a game of cat and mouse

Tatler
An entertaining campus novel...the interplay between the characters is fascinating and there's lots of fun, both in the writing itself and in what it describes.

Literary Review
Excellent pacing, sprightly narrative voices, and judicious dabs of wry humor make this a highly entertaining tale. Kurian's refreshingly different slant on psychopathy marks her as a writer to watch

Publishers Weekly
Fun, entertaining, and hard to put down, a twisty whodunit with a satisfying conclusion

New York Journal of Books
Readers won't want to put down this fast and engaging debut novel, and they'll root for the characters who've been cast as villains

Library Journal
A very impressive debut

Daily Mirror
I devoured this riveting book through a day of travel - in a taxi, on the plane, in the next taxi - and into the night. My desire to rush to the end clashed with my desire to savor every word. Who would be the last psychopath standing?

New York Times
What a hook! I loved this bold, fast-paced, entertaining thriller. Deliciously wicked and utterly addictive.

Alice Hunter, author of The Serial Killer's Wife
Kurian dazzles with a unique protagonist and tight plotting. This one will keep you awake at night and force you to question how well you know the people in your life. Not to be missed!

Christina Dalcher, author of Vox
Very twisty. Very clever.

R. L. Stine
A sharp debut, and ant-heroine Chloe is darkly entertaining throughout.

Irish Independent
Electrifying and entirely unpredictable.

Woman's Own
A real treat of a book. I rooted for the nightmarish Chloe from the off, and couldn't stop turning the pages. Gripping, compelling and very satisfying

C.J. Cooper, author of THE BOOK CLUB and LIE TO ME
Delivered with panache and wit

New York Times Book Review
This book was like a refreshing can of something fizzy - the interactions between the program members are a joy, and the plot full of sharp turns and surprises. I quickly became quite fond of this disparate gang of plotting, scheming young monsters. Can't remember reading something I enjoyed so much in ages. Highly recommended.

Helen Callaghan, Sunday Times bestselling author of Dear Amy
Impossible to put down

Louise O'Neill
This book was like a refreshing can of something fizzy - the interactions between the program members are a joy, and the plot full of sharp turns and surprises. I quickly became quite fond of this disparate gang of plotting, scheming young monsters. Can't remember reading something I enjoyed so much in ages. Highly recommended.

Helen Callaghan, author of the Sunday Times bestseller Dear Amy