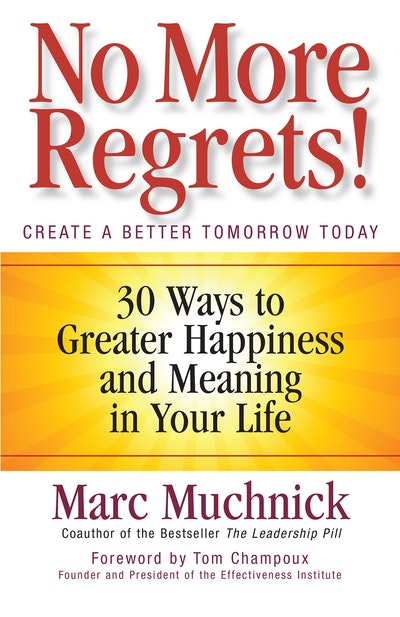 Published:

1 January 2018

ISBN:

9781605098869

Imprint:

Berrett-Koehler

Format:

Trade Paperback

Pages:

168

RRP:

$30.00
No More Regrets!
---
---
We all want to live a life without regrets. Whenever we do something we wish we hadn't—or don't do something we wish we had—we vow it won't happen again. But why do we have regrets in the first place? Because we become prisoners of habit and circumstance, we take people in our lives for granted and fail to be true to ourselves. We stop growing and learning, become self-absorbed and judgmental, and lose touch with our innate goodness. Inspired by his final conversation with a dying friend, Marc Muchnick's No More Regrets! is specifically designed to help you avoid these pitfalls.
Just one or two of the thirty ways to greater happiness and meaning outlined here could potentially change your life. Muchnick's suggestions are straightforward, thoughtful, and easy to implement—often just a matter of shifting perspective and seeing the world differently. He illustrates each with a moving personal story and includes a "No More Regrets! Game Plan" tool to help you banish regret from your life forever.
Published:

1 January 2018

ISBN:

9781605098869

Imprint:

Berrett-Koehler

Format:

Trade Paperback

Pages:

168

RRP:

$30.00
Praise for No More Regrets!
"Required reading for anyone who is seeking a life rich in happiness. When you start living your life without regrets, life is good!" —Marshall Goldsmith, author of What Got You Here Won't Get You There and Mojo "There is great power in Marc's message." —Marci Shimoff, author of Happy for No Reason and coauthor of Chicken Soup for the Woman's Soul "Read No More Regrets! and you won't have any more! A great way to live the happier life you always wanted." —Ken Blanchard, coauthor of The One Minute Manager "Frankly, I doubt there is one person who would not benefit from reading Marc's thirty down-to-earth and common-sense-loaded suggestions." —Colleen Barrett, President Emeritus, Southwest Airlines "This book is the key to unlock a life without regrets that is filled with joy, happiness and prosperity. Read it, use it, and share it." —Harry Paul, coauthor of Fish! "We're all searching for greater happiness, and Marc's heartfelt book provides wonderful tools to help us find it." —Barbara Sher, bestselling author of Wishcraft and I Could Do Anything If I Only Knew What It Was "You don't want your last words to be 'I wish I could live my life over.' This book will inspire you, challenge you, and show you how to do it right the first time." —John Izzo, author of The Five Secrets You Must Discover Before You Die "Marc has done it again. His inspiring words of wisdom will remind you of what is important in your life and help you make decisions so that you too will have no more regrets." —Vicki Halsey, author of Brilliance by Design and coauthor of The Hamster Revolution and The Hamster Revolution for Meetings "No More Regrets! is your playbook for living life to its fullest! Everyone benefits from a good coach, and Marc entertainingly leads you through life's most important lessons." —Chris Marlowe, 1984 Olympic Gold Medalist and play-by-play announcer for the Denver Nuggets "Inspirational, easy to read, and practical. If we don't learn from our past, we are doomed to repeat out mistakes. No More Regrets! shows us how to learn and move on so we are free to experience the full and enriched life we desire." —Jesse Stoner, coauthor of Full Steam Ahead!