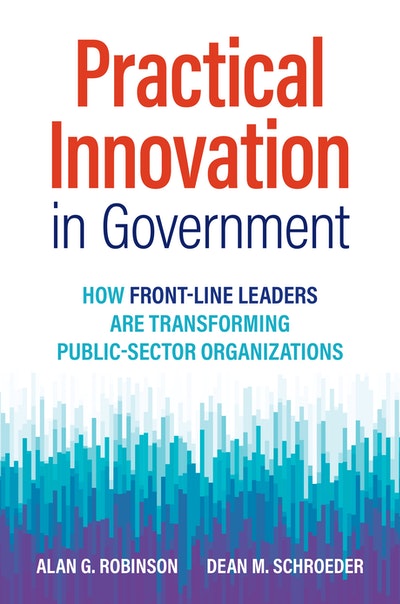 Published:

30 August 2022

ISBN:

9781523001781

Imprint:

Berrett-Koehler

Format:

Hardback

Pages:

240

RRP:

$60.00
Practical Innovation in Government
How Front-Line Leaders Are Transforming Public-Sector Organizations
---
---
This book is a comprehensive guide to an exciting new approach that managers at any level can use to transform their corners of government.
Whether people want more government or less, everyone wants an efficient government. Traditional thinking is that this requires a government to be run more like a business. But a government is not a business, and this approach merely replaces old problems with new ones.
In their six-year, five-country study of seventy-seven government organizations—ranging from small departments to entire states—Alan Robinson and Dean Schroeder found that the predominant private-sector approaches to improvement don't work well in the public sector, while practices that are rare in the private sector prove highly effective. The highest performers they studied had attained levels of efficiency that rivaled the best private-sector companies.
Rather than management making the improvements, as is the norm in the private sector, these high-performers focused on front-line-driven improvement, where most of the change activity was led by supervisors and low-level managers who unleashed the creativity and ideas of their employees to improve their operations bit by bit every day.
You'll discover how Denver's Department of Excise and Licenses reduced wait times from an hour and forty minutes to just seven minutes; how the Washington State Patrol garage tripled its productivity and became a national benchmark; how a K–8 school in New Brunswick, Canada, boosted the percentage of students reading at the appropriate age level from 22 percent to 78 percent; and much more.
Published:

30 August 2022

ISBN:

9781523001781

Imprint:

Berrett-Koehler

Format:

Hardback

Pages:

240

RRP:

$60.00