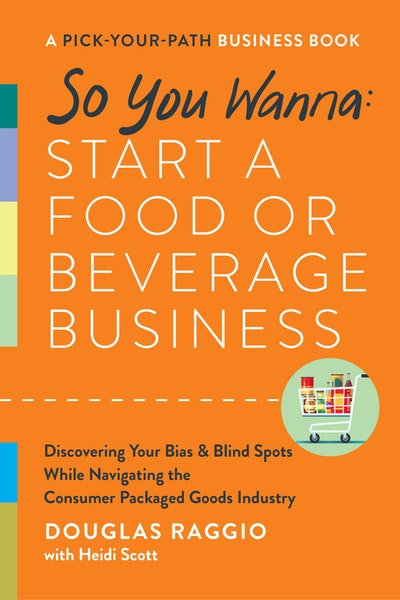 Published:

16 March 2022

ISBN:

9781953295668

Imprint:

BenBella Books

Format:

Hardback

Pages:

240

RRP:

$48.00
So You Wanna
Start a Food or Beverage Business
---
---
A choose-your-own-path guide to launching and sustaining a successful food or beverage business
The specialty food and beverage business is a thriving industry, and the barriers to entry are low: all you need is a recipe and a kitchen. It sounds simple, but launching a food or beverage company is a maze of choices and consequences. (Will you taste test your product with friends and family for free, or commission a costly market feasibility study? Will you enter a large and popular category, or offer something totally new? Will you cook in your home, rent space in a shared kitchen, or build your own facility?)
Douglas Raggio has been there: both as a food founder and as a consultant to other successful startups, and he's come to learn that every choice a food founder makes has a fairly predictable outcome. In So You Wanna: Start a Food or Beverage Business, he'll help you think through the many decisions you'll make along the road from an idea to a successful company—whether you see yourself building a following at your farmer's market, partnering with a local restaurant, or launching the next Pepsi.
But this is not a traditional how-to book, instructional manual, or personal story of entrepreneurial success. Don't even expect to read it straight through from beginning to end! Raggio's book follows four archetypal food startups that cover a range of business ideas and founders. Every few pages, you must make crucial decisions about the next step to take in growing the business, and flip to another section that will help you understand how that choice is likely to play out.
In these pages, you'll learn the ins and outs of:
• Coming up with an exciting, profitable new product
• Funding your startup
• Conducting market research
• Pricing and producing to scale
• Partnerships, promotions, and branding
• Deciding when to keep going--and when to fold

So You Wanna: Start a Food or Beverage Business will help you to navigate the pathways that lead to success, and avoid the roads that lead to frustration (or worse). By understanding the perils and pleasures of this fast-growing industry you will be able to approach your own business with confidence, make the decisions that feel right to you . . . and learn to have a lot of fun along the way!
Published:

16 March 2022

ISBN:

9781953295668

Imprint:

BenBella Books

Format:

Hardback

Pages:

240

RRP:

$48.00