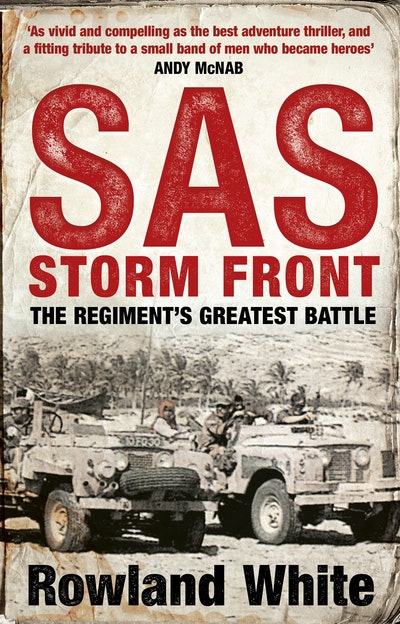 Published:

30 October 2011

ISBN:

9781446487921

Imprint:

Transworld Digital

Format:

EBook

Pages:

544
Storm Front
---
---
---
The thrilling new military history title from the bestselling author of Vulcan 607 and Phoenix Squadron
In early 1970, the Commanding Officer of 22 SAS flew into the strategically critical Sultanate of Oman on a covert intelligence mission. A Communist rebellion in the South threatened not only the stability of the Arabian Peninsula but more importantly the vital oil routes through the Persian Gulf. Within six months, the Regiment arrived in theatre to lead a fierce, secret war against the rebels.
While from a remote RAF airbase in the desert, an elite band of British pilots, flying difficult, dangerous missions in Strikemaster jets and Vietnam-era Huey helicopters, were scrambled alongside them.
For the British soldiers and airmen, it was to be no easy victory. The enemy were well supplied with weaponry and training from China and the Soviet Union, and despite confronting the largest assault force ever deployed by the SAS, many months later the rebels were still fighting back.
And at dawn on July 19th, 1972, a force of nearly 300 heavily armed, well-trained guerillas attacked the little fishing port of Mirbat without warning.Between them and glory stood a team of just nine SAS men.And the skill of the British fighter pilots.The scene was set for an epic encounter; a modern day Rorke's Drift.Their heroism would become SAS legend.
Drawing on extensive interviews with participants from the SAS, the RAF and the Sultan's Armed Forces, most of whom have never spoken about their involvement before, as well as previously classified documents from both the UK and Oman, STORM FRONT weaves an unputdownable tale of intrigue, action, daring and astonishing bravery in the face of overwhelming odds.
Published:

30 October 2011

ISBN:

9781446487921

Imprint:

Transworld Digital

Format:

EBook

Pages:

544
Catapulting us from the cockpits of heavily armed, low-level attack jets to the beating heart of elite Special Forces soldiers under siege, Storm Front tells this epic story as only the author of Vulcan 607 can. It's as vivid and compelling as the best adventure thriller, and a fitting tribute to a small band of men who became heroes

Andy McNab
Gripping, revealing and extraordinarily well-researched, Storm Front is a riveting new account of a little known, but crucial war. Combining page-turning military action in the air and on the ground with a clear-sighted understanding of the big picture it brings to life the campaign in Oman more vividly than any other book I've read

Sir Ranulph Fiennes
The best account I've ever read of this legendary battle. Takes you right to the heart of the action

Sgt Dan Mills, author of "Sniper One"
This is a rare insight into the battle that defined the modern SAS. Storm Front is the best book you will read this year

Tim Collins
I loved Storm Front. A period of history - and more particularly a single shining moment - that has been obscured by myth and legend. Here is the truth of it all at last in all its spine-tingling, spine-straightening glory

Neil Oliver
Exceptionally, writers appear, like Antony Beevor in Stalingrad and his other books, who manage to convey the picture of a campaign as a whole with the real drama experienced by the individual soldiers. Rowland White is such an author who combines the ability of a thriller writer with the historian's well researched accuracy

The Centurion
This gripping, page-turner of a book switches from action on the ground to that in the air more vividly than any I have read. It comes highly recommended

Aeroplane Magazine
A gripping account of the events leading up to the battle, the fighting, and the aftermath

Britain At War