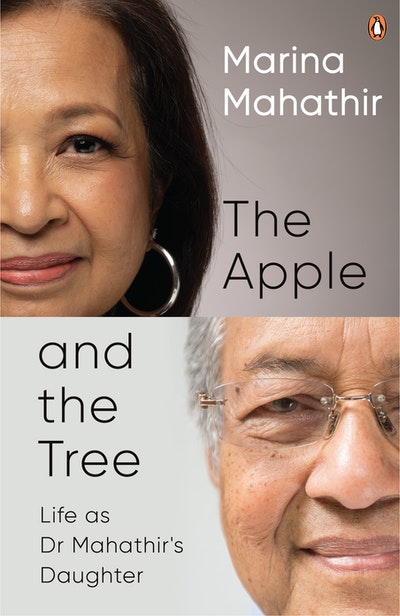 Published:

14 December 2021

ISBN:

9789815017175

Imprint:

PRH SEA

Format:

Hardback

RRP:

$48.00
The Apple and the Tree
Life as Dr Mahathir's Daughter
---
---
This is Marina Mahathir's story, from her perspective and no one else's. It is, she hopes, the answer to the question: What is it like to be Dr M's daughter?
When an apple falls, does it roll far or stay close to its tree?
Is it an exact clone of all the other apples the tree produces or something entirely different?
This is the question that has perplexed the public about Marina for the simple reason that she is the daughter of the man who has governed Malaysia for almost twenty-four years. Does she echo him in his view of the world, or does she chart her own path?
Why is it that in her own public life, in her writing and speeches, she expresses opinions that seem to contradict his?
This book hopes to detail how she has navigated her life as the daughter of a charismatic politician and a loving father, even as sometimes she has chafed at being constantly under his shadow. It talks about how she has struggled to find her own identity, to defend her worldview at times and to reconcile them with his at others.
She tells the story of growing up as the daughter of Malaysia's most influential leader, from the values instilled in her as a child, right up to the day he was forced to step down as the 7th Prime Minister after leading the historic ouster of the government he used to lead.
Published:

14 December 2021

ISBN:

9789815017175

Imprint:

PRH SEA

Format:

Hardback

RRP:

$48.00
Praise for The Apple and the Tree
Marina Mahathir is among the very few children of political leaders who has carved out a distinguished career for themselves, balancing her own commitments to human rights with maintaining close ties to her family. The Apple and the Tree is a remarkable account of her life, complete with extraordinary insights into the complex politics of Malaysia and the global struggles against HIV in which she has been a central voice. Reading it made me proud to be her friend

Prof Dennis Altman, former President, AIDS Society of Asia & the Pacific
Marina is no ordinary daughter of a no ordinary Prime Minister. By her father's admission she's "argumentative, stubborn and opinionated." This book is not just about being the daughter of Tun Dr Mahathir Mohamad but more so about the special bond that defines the father-daughter relationship. She was not just a chronicler of events big and small, tumultuous or otherwise during her father's involvement in politics but a keen but critical observer of the history of the nation. Her lucid style and eloquence coupled with her uncompromising positions on issues make this book fabulously readable. A true gem indeed.

Tan Sri Johan Jaaffar. Senior journalist and former Chairman of Media Prima Berhad.
'The Apple and the Tree is a riveting autobiography of a woman, writer and activist, a mother and a daughter to the most important political figure in modern Malaysia. Marina takes us deep into the heart of some of the most important and contentious issues in recent history, sharing her principles and motivation for advocating for women, people with HIB and the importance of the creative arts. At once a gripping insider's account of the most dramatic years in Malaysia's recent history, it is also a story of becoming. Marina is an inspiration to us all.'

Jean MacNeil, author, Professor of Creative Writing, University of East Anglia
"For the first time, Marina Mahathir shares in full her formative experiences as the daughter of Dr. Mahathir — physician, politician, prime minister, and one of the great figures of the twentieth and twenty-first centuries. Born on the eve of Independence, she traces a nation's journey from Malaya to Malaysia with her parallel emergence into a formidable social activist and holds to account our conscience and actions in a rapidly changing and often troubled world. In this book, she reveals the ideas and imagination — many of them born in her own home — behind major events and provides an honest examination of the first Mahathir era, his return to power thirty-seven years after becoming Malaysia's leader, as well as her foray into frontline politics in the historic 2018 election. The Apple and the Tree is an excellent account of an exceptional life in extraordinary times."

James Chau International Broadcaster and Host of The China Current
Marina Mahathir's book is a glimpse into history, both an intimate glimpse into the world of family and a thoughtful exploration of her beloved country, Malaysia, and its extraordinary political turns. A valuable and poignant record.

Fatima Bhutto, Author
Marina Mahathir writes a charmingly low-key presentation of her life story — and what we read is an important historical document. In the annals of autobiography, this book is not the only first-person recount of living with a famous father. But Mahathir Mohamad is not just a famous father; he is a Malaysian icon, a controversial hero in the normally boring parliamentary politics, a leader who brought major changes in the country's history (the latest when he was in his 90s!). And Marina is not only a daughter — his daughter. A columnist and a TV producer, she is an adept chronicler. She says she has an "impostor syndrome", a lingering sense of insecurity under the shadow of a political superstar, but this book betrays a genuine gift of percipience. It is a testimony that goes beyond the personal.

Goenawan Mohamad, Poet, essayist, founder of Indonesia's Tempo Magazine.