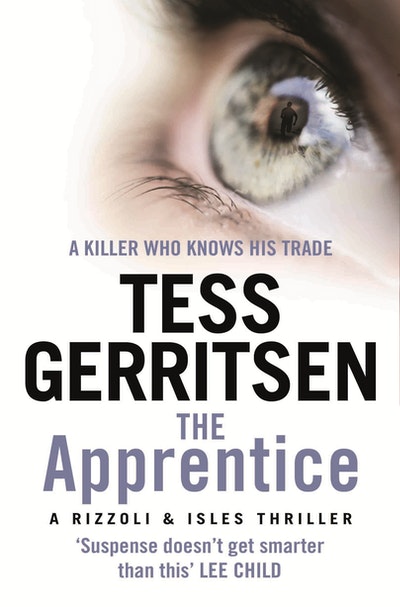 Published:

2 January 2014

ISBN:

9780553824490

Imprint:

Bantam

Format:

Paperback

Pages:

416

RRP:

$26.00
The Apprentice
(Rizzoli & Isles series 2)
---
---
---
IT'S GORY, IT'S GRIPPING, IT'S GERRITSEN.
A Rizzoli & Isles bestseller.
___________
A KILLER WHO KNOWS HIS TRADE
'Gerritsen was a medic before she turned to writing, and her book contains enough grisly details to put you off hospitals for life. But if you like your crime medicine strong, this will keep you gripped' MAIL ON SUNDAY
A series of horrific murders seem disturbingly familiar to Detective Jane Rizzoli. They remind her and Forensic Pathologist Maura Isles of those committed by a killer known as The Surgeon, who they recently put behind bars.
While they're still trying to track down the new killer, the unthinkable happens: The Surgeon escapes. Suddenly, Jane is chasing not one but two brilliant and twisted minds, united by one goal...
Published:

2 January 2014

ISBN:

9780553824490

Imprint:

Bantam

Format:

Paperback

Pages:

416

RRP:

$26.00
Other books in the series
Praise for The Apprentice
A classic page-turner full of moments of heightened tension. Gerritsen is a craftswoman

Daily Mirror
Compulsive

Irish Times
If blood, guts and gore float your reading boat, this fast-moving thriller with a twist does the business. Not for the faint-hearted though

New Woman
Scary, gripping, with hair-raising finish - this little chiller is sure to keep you guessing!

Backbeat
A cross between Messiah and Prime Suspect, this is gritty, gristly and graphic, the adrenaline pumping overtime till the very last page. But it's not just about blood and gore. Exploring the sexism experienced as a female writer through her central character, Gerritsen also goes some way into questioning why people ultimately kill

The List
Head-to-head with Nicci French and Karin Slaughter to scare the pants off you. This is a classic page-turner, full of melodrama and moments of heightened tension

Daily Mirror
Gerritsen was a medic before she turned to writing, and her book contains enough grisly details to put you off hospitals for life. But if you like your crime medicine strong, this will keep you gripped

Mail on Sunday
While The Surgeon was a good, solid serial chiller, The Apprentice is bigger. Better. More

Publishing News
You'll be sleeping with the light on after reading this... Gripping

Woman's Own
The novel is suspenseful and stuffed with an encyclopedia's worth of highly detailed forensic lore... This strong thriller should sell very well

Publishers Weekly
It's one of those rare books that you may well struggle to put down... A cross between Messiah and Prime Suspect, this is gritty, gristly and graphic, the adrenaline pumping overtime till the very last page

The List
You may need a smear of Vicks menthol under your nose to get through Gerritsen's autopsies and crime scenes in this follow-up, a masterful sequel to The Surgeon. Tess Gerritsen here moves into Thomas Harris class, though with a style all of her own, never as baroque as Harris, and always smoothly enriched with detail and characters who catch your sympathies... Note: do not read this one in bed or when home alone

Daily Mirror
If you have read any of Gerritsen's five previous novels, then you'll know the drill. Take the day off work, unplug the telephone and settle down in your favourite chair. Because one you've picked up her latest thriller, you won't be able to put it down - the Surgeon is back

Yorkshire Post
'Gerritsen has enough in the locker to seriously worry Michael Connelly, Harlen Coben and even the great Dennis Lehane. Brilliant

Crimetime