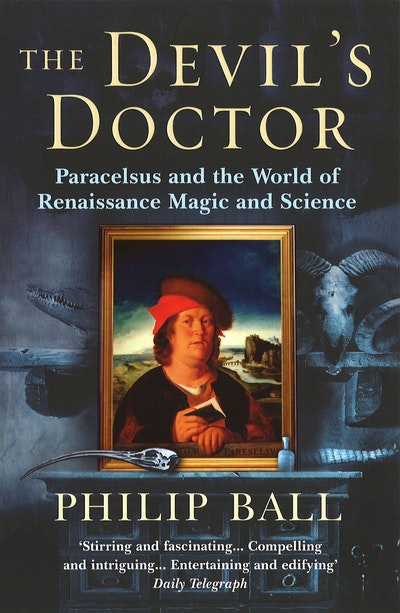 Published:

1 June 2007

ISBN:

9780099457879

Imprint:

Arrow

Format:

Paperback

Pages:

448

RRP:

$32.99
The Devil's Doctor
Paracelsus and the World of Renaissance Magic and Science
---
---
The first 'life and times' in over forty years of one of the most fascinating figures of scientific history, by the winner of the 2005 Aventis Science Book Prize.
Brings to life the ferment of post-Reformation Europe, in the spirit of Frances Stonor Saunders' Hawkwood.
Philip Theophrastus Aureolus Bombastus von Hohenheim, known to history as Paracelsus, is one of the oddest – and most intriguing - figures of European history.As Paracelsus, his name is widely familiar – he has been name-checked in the Harry Potter books, in recent novels by Jeanette Winterson and A S Byatt - but few know his real name, let alone anything further about him. Was he a magician? A scientist? Did he even exist? Paracelsus was indeed a real person, part alchemist, part theologian, part doctor, part father of modern chemistry. He was a charlatan and a genius, an adventurer and a model for later versions of the Faust legend, such as Goethe's or Thomas Mann's. His real life was as eventful and bizarre as an eighteenth century picaresque novel. Born in Switzerland in 1493, Parcelsus's education and his subsequent wanderings took him across almost of Europe, from Italy to the Arctic Circle, from Paris to the Black Sea, healing the sick, teaching in universities, preaching to the public, writing pamphlets, books, almanacs and texts, and everywhere furiously falling out with the authorities. Few men can have been banished, evicted and banned from as many universiities and towns. Yet few thinkers have maintained quite so many deep, loyal and intellectually productive friendships. As he put it himself: 'I am different'. Philip Ball tells his extaordinary story, putting him in the context of his times, the years of the Counter-Reformation and the Thirty Years' War, of the end of magic, the beginnings of science and the birth of modern medicine.
Published:

1 June 2007

ISBN:

9780099457879

Imprint:

Arrow

Format:

Paperback

Pages:

448

RRP:

$32.99
Praise for The Devil's Doctor
Praise for Critical Mass: 'This is a wide-ranging and dazzlingly informed book. I can promise you'll be amazed.' Bill Bryson

Daily Express