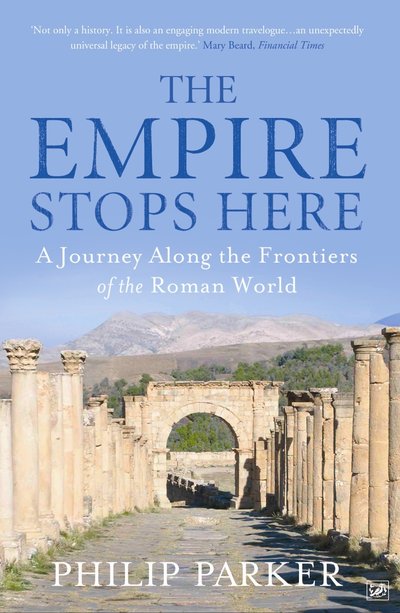 Published:

2 August 2010

ISBN:

9781845950033

Imprint:

Pimlico

Format:

Paperback

Pages:

688

RRP:

$42.99
The Empire Stops Here
A Journey along the Frontiers of the Roman World
---
---
A magnificent, groundbreaking mixture of travel and history, about the full extent of the Roman Empire - where it reached, and what is left.
The Roman Empire was the largest and most enduring of the ancient world. From its zenith under Augustus and Trajan in the first century AD to its decline and fall amidst the barbarian invasions of the fifth century, the Empire guarded and maintained a frontier that stretched for 5,000 kilometres, from Carlisle to Cologne, from Augsburg to Antioch, and from Aswan to the Atlantic.
Far from being at the periphery of the Roman world, the frontier played a crucial role in making and breaking emperors, creating vibrant and astonishingly diverse societies along its course which pulsed with energy while the centre became enfeebled and sluggish. This remarkable new book traces the course of those frontiers, visiting all its astonishing sites, from Hadrian's Wall in the north of Britain to the desert cities of Palmyra and Leptis Magna. It tells the fascinating stories of the men and women who lived and fought along it, from Alaric the Goth, who descended from the Danube to sack Rome in 410, to Zenobia the desert queen, who almost snatched the entire eastern provinces from Rome in the third century.
It is at their edges, in time and geographical extent, that societies reveal their true nature, constantly seeking to recreate and renew themselves. In this examination of the places that the mighty Roman Empire stopped expanding, Philip Parker reveals how and why the Empire endured for so long, as well as describing the rich and complex architectural and cultural legacy which it has bequeathed to us.
Published:

2 August 2010

ISBN:

9781845950033

Imprint:

Pimlico

Format:

Paperback

Pages:

688

RRP:

$42.99
Praise for The Empire Stops Here
The Empire Stops Here is not only a history. It is also an engaging modern travelogue...an unexpectedly universal legacy of the empire.

Mary Beard
The book promotes itself as a 'groundbreaking mixture of travel and history' and Parker writes with confident fluency about both... Any lover of history will find something in it to fascinate them. Every page contains some gem of a fact that the author has lovingly unearthed. The patience, effort and research that have gone into The Empire Stops Here are awe-inspiring.

Douglas Jackson, Scotsman
Intriguing... with this extraordinary book, [Parker] has raised a monument all of his own.

Tom Holland, Guardian
A sweeping journey around the Roman world that sticks almost entirely to the good stuff'.

Brian Scholfield, Sunday Times
A great vade mecum for classically minded holidaymakers willing to venture off the beaten track

The Guardian Saturday Review, SUMMER READS
I couldn't stop reading

Tom Adair, The Scotsman
Gives the readers a lucid account of the Empire's expansion

Contemporary Review
Parker has the tone of a dream Latin teacher, disciplined and wry, and an encyclopaedic knowledge of the classical world

Vera Rule, Guardian
Magnificent... the book is studded with astonishing facts

Stuart Kelly, Scotland on Sunday