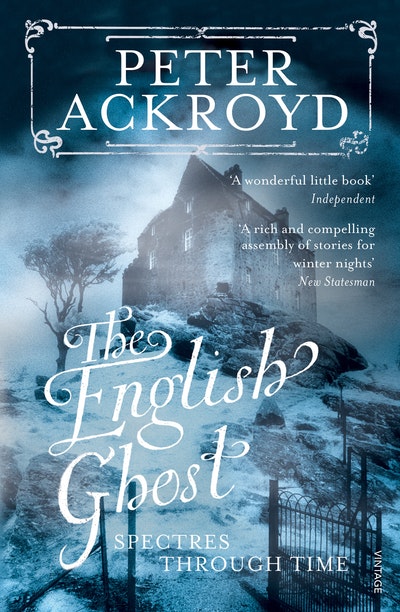 Published:

1 December 2011

ISBN:

9780099287575

Imprint:

Vintage

Format:

Paperback

Pages:

288

RRP:

$29.99
The English Ghost
Spectres Through Time
---
---
An enormously enjoyable spooky collection of ghost-sightings over the centuries, full of the spirit of place, in true Ackroyd style.
The English, Peter Ackroyd tells us in this fascinating collection, see more ghosts than any other nation. Each region has its own particular spirits, from the Celtic ghosts of Cornwall to the dobies and boggartsof the north. Some speak and some are silent, some smell of old leather, others of fragrant thyme. From medieval times to today stories have been toldand apparitions seen - ghosts who avenge injustice, souls who long for peace, spooks who just want to have fun.
The English Ghost is a treasury of such sightings – which we can believe or not, as we will. The accounts, packed with eerie detail, range from the door-slamming, shrieking ghost of Hinton Manor in the 1760s and the moaning child that terrified Wordsworth's nephew at Cambridge, to the headless bear of Kidderminster, the violent daemon of Devon who tried to strangle a man with his cravat and the modern-day hitchhikers on Bluebell Hill. Comical and scary, like all good ghost stories, these curious incidents also plumb the depths of the English psyche in its yearnings for justice, freedom and love.
Published:

1 December 2011

ISBN:

9780099287575

Imprint:

Vintage

Format:

Paperback

Pages:

288

RRP:

$29.99
Praise for The English Ghost
Ackroyd's book has its fair share of terrified hauntees and, unless you're a sceptic, there are plenty of scenes that will make the hairs on the back of your neck bristle

Simon Griffith, Mail on Sunday
A rich and compelling assembly of stories for winter nights

New Statesman
The idea of an Ackroyd-curated collection of true ghost stories is appealing...the book records a folk art form, now itself deceased

Suzi Feay, Independent on Sunday
This is a wonderful little book. It's properly old-fashioned and unorthodox, a scrapbook of clues, tittle-tattle, hints and mortal byways

Roger Clarke, Independent
Ackroyd's collection glides seamlessly from terror to humour to downright peculiarity: it is the ideal read as the nights darken and Halloween approaches

Tina Jackson, Metro
A fascinating anthology of sightings of ghosts in England over the centuries

Andrew Lycett, Literary Review
He has found some sterling stories. It's for life, not just for Hallowe'en

TheBookBag.co.uk
Everybody loves a good ghost story and this selection of spooky sightings, both scary and comical, will certainly satisfy an appetite for eerie reading

Daily Express
The stories have a pleasing strangeness, even, or perhaps especially if one does not believe in ghosts

Independent on Sunday
The story of the phantom hitchhiker did give me the creeps

Colin Waters, Herald