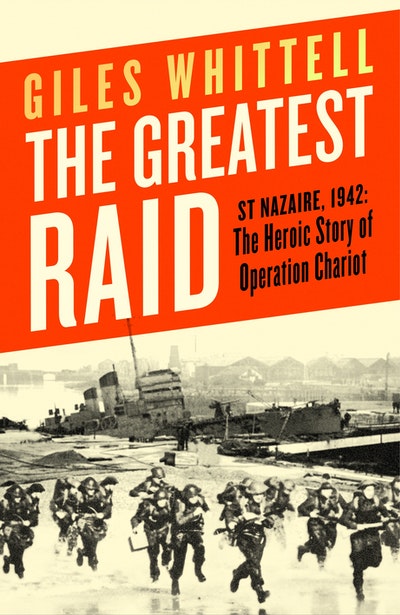 Published:

16 March 2022

ISBN:

9780241567678

Imprint:

Viking

Format:

Trade Paperback

Pages:

304

RRP:

$40.00
The Greatest Raid
St Nazaire, 1942: The Heroic Story of Operation Chariot
---
---
---

For the 80th anniversary, the first popular account of the most daring British raid of WW2

In the darkest months of the WW2, Churchill approved what seemed to many like a suicide mission. Under orders to attack the St Nazaire U-boat base on the Atlantic seaboard, British commandos undertook "the greatest raid of all", turning an old destroyer into a live bomb and using it to ram the gates of a Nazi stronghold. Five Victoria Crosses were awarded -- more than in any similar operation.
Drawing on official documents, interviews, unknown accounts and the astonished reactions of French civilians and German forces, Operation Chariot recreates in cinematic detail the hours in which the "Charioteers" fought and died, from Lt Gerard Brett, the curator at the V & A, to "Bertie" Burtinshaw, who went into battle humming There'll Always be an England, and from Lt Stuart Chant, who set the fuses with 90 seconds to escape, to the epic solo reconnaissance of the legendary Times journalist Capt Micky Burn.
Unearthing the untold human stories of Operation Chariot, Giles Whittell reveals it to be a fundamentally misconceived raid whose impact and legacy was secured by astonishing bravery.
Published:

16 March 2022

ISBN:

9780241567678

Imprint:

Viking

Format:

Trade Paperback

Pages:

304

RRP:

$40.00
Praise for The Greatest Raid
A spellbinding account of one of the most astonishing episodes of the whole war. Thrilling and tragic in equal measure, it is a story of self-sacrifice, comradeship and courage on an unimaginable scale

Julia Boyd, author of Travellers in the Third Reich
A compelling page-turner, the work of a master storyteller. The drama of the March 1942 operation is cinematic in its sweep and detail -- and Whittell's detective work on the real reasons for the raid is extraordinary. It is also beautifully written

Matthew d'Ancona
Churchill called St Nazaire "a deed of glory intimately involved in high strategy." This vivid and moving book shows why

David Reynolds, author of Island Stories: An Unconventional History of Britain
Giles Whittell's crisp, tight, prose is perfectly suited to record one of World War 2's great moments of heroism: his journalistic skills tease apart the flaws in the plan, while expertly bringing back to life the rich cast of protagonists

Charles Spencer, author of The White Ship
World War Two's Operation Chariot against Nazi Germany's battleship repair facility is the greatest commando raid of all time. So bravo to Giles Whittell for this meticulously researched and utterly gripping account of the heroism at St Nazaire. The Greatest Raid does great justice to its subjects

Dr Amanda Foreman
Enthralling . . . the heroism on display that night was unsurpassed, and Whittell is right to call his book The Greatest Raid

Simon Griffith, Mail on Sunday
Absorbing . . . The extraordinary bravery of the participants shines out from the narrative

Patrick Bishop, Sunday Telegraph
I loved this book, as I love any good adventure story sublimely told...This book has the same effect as that drug. It's a gloriously exciting high, followed by a crushing realisation of war's enormous waste

Gerard deGroot, The Times
A story of extraordinary courage . . . Without Chariot there might have been no further raids such as the much larger, and ultimately disastrous, attack on Dieppe five months later

Jonathan Boff, Spectator