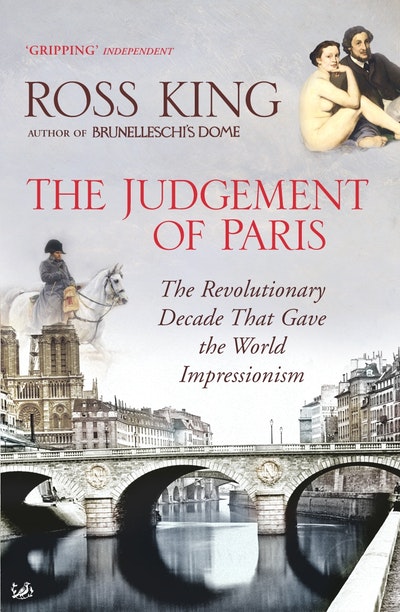 Published:

2 July 2007

ISBN:

9781844134076

Imprint:

Pimlico

Format:

Paperback

Pages:

464

RRP:

$34.99
The Judgement of Paris
The Revolutionary Decade That Gave the World Impressionism
---
---
The acclaimed author of Brunelleschi's Dome and Michelangelo and the Pope's Ceiling paints a dazzling portrait of late-nineteenth century France and of the painters who were emblematic of the struggle between old and new - a struggle which resulted in the birth of Impressionism.
In 1863, the French painter Ernest Meissonier was one of the most famous artists in the world and the darling of the 'Salon' - that all important public art exhibition held biannually in Paris. Manet, on the other hand, was struggling in obscurity. Beginning with the year that Manet exhibited his ground-breaking Déjeuner Sur L'Herbe and ending in 1974 with the first 'Impressionist' exhibition, Ross King plunges into Parisian life during a ten-year period full of social and political ferment with his usual narrative brillliance.
These were the years in which Napoleon III's autocratic and pleasure-seeking Second Empire fell from its heights into the ignominy of the Franco-Prussian war and the ensuing Paris Commune of 1871. But it was also a period in which a group of artists, with Manet in the vanguard began to challenge the establishment by turning to the landscapes and ordinary people they saw around them. The struggle between Meissonier and Manet to get their paintings exhibited in pride of place at the Salon was not just about art, it was about how to see the world.
Published:

2 July 2007

ISBN:

9781844134076

Imprint:

Pimlico

Format:

Paperback

Pages:

464

RRP:

$34.99
Praise for The Judgement of Paris
This is an exhilarating book... The success Ross King achieved with Brunelleschi's Dome and Michelangelo and the Pope's Ceiling is repeated here, for he fashions history anew. It is not just the breadth of his enquiry that expands knowledge and understanding, but also his timely use of a rich assortment of details. Then, too, the book is so intelligently plotted and conceived that unexpected links and ironic connections neatly dovetail the narrative.

Frances Spalding, Independent
A crowded canvas - like, say, Manet's Music in the Tuileries Gardens - full of diverse characters.

Martin Gayford, Sunday Telegraph
A brilliant book, a micro-history that feels like a macro-history... A good read and a good history; an unusual a pairing as its twin subjects.

Charles Darwent, Independent on Sunday
Wonderfully rich... With great deftness [King] tracks the careers of both men in the decade leading up to the most important exhibition in the history of art, the Impressionist group show of 1874.

Michael Prodger, Literary Review
It is, in its broad outlines, a familiar story, but King, the author of Brunelleschi's Dome, tells it with tremendous energy and skill. It is hard to imagine a more inviting account of the artistic civil war that raged around the Paris salons of the 1860s and 1870s, or of the outsize personalities who transformed the way the world looked at painting.

William Grimes, Scotsman
King's book is an absorbing investigation into [Meissonier's] rise and fall, and while this alone would have been subject enough, the author opens up the canvas by interweaving the parallel fortunes of another artist, Edouard Manet... In King's careful hands this tale of two artists rises beyond a mere historical account to become a revealing investigation into the vagaries of taste and success.

Iain Gale, Scotland on Sunday
King's history of artistic rivalry and the stormy gestation of the Impressionist movement is a rich and textured read, full of the sounds and smells of Paris in a wild and exciting time.

Books Quarterly, Waterstones