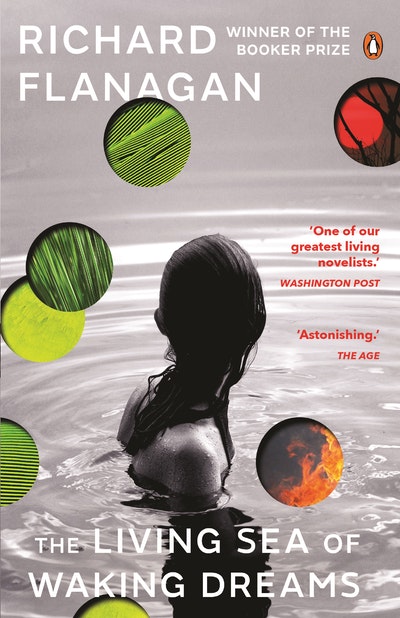 Published:

19 October 2021

ISBN:

9781760899967

Imprint:

Penguin

Format:

Paperback

Pages:

304

RRP:

$26.00
The Living Sea of Waking Dreams
---
---
---
The Living Sea of Waking Dreams is an ember storm of a novel. This is Booker Prize-winning novelist Richard Flanagan at his most moving—and astonishing—best.
In a world of perennial fire and growing extinctions, Anna's aged mother is dying—if her three children would just allow it. Condemned by their pity to living she increasingly escapes through her hospital window into visions of horror and delight.
When Anna's finger vanishes and a few months later her knee disappears, Anna too feels the pull of the window. She begins to see that all around her others are similarly vanishing, but no one else notices. All Anna can do is keep her mother alive. But the window keeps opening wider, taking Anna and the reader ever deeper into a strangely beautiful story about hope and love and orange-bellied parrots.
Published:

19 October 2021

ISBN:

9781760899967

Imprint:

Penguin

Format:

Paperback

Pages:

304

RRP:

$26.00
Praise for The Living Sea of Waking Dreams
[In] the second great novel the author has sent out straight from his imagination - he explores how our failures to properly love have led us to the point of destruction. What impresses most, however, is that Flanagan's novel doesn't end in condemnation ... it concludes, astonishingly for a story about our flaws, our blindnesses ... with a message of hope, frail and tiny as an orange-bellied parrot.'

Geordie Williamson, Australian
Flanagan has delivered a book that both distils the literary qualities for which he has been celebrated for more than a quarter of a century and recasts our ideas about the kind of writer he is and what he can do. This novel is a revelation and triumph, from a writer demonstrating, yet again, the depths of his talent, while revelling in a new, unfamiliar register. It is at once timely and timeless, full of despair but leavened by hope, angry and funny and sad and a bit magical ... [Flanagan's] acuity when it comes to drawing the core relationships, the complex cross-generational patterns of trauma and intolerance, rejection and love, is masterful ... This book is Vintage Flanagan. It is urgent and angry and fierce. But it is also a kind book, a sorrowful book. It is a book that offers notes grace and gratitude in the face of beauty, asking its readers to be vigilant in how we take care of our world, of each other, of ourselves. Nothing disappears, it suggests, if we're brave enough to pay it the attention and regard it deserves. What an astonishing book this is.

Michael Williams, Sydney Morning Herald
Flanagan never writes two books the same. [The Living Sea of Waking Dreams] is short, weird, devastating and fully able to articulate and transcend the catastrophe of our times. Literary gold with a jacket design to match.

Booktopia, on Books and Publishing
The brilliance of Flanagan's story and the deep power of this novel is in our witnessing of the end of the world.

Tony Hughes-d'Aeth, The Conversation
The Living Sea of Waking Dreams understands the textures of silence: what is unsaid, unsayable and unheard ... 'Is translating experience into words any achievement at all?' Flanagan asks. 'Or is it just the cause of all our unhappiness?' Writers the world over are grappling with a version of this question: in the face of so much devastation, so much terror, what can fiction possibly achieve? The Living Sea of Waking Dreams is his emphatic, wrenching answer.

Beejay Silcox, Guardian
I think it's a masterpiece … It packs so many punches ... It's blowing my mind, it's so good. I'm loving it, absolutely loving it.'

Leigh Sales, Chat 10, Looks 3 podcast, episode 149
The creative energy of Flanagan's writing is evident throughout. The Living Sea of Waking Dreams is one of those books that returns obsessively to certain words, considers them from different angles and in different contexts, exposes their depths and complexities, the way that Shakespeare dismantles the concepts of 'honour' in Julius Caesar and 'honesty' in Othello ... [The book] is an essay on the metaphysics of love, which it depicts not in any platitudinous sense as some kind of hippie panacea but as a harrowing and elusive concept. It is a novel alert to the acute difficulty of expressing love in word and deed. It considers the ways in which love can be perverted and inverted. It seeks to affirm the reality of love, even as it is disturbed by the possibility that the conditions of contemporary life have become so estranging and degrading that we don't know really what it means anymore ... [It] asks ... 'Shouldn't stories work towards something that we can't get anywhere else?' The novel is true to its word. It works towards an elusive 'something' that resists naming, but that finds its symbolic expression near the end of the novel in the form of the endangered orange-bellied parrot ... The novel's fury and frustration at our wanton destruction of the natural world is more than warranted. The urgency of the issue cannot be overstated.

James Ley, Australian Book Review
I have been able to read almost nothing since March ... The sole more elevated exception has been Richard Flanagan's The Living Sea of Waking Dreams, not just for its necessary rage or the love letter to the old lady but the sheer beauty of its sentences which stirred the ashes of a heart still capable of gratitude and admiration for a fellow writer.

Peter Carey, Sydney Morning Herald
In fiction Richard Flanagan's novel The Living Sea of Waking Dreams has stayed with me like a hallucination.

Anna Funder, Sydney Morning Herald
Richard Flanagan is one of the greatest writers at work in the world today – I admire him and his writing immensely. The Living Sea of Waking Dreams is a haunting, urgent and important book about our broken and confusing age. If John Clare, a hero of mine and Flanagan's, was brought back from the dead to witness our ongoing apocalypse, I imagine he'd write something very like this novel.

James Rebanks, author of The Shepherd's Life and English Pastoral
…an extraordinary tour de force, utterly compelling… a heartfelt, urgent plea to restore our connection to the world before it's too late.

The Tablet (UK)
The core of this novel is a fiercely well-observed account of the psychological twists and turns, the stress points and the double-binds, of familial love.

Daily Telegraph (UK)
Man Booker winner Flanagan shines in his fierce, surrealistic look at a family's dissolution in a recognizable if dystopian Australia that's ravaged by wildfires… Juxtaposing measured prose with passages that jolt and tumble, and realistic depictions of medical issues with Francie's phantasmagoric visions, Flanagan's novel illuminates the dangers of taking the world and one another for granted. Its intensity, urgency, and insights are unforgettable.

Publishers Weekly (US)
The Age Book of the Year Award
Shortlisted • 2021 • The Age Book of the Year Award
Victorian Premier's Literary Awards
Shortlisted • 2021 • Fiction
Video
The Living Sea of Waking Dreams by Richard Flanagan
The Living Sea of Waking Dreams is an ember storm of a novel. This is Booker Prize-winning novelist Richard Flanagan at his most moving—and astonishing—best. https://www.penguin.com.au/books/the-living-sea-of-waking-dreams-9781760899943
Article
Richard Flanagan Q&A
The Booker Prize winning author answers our questions about his strangely beautiful story about hope and love and orange-bellied parrots: The Living Sea of Waking Dreams.