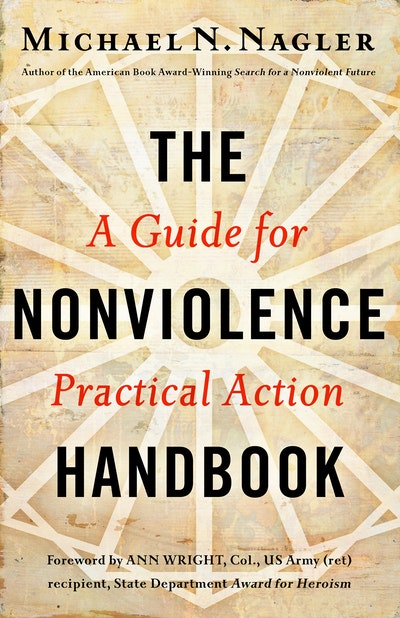 Published:

1 January 2018

ISBN:

9781626561458

Imprint:

Berrett-Koehler

Format:

Trade Paperback

Pages:

96

RRP:

$26.00
The Nonviolence Handbook
---
---
Love Is Stronger Than Hate
"Nonviolence is not the recourse of the weak but actually calls for an uncommon kind of strength; it is not a refraining from something but the engaging of a positive force," renowned peace activist Michael Nagler writes. Here he offers a step-by-step guide to creatively using nonviolence to confront any problem and to build change movements capable of restructuring the very bedrock of society.
Nagler identifies some specific tactical mistakes made by unsuccessful nonviolent actions such as the Tiananmen Square demonstrations and the Occupy protests and includes stories of successful nonviolent resistance from around the world, including an example from Nazi Germany. And he shows that nonviolence is more than a tactic—it is a way of living that will enrich every area of our lives.
Published:

1 January 2018

ISBN:

9781626561458

Imprint:

Berrett-Koehler

Format:

Trade Paperback

Pages:

96

RRP:

$26.00
Praise for The Nonviolence Handbook
"Understanding nonviolence as an energy present in all of us is key to putting it to work in our own lives and in the troubled life of our world. This is a very powerful little volume—it will shake you up in wonderful ways!" —Bill McKibben, founder of 350.org and author of Oil and Honey and The End of Nature "In a few short pages, Michael Nagler has been able to present the accumulated wisdom of activists, prophets, and social theorists in a way that is powerfully instructive, accessible, and deeply moving." —Rabbi Michael Lerner, Editor-in-Chief, Tikkun, and Chair, Network of Spiritual Progressives  "Only Michael Nagler could make such a cogent and persuasive case for nonviolence while delivering profound new insights, pearls of wisdom, and practical recommendations along the way." —Erica Chenoweth, Associate Professor, Josef Korbel School of International Studies, University of Denver, and Associate Senior Researcher, Peace Research Institute Oslo.