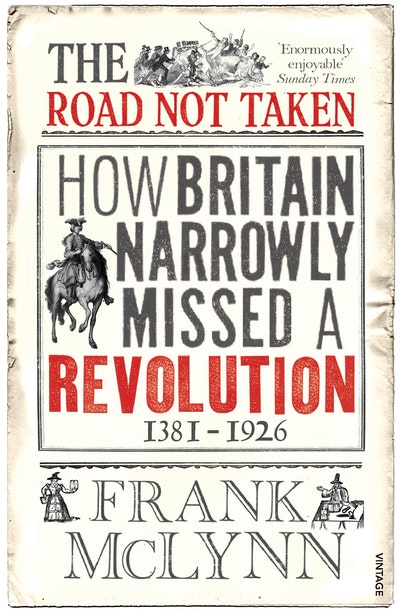 Published:

15 July 2013

ISBN:

9781844135240

Imprint:

Vintage

Format:

Paperback

Pages:

640

RRP:

$36.99
The Road Not Taken
How Britain Narrowly Missed a Revolution
---
---
An incisive analysis cutting to the heart of Britain's most turbulent moments and looking at why Britain may have been brought to the brink at times, but didn't descend into revolution.
* Britain has not been successfully invaded since 1066; nor, in nearly 1,000 years, has it known a true revolution - one that brings radical, systemic and enduring change. The contrast with her European neighbours - with France, Germany, Italy, Spain, Greece and Russia - is dramatic. All have been convulsed by external warfare, revolution and civil war - all have experienced fundamental change to their ruling elites or their social and economic structures.
* In The Road Not Taken Frank McLynn investigates the seven occasions when England came closest to revolution: the Peasants' Revolt of 1381, the Jack Cade rising of 1450, the Pilgrimage of Grace in 1536, the English Civil War of the 1640s, the Jacobite Rising of 1745-6, the Chartist Movement of 1838-48 and the General Strike of 1926.
* Mixes narrative and analysis, vividly recreating each episode and providing compelling explanations of why social turbulence stopped short of revolution.
* McLynn's powerful narrative explores massive themes of social, religious and political change over seven centuries of British history, and shows them at certain moments bursting forth to threaten the existing order.
* Why, at these dramatic turning-points, did history finally fail to turn? The actions of individuals at key moments had a huge influence, as he shows, but were there underlying currents in our history which have allowed Britain to evade the revolutions which engulfed its neighbours? This is the deeper question which Frank McLynn explores in this fascinating book.
Published:

15 July 2013

ISBN:

9781844135240

Imprint:

Vintage

Format:

Paperback

Pages:

640

RRP:

$36.99
Praise for The Road Not Taken
Elegantly written, highly opinionated and enormously enjoyable, this one...is among McLynn's best

Sunday Times
Intelligent, combative, thoroughly researched and thoroughly readable history... Outstanding

Edward Pearce, Independent
Fascinating and always enjoyable

Sean McGlynn, Spectator
A refreshing look at Britain's relationship with revolution

The Scotman
Refreshing … [an] intelligent, provocative book

Edward Vallance, Literary Review
An impressively researched and thoroughgoing work

The Bookbag