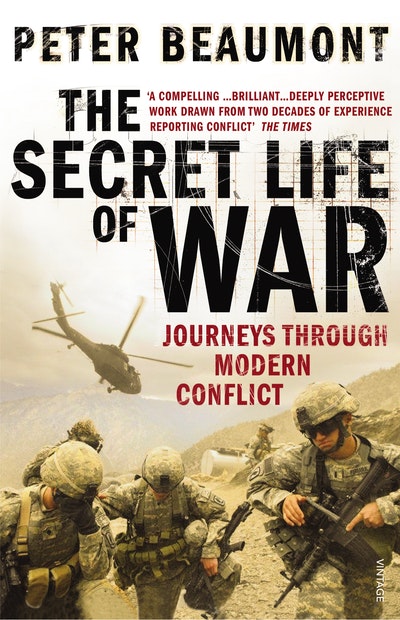 Published:

1 July 2010

ISBN:

9780099520986

Imprint:

Vintage

Format:

Paperback

Pages:

288

RRP:

$29.99
The Secret Life of War
Journeys Through Modern Conflict
---
---
A potential classic. A defining book about the experience of conflict, for those living through it and those reporting it, distilled from a decade and a half on the world's frontlines.
Once it was simple to write about war. States or ideologies clashed; battles were fought between national armies or movements. But war has changed.
War has become 'privatised' by small armed groups, states have fragmented and the conventional arms of the United States, the world's last superpower, have been defeated by warlordism. Drawing on the author's experiences as the Observer's chief foreign correspondent, The Secret Life of War focusses on the human cost of war, in Afghanistan, Lebanon, Iraq, Israel, the Occupied Territories and elsewhere: to the combatants, to civilians and to the author, as one who bears witness.
Every encounter is arresting: a visit to the bombed and abandoned home of Mullah Omar; a deserted Al Qaeda camp where Beaumont discovers documents describing a plan to bomb London; young bomb-throwers in Rafah refugee camp. But what marks out The Secret Life of War from innumerable other accounts is the sum it makes of these parts: a lasting catalogue of fear and harm
Published:

1 July 2010

ISBN:

9780099520986

Imprint:

Vintage

Format:

Paperback

Pages:

288

RRP:

$29.99
Praise for The Secret Life of War
A compelling... brilliant... deeply perceptive work drawn from nearly two decades of experience reporting conflict

The Times
Magnificent - this book should be required reading

Tribune
Beaumont's account of war reporting in the Middle East is astonishing, not least for its careful detail and his self-searching honesty. A superb piece of work

Esquire
Beaumont's book is on a different plane to the others and will outlast many of them

Sunday Times
The Secret Life of War is an awesome read, the best enquiry into killing and suffering I've encountered. A plea for resolution, a document of brutal honesty, the bare truth: in it beats the pulse of being there in the throes of modern conflict

Tim Page
A superb writer

Neal Ascherson, New York Review of Books
Beaumont is fluid and elegant in his description of war and its symptoms

Sam Kiley, Evening Standard
Beaumont is a compassionate companion in this grim world of inverted values, who is prepared to reveal his own psychological damage as he sets about dismantling the myths of war and violence and laying out their formidable human cost

Siobhan Murphy, Metro
Beaumont writes beautifully and calmly, even when describing the fiercest and most emotive moments of war

Janine di Giovanni, Observer
Modern war is all about complexity and uncertainty, and in his accounts of his journeys through conflict, Beaumont certainly evokes this... Beaumont is evidently a brave and determined reporter

Literary Review
excellent memoir... The Secret Life of War is readable and insightful on the often horrendous things Beaumont has seen... He gets us to the core of conflict with ruthless single-mindedness. Beaumont is clearly not the type who spends his day talking to generals or hanging around secure army bases. Instead, he conveys the bloody chaos of the war zone in its stark and grim reality... Above all, Beaumont is refreshingly self-deprecating about his role as a reporter, both honest and realistic.

James Blitz, Financial Times
Beaumont reaches beyond his peers to a wider readership' and uses 'his calmness, frankness, self-depreciation and sense of wonder in examining the raw emotions which fuel conflicts

Kim Sengupta, The Independent
The author succeeds magnificently - to such an extent that this book should be required reading for every student of international affairs, every enthusiastic armchair strategist and every aspiring entrant to the Royal Military Academy at Sandhurst

Hugh O'Shaugnessy, Tribune
With honesty and humility he diagnoses his own need to return to war the way a junkie feeds on heroin...It is a book from the heart, not a military analysis...one realises the book was a catharsis, a way for him to write his way out of the blackness. You close it and wish him peace

Janine de Giovanni, Observer