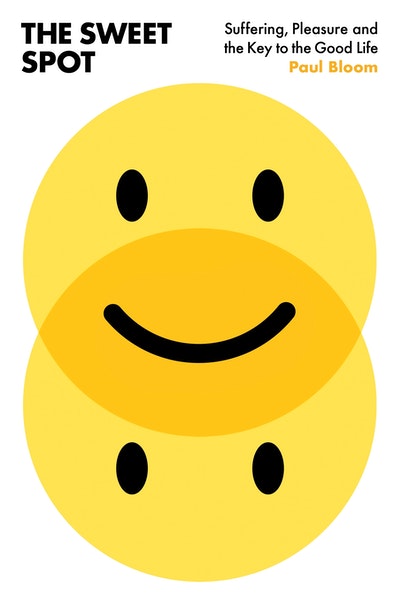 Published:

2 November 2021

ISBN:

9781847925763

Imprint:

Bodley Head

Format:

Trade Paperback

Pages:

312

RRP:

$40.00
The Sweet Spot
Suffering, Pleasure and the Key to a Good Life
---
---
---
A provocative and counter-intuitive look at human behaviour from world-leading psychologist and author of the influential Against Empathy
Why do we seek out painful experiences? From horror movies and roller-coaster rides to marathon running, from S&M to religious violence and - most painful of all - parenthood, humans are drawn irresistibly to activities that they know are going to hurt.
In The Pleasures of Suffering one of the world's best known psychologists gathers together the latest science to explain why, and to present a radical new account of human behaviour. Drawing on studies of the evolutionary value of play and the science of morality, he identifies the desire for meaning as being far greater than our desire for happiness, overturning long-held assumptions about our species.
Endlessly fascinating and counter-intuitive, this is a deeply humane and enlightening enquiry, packed with unexpected insight into the human condition.
Published:

2 November 2021

ISBN:

9781847925763

Imprint:

Bodley Head

Format:

Trade Paperback

Pages:

312

RRP:

$40.00
Praise for The Sweet Spot
Wonderfully humane, lucid and entertaining ... a brave and necessary tract for the times

Telegraph (on Against Empathy)
A great, provocative book ... that will legitimately change how you think about the world and your own sense of morality

New York Times (on Against Empathy)
An exhilarating antidote to toxic positivity, this captivating book will challenge you to rethink your vision of a good life

Adam Grant, author of Think Again
Paul Bloom can always be counted on to take your confident assumptions about humanity and turn them upside down. This time, his eloquent and erudite investigations ask - and answer - the perennial question of what makes life worth living

Susan Cain, author of Quiet
Paul Bloom has a gift for spotting paradoxes in human nature and resolving them with deep, satisfying explanations. This lucid and fascinating book does it again

Steven Pinker, author of How the Mind Works
Provocative, fascinating and insightful - from one of the world's best writers and deepest thinkers about human behaviour

Daniel Gilbert, author of Stumbling on Happiness
A fun, thought-provoking and insightful journey into the most curious parts of human pleasure

Laurie Santos, host of The Happiness Lab podcast
A profound meditation on happiness, family and meaning from one of the best writers we have about the human condition. A joy to read

A. J. Jacobs, author of It's All Relative
Paul Bloom is a phenomenal psychologist. His research is always thought-provoking, and his writing clear and eloquent

Maria Konnikova, author of The Biggest Bluff
This delightful and wonderfully written book gets to the heart of one of the most important questions in modern thought, illustrating how complex and paradoxical human happiness really is

Greg Lukianoff, co-author of The Coddling of the American Mind
Forget your favourite motivational speaker for a moment and read this book. Paul Bloom gives you the real scoop on what it takes to live a good life, and it's not what you may think

Scott Barry Kaufman, host of The Psychology Podcast
Clear, rightly sceptical, impossible to dislike

Stuart Ritchie, Guardian