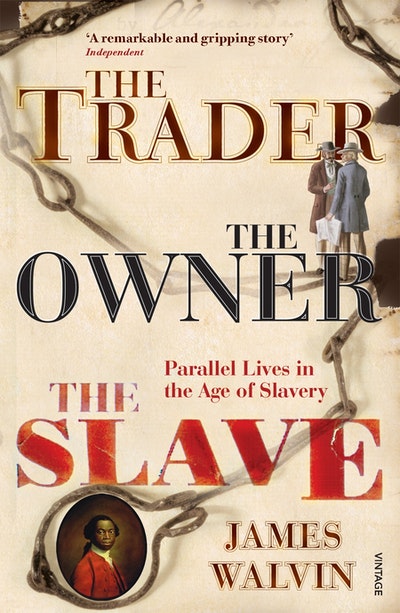 Published:

15 February 2008

ISBN:

9780712667630

Imprint:

Vintage

Format:

Paperback

Pages:

336

RRP:

$32.99
The Trader, The Owner, The Slave
Parallel Lives in the Age of Slavery
---
---
A unique and dramatic book about the Atlantic slave trade.
There has been nothing like Atlantic slavery. Its scope and the ways in which it has shaped the modern world are so far-reaching as to make it ungraspable. By examining the lives of three individuals caught up in the enterprise of human enslavement. James Walvin offers a new and an original interpretation of the barbaric world of slavery and of the historic end to the slave trade in April 1807.
John Newton (1725-1807), author of 'Amazing Grace', was a slave captain who marshalled his human cargoes with a brutality that he looked back on with shame and contrition. Thomas Thistlewood's (1721-86) unique diary provides some of the most revealing images of a slave owner's life in the most valuable of all British slave colonies. Olaudah Equiano's (1745-97) experience as a slave now speaks out for lives of millions who went unrecorded. All three men were contemporaries but what held them together, in its destructive gravitational pull, was the Atlantic slave system.
Published:

15 February 2008

ISBN:

9780712667630

Imprint:

Vintage

Format:

Paperback

Pages:

336

RRP:

$32.99
Praise for The Trader, The Owner, The Slave
Taken together, their stories provide a remarkably intimate insider's perspective on the slave trade, and give us some sense of its staggering human cost

Michael Kerrigan, Scotsman
How did Britain, the 'slave trading poacher' of the 18th century, transform herself into the 'abolitionist game-keeper' of the 19th century?... James Walvin, a renowned historian of black people in Britain, finds answers to this mystery in the lives of three men who contributed, sometimes unwittingly, to the demise of a seemingly unassailable evil

Esther Godfrey, Daily Telegraph
James Walvin here addresses the enormity of the slave trade by looking in depth at three individuals inextricably bound up in it

London Review of Books
A remarkable and gripping story, asking profound questions

Independent
James Walvin provides engrossing portraits of three individuals at the centre of the slave trade

Financial Times
Cleary written and well-researched

Paul Callan, Daily Express
Much more than just a catalogue of horrors... James Walvin is extraordinarily alert to the contradictions within the human heart... Walvin is never blind to the horrors of slavery, nor to the responsibility of individuals for their actions. But he recognises that the world was different then and that the institution of slavery encouraged individual acts of evil that would otherwise never have occurred

Craig Brown, Mail on Sunday