Travel into Australia's darkest past with Meg and Tom Keneally's The Unmourned.
A despised predatory prison superintendent is murdered. The chief suspect: a fiercely protective inmate named Grace O'Leary. But despite appearances, this case is far from cut and dried. After taking depositions from O'Leary and her fellow inmates, ticket-of-leave gentleman convict Hugh Monsarrat and his loyal housekeeper Mrs Mulrooney believe her to be innocent…
The second book in Meg and Tom Keneally's Monsarrat series, The Unmourned journeys deep into the shadows of Australia's convict history, and makes for a stirring book club selection.
Reading Group Questions
Not all victims of murder are mourned, but the perpetrator must always be punished. Do you agree with this statement?
With the Monsarrat series, Tom and Meg Keneally are not only telling a cracking yarn, they are also exploring the forces that shaped Australia. Monsarrat has insisted Mrs Mulrooney learn to read and write, and now she and Rebecca Nelson are sharing their literacy and embroidery skills with the First Class convicts of the Female Factory. How do you think these lessons will change the lives of the female prisoners, if at all?
Australia was a new beginning for many people, yet a stratified society exists both within the Female Factory and in the broader society of Parramatta. Did these internecine fears and layers come over on the boats from England and Ireland with their passengers? Or do you think a new civilization and new battlefields were created?
Sophia Stark and Rebecca Nelson spend their days with a high-level of anxiety trying to evade their past and build comfortable futures. Early days in Parramatta must have been particularly hard on women – do you agree?
Why do you think historical fiction is such a popular genre, for writers and readers?
The Unmourned is a collaboratively authored book. Does this bother you as a reader at all, or is it an advantage, bringing twice the creativity and story in the one package?
---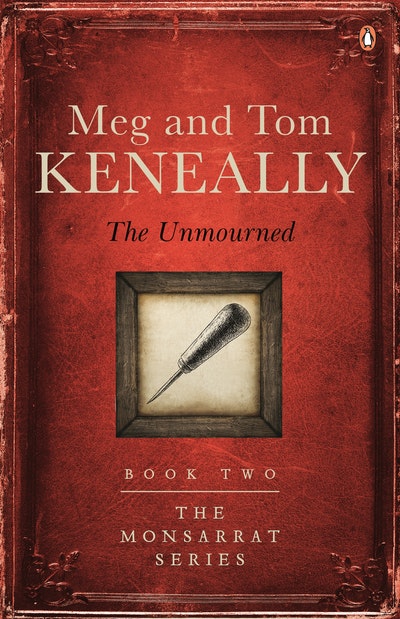 The Unmourned
Meg Keneally, Tom Keneally
Not all murder victims are mourned, but the perpetrator must always be punished . . .
Buy now
Buy now
---