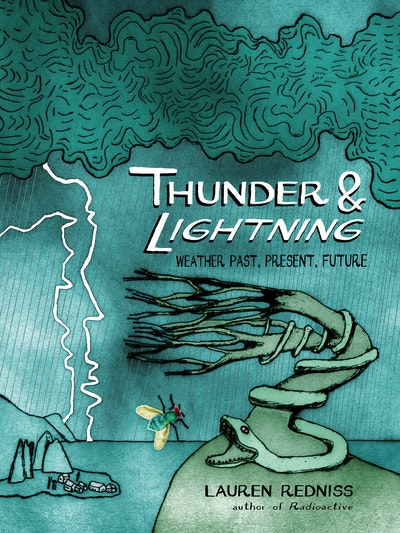 Published:

4 February 2016

ISBN:

9781473556584

Imprint:

Vintage Digital

Format:

EBook

Pages:

272
Thunder and Lightning
Weather Past, Present and Future
---
---
---
An uncategorisable, distinctly beautiful piece of science writing - a visual biography of the weather by a writer of 'sheer imaginative genius' (Malcolm Gladwell)
'21st-century genius' Elle
A howling wind, a thunderstorm, the beating sun - it's with the elements that nature shows its true force and wonder.
In Thunder and Lightning, Guggenheim fellow and Pulitzer nominee Lauren Redniss draws a new account of the weather. She has travelled from the frozen archipelagos of the Arctic Ocean to the 'absolute desert' of Atacoma, Chile, to show us the elements at their most extreme. Along the way, through interviews and research, she has unearthed curious stories of exploration, savagery and coincidence - stories which show us how weather has shaped humanity, intervened in the course of history, and how mankind, in turn, has tried to bend the weather to its ends.
A book of exquisite beauty, with each illustration etched and coloured by hand, Thunder and Lightning informs, charms and transports. A combination of art and cultural history, from an uncategorisable and unique creative spirit, it will leave readers looking at the wind, the sun and the rain with new eyes.
Published:

4 February 2016

ISBN:

9781473556584

Imprint:

Vintage Digital

Format:

EBook

Pages:

272
Praise for Thunder and Lightning
Lauren Redniss is one of the most unique and creative science writers of our time — her combination of beautiful artwork, reporting, and poetic prose brings science to life in ways that words alone simply cannot. Thunder & Lighting is a fascinating meditation on how climate affects the earth's landscape and the lives inhabiting it. But also how the landscape of a book — the layout of its text, the images on its pages — impacts the telling of a story. This is an important book about a topic that couldn't be more important to us all.

Rebecca Skloot, author of The Immortal Life of Henrietta Lacks
Lauren Redniss's Thunder & Lightning is such a strange and wonderful thing, the work of a first-class mind that refuses to submit to any categories or precedent. It's the way you wish science would always be taught -- with a mix of stories and facts, legend and hard science.

Dave Eggers
Redniss has…shown us how human beings live with nature – fighting, coexisting, taming, predicting via leech barometer and radar and intuition...Redniss makes no claims for herself as an expert. She is guide and student, pulling us irresistibly into her interests and connecting the seemingly disparate threads with a combination of authority and enthusiasm. She is, to use a contemporary word, a curator: arranging information with a distinct aesthetic and a point of view…Colors change from chapter to chapter and page to page, evoking snow, ice, smog. In aggregate, the effect can be magical.

New York Times
This is a terrific celebration of weather as an elemental force in not only our daily lives, but in our global stories, myths, history, and cultural identities… This book is not simply a collection of oddments and odd fellows, but rather a genuine demonstration of weather as a phenomena and how it is fantastical on both the symbolic and systematized levels. A highly atmospheric, entertainingly earnest, and intimate engrossment with the world's most popular topic of conversation.

Kirkus (starred review)
Redniss's work is…some of the most inventive, rigorous and beguiling published anywhere in the world… Redniss is intellectually unique… There is an obscure kind of magic to Redniss's [work] that's reminiscent of all her subjects combined: showmanship, science, superstition, extreme forces beyond our ken.

Gaby Wood-Lauren, Daily Telegraph
An irresistibly original account of the weather in all its glory and danger… An inspired cultural history of the weather… Visually and imaginatively stunning, Redniss's book reinvents graphic storytelling in thrillingly intrepid ways.

Lucy Scholes, Observer
Extraordinary…work of graphic non-fiction that, fusing meteorology, history, anthropology, philosophy, brings us into magical contact with the elemental forces that shape our world and lives… A work of glorious and breathtaking synthesis… A thing of exquisite and discomfiting beauty.

Matthew Adams, Independent
In her extraordinary new book, Redniss…[draws] the reader into a world elementally defined, and exquisitely portrayed… Her mix of story and fact, of image and poetry, is extraordinarily satisfying.

Philip Hoare, Times Higher Education
[Redniss's] approach – stunning reporting, combined with evocative artwork – gives the book a gale-force impact.

Wired Magazine