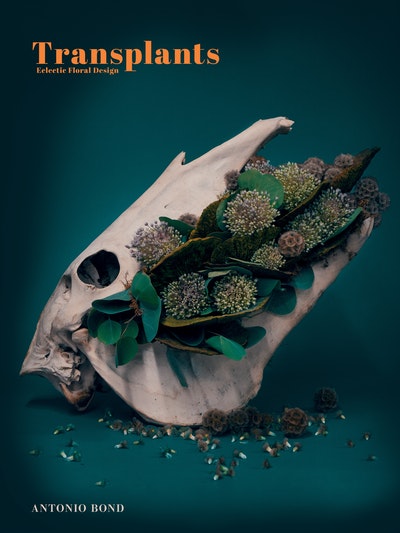 Published:

21 November 2017

ISBN:

9781944515539

Imprint:

Blue Star Press

Format:

Hardback

Pages:

224

RRP:

$70.00
Transplants
Eclectic Floral Design
---
---
Austin native and Transplants creator Antonio Bond is the preferred florist for the renowned Hotel St. Cecelia. His floral arrangements and designs have graced the Texas Film Hall of Fame Awards and Austin's famed SXSW music festival along with many other high-profile events and venues. His first book, Transplants: Eclectic Floral Designfeatures:
Over 200 full-color photos highlighting a broad range of Antonio's work

Notes on design elements and process
Inspiration for lovers of the art of arranging flowers to stretch their imaginations
Antonio routinely roams the landscapes of West Texas and the American Southwest to collect trinkets, bones, foliage, and other items to incorporate into his extraordinary and often startling floral designs. Antonio's work ranges from daintily minimalist sculptures to large outdoor installations nestled into the Texas landscape. Whether housed in dive bars or boutique hotels, Antonio's arrangements feel deliberate despite incorporating unexpected elements.
Transplants is worthy of any coffee table, while also guiding the beginning florist to:
Expand their understanding of what floral arrangements can be

Build confidence to try bold creations
Glean inspiration for how to incorporate unexpected items
Create their own unique style
Published:

21 November 2017

ISBN:

9781944515539

Imprint:

Blue Star Press

Format:

Hardback

Pages:

224

RRP:

$70.00
"...f@ckin' beautiful" --Burney Illustration, @batdog "Antonio Bond's eye for design is admirable and stunning. He has taken the conventional fashion of floral arrangement and created a new stage of floral display. Combining flowers with everything from rustic objects, shiny statues or bones, he is not simply a florist, but a full on artist because what he creates is art. This book will definitely be found on my coffee table as each page inspires." --Johnny Smith , @thejohnnysmith "Antonio Bond is an unmitigated genius . . . His work is surprising, endearing, moving, sculptural, and heartbreaking. The fact that they are temporary works of art makes them all the more special, and the images in this book feature them while they are still alive, capturing the moment that they are most alluring . . . The flowers and objects he uses show the wonder of nature and how it coincides with the man-made. His sensibility is unique, and his technique is masterful." -- Joel Mozersky , @joelmozerskydesign