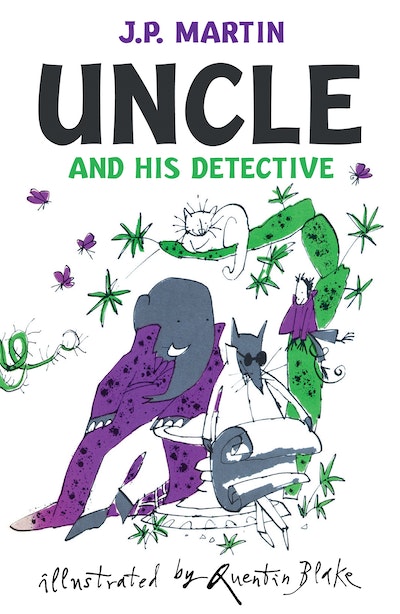 Published:

30 October 2015

ISBN:

9781448197477

Imprint:

RHCP Digital

Format:

EBook

Pages:

168
Uncle And His Detective
---
---
Third book in the Uncle series. Uncle, the immensely rich and well dressed elephant is in trouble again. His enemy the Hateman is disturbing the peace with plots and rebellions. Another wonderful children's classic featuring Uncle by J. P. Martin.
It begins with the arrival not of a detective, but of disaster: Badfort is for sale, but when Uncle decides to buy it, demolish it, and build a pleasantly appointed park on the site, he is forestalled. Beaver Hateman has sold it cheaply to someone on the condition that he, Hateman, is allowed to stay on as a paying guest. Forgetting that the man who has bought Badfort is certain to regret the "bargain", Uncle tries to console himself by continuing his never-ending exploration of Homeward.
He soon discovers the mysterious Crack House - lair of a vicious and horribly squawking creature, half-bat, half-bird, called Batty - where there are rumours of buried treasure. Uncle is in need of a detective . . .
Published:

30 October 2015

ISBN:

9781448197477

Imprint:

RHCP Digital

Format:

EBook

Pages:

168
Praise for Uncle And His Detective
A riot of nonsense and adventure, may well become a classic in the great English nonsense tradition

Observer
Joyously surreal, set in landscapes full of toffee, deferential choirs of badgers, heavenly water-slides and velvet chairs . . . Their pachydermous protagonist governs a benevolent plutocracy- but the books' great joy is the frequent sly and subtle lampooning of his capitalist pomp

Guardian
The books are very funny, installing a large cast of unlikely characters . . . in a world of mildly squiffy logic . . . And the illustrations are among Quentin Blake's best work, scrawls and splotches that finally and unarguably distil character. But most important, this is political satire of a high order — Animal Farm for pre-teens, but wittier and more relevant to our own world

Independent
Few books are laugh-out-loud funny; fewer still are the children's books that have you stifling titters on the train . . . Uncle is a brilliantly sustained exercise in nonsense, played with the straightest of faces

Financial Times
You ask any class "Who's heard of Alice in Wonderland" and up goes a forest of hands. Uncle is on the same level and should be more widely read and enjoyed

The Junior Bookshelf
Would make a great gift for literary eccentrics of any age

The Los Angeles Times
I think Uncle stuck with me because of its combination of excess, gadgetry and eccentricity - all of which are modes of being I have attempted to emulate in my adult life. I blame J.P. Martin

Will Self
If there was ever a children's series generating fanatical, "cult" adoration, this is it. And deservedly so

Guardian