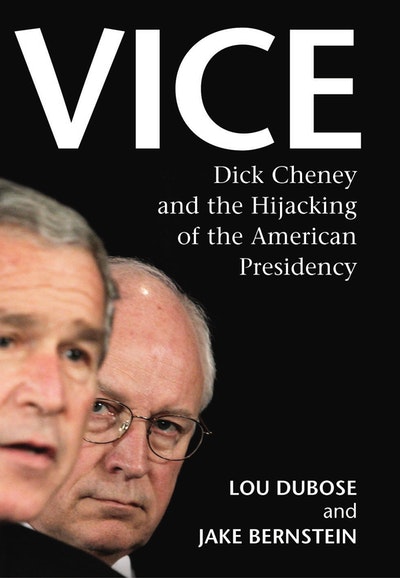 Published:

1 September 2010

ISBN:

9781409023531

Imprint:

Vintage Digital

Format:

EBook

Pages:

272
Vice
Dick Cheney and the Hijacking of the American Presidency
---
---
A riveting exposé of American vice president Dick Cheney - an explosive, gripping and intensely topical book, its contents are embargoed until publication day.
Dick Cheney is the most powerful yet most unpopular vice president in American history. He has thrived alongside a president who, from day one, had little interest in policy and limited experience in the ways of Washington. Yet Cheney's relentless rise to prominence over three decades has happened almost by stealth. Now veteran reporters Lou Dubose and Jake Bernstein reveal the disturbing truth about the man who has successfully co-opted executive control over the U.S. government, serving as the de facto 'shadow president' of the most dominant White House in a generation.
Cheney has always been an astute politician. He survived the collapse of the Nixon presidency, finding a position of power in the administration of Gerald Ford. He was then elected to the House of Representatives and later served in the cabinet of the first Bush presidency. But when he became George W. Bush's running mate, Cheney reached a new level of influence. From the engineering of his own selection as vice president to his support of policies allowing torture as a permissible weapon in the 'war on terror', Cheney has consistently steered America to the right.
With unique access to numerous first-hand sources, Vice provides an unprecedented expose of Cheney's career. Its startling revelations concern the war in Iraq, his relationship with the CIA and with big business, his involvement with Enron, his attitude towards Iran and his ruthless manoeuvering which today effectively puts him in charge of American policy at home and abroad. In the tradition of Carl Bernstein and Bob Woodward's All the President's Men,this powerful work of investigative journalism takes us behind the scenes in Washington, into hitherto secret meetings and deep into the heart of political decision-making. Utterly gripping, Vice chronicles and exposes the hijacking of the American presidency and illustrates the arrogance of power as never before.
Published:

1 September 2010

ISBN:

9781409023531

Imprint:

Vintage Digital

Format:

EBook

Pages:

272