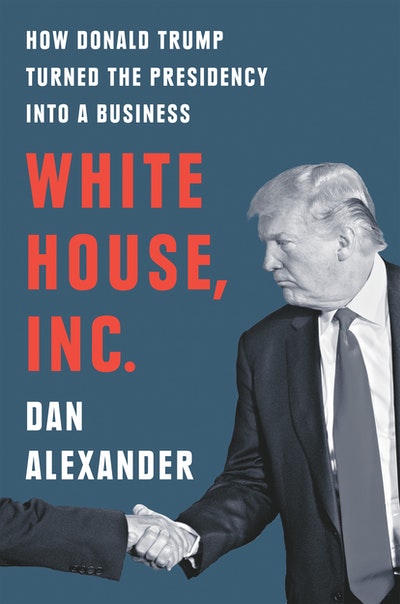 Published:

21 December 2020

ISBN:

9780593188521

Imprint:

Portfolio

Format:

Hardback

Pages:

288

RRP:

$50.00
White House, Inc.
How Donald Trump Turned the Presidency into a Business
---
---
A newsmaking investigation into the businesses of President Trump and the people around him, showing how the American political system turned into a massive investment opportunity.
By holding onto his businesses, Donald Trump launched an unprecedented experiment: What happens to a multi-billion-dollar business when its leader ascends to the presidency of the United States? And more importantly, what happens to the United States? White House, Inc. is the definitive book on money and politics in the Trump era. It examines every aspect of the president's portfolio: his exclusive clubs, D.C. hotel, overseas partnerships, commercial properties, personal mansions and private planes.
It also investigates Trump associates. The president's disregard for norms set the tone at the top of the federal government, sparking a trickle-down ethics crisis with no precedent in modern American history. Trump appointed an inner circle of centimillionaires and billionaires--including Jared Kushner, Wilbur Ross and Carl Icahn--who all arrived in Washington with their own conflict-ridden portfolios. With the president as their guide, they busted through barriers meant to separate their financial holdings from their government roles.
Alexander tracks hundreds of millions flowing freely between big businesses and President Trump. He explains, in plain language, how Donald Trump bought and sold the presidency. In the tradition of game-changing political exposés like Dark Money, White House, Inc. represents the most complete financial account of the Trump presidency.
Published:

21 December 2020

ISBN:

9780593188521

Imprint:

Portfolio

Format:

Hardback

Pages:

288

RRP:

$50.00