The Wilson sisters might share a love of horses, but each has a very different approach to life and to riding. Are you most like Vicki, Kelly or Amanda? Take this quiz to find out!
Answer these questions and add up your score to find out which Wilson sister you are most like! For more fun Showtym activities, games and riding tips, check out the Showtym Adventures Annual, in bookstores now. 
1. Would you rather compete at the:
Road to the Horse, the World Championships of Colt Starting (1)
Extreme Mustang Makeover (2)
Olympics (3)
2. Which is your dream horse?
Wild American Mustang, like Jackie (2)
Colt, started from scratch, like Kentucky (1)
Tame but green horse, like Showtym Viking (3)
3. At an equestrian event would you be:
Photographing (2)
Competing in the World Cup class (3)
Performing in the Night Show (1)
4. In between riding you enjoy:
Writing (3)
Don't be silly, horses are everything! (1)
Travelling the world (2)
5. My favourite breed of wild horse is:
Kaimanawa of New Zealand (1)
Mustang of the USA (3)
Brumby of Australia (2)
6. My dream ride is:
Jumping a World Cup round (3)
Galloping down the beach (2)
Starting a young horse under saddle (1)
7. My friends describe me as a:
Princess (2)
Boss (1)
Comedian (3)
8. In front of a packed stadium I would be:
Jumping something massive, preferably bareback and brideless (1)
Doing a liberty performance (2)
Hosting the show (3)
9. When I meet a new horse I:
Can't wait to have adventures together (3)
Admire its beauty and photograph it (2)
Am determined to learn everything about it to help it reach its potential (1)
10. My attitude to competition is:
I'm constantly striving to beat my personal best (1)
Bring it on! All forms! (3)
I can do it, but it isn't terribly important to me (2)
---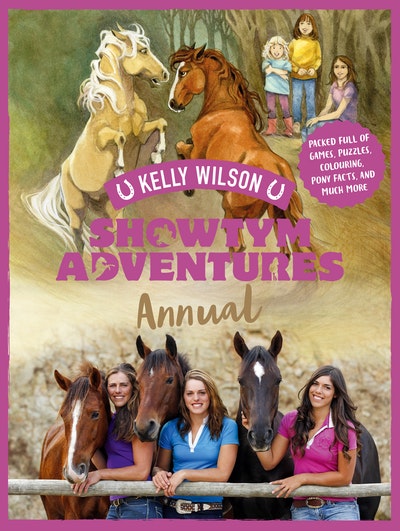 This very special annual featuring Vicki, Kelly and Amanda Wilson and their horses and ponies will delight fans of the Showtym Adventures series - and even the most horse-mad!
Buy now
Buy now
---