From the dairy to the beach to the hangi — in fact, anywhere Kiwis hang out — you'll find the following crackers being used.
1. 'How ya garn?'
Kiwis are right into shortening things: jail terms and odds on Bledisloe Cup matches spring to mind. Alas, it's no different with words. After all, why waste your time with 'Good day, fine sir, how would you be going on this splendiferous morning?' when you could simply get away with the above?
2. 'Good as gold.'
As in: 'How's the job?' 'Good as gold.' Meaning the employment in question is as good as having gold in your pocket. In the old days, having gold, as opposed to paper money, meant you could exchange it for goods and services anywhere.
3. 'Ka pai!'
Maori for 'good'. Even your average Palagi, or Honky, feels confident enough using the above. Indeed, some — the daring and reckless Pakeha — even attempt to place it in a full sentence: 'Ka pai kai (food) in my puku (belly).'
4. 'Haven't seen you in yonks!'
A cracker of a word, yonks. Literally meaning 'ages', one theory is that it comes from donkey's years. Another is that it's taken from years, months and weeks.
5. 'She'll be right!'
Arguably the most popular Kiwi phrase of all time. Can be used in response to a number of enquiries: 'Shall we lock the car?'; 'Do we have enough petrol to get us to Blenheim?'; 'Are you wearing a condom?'
6. 'You can't handle the jandal!'
I only recently learnt that the common Kiwi jandal got its name from a contraction of 'Japanese sandal'. The above would have been perfect in a New Zealand version of A Few Good Men: 'You can't handle . . . the jandal!'
7. 'He's a kumara short of a hangi.'
The lights are on but nobody's home. His elevator doesn't go to the top. Dumber than a box of rocks. Not playing with a full deck. If you don't get my drift by now, you obviously don't have both oars in the water.
8. 'Ya reckon?'
Typical response to your best friend's admission to having the hots for the guy from accounts who everyone else thinks is a complete bogan.
9. 'Bring a plate.'
Many a newbie to these shores has stubbed their toe on this one. Despite the instruction, this does not mean 'We're short of plates so please bring one', but rather, 'Bring a plate with something delicious on it. And don't forget to take it home. We've got enough plates.'
10. 'Sweet as.'
As Kiwi as a potato-top pie, a box of Jaffas or a game of Swingball. Literally translates to 'yes', or 'agreed'. 'F***ing A' or 'Right as rain' can also be used.
Bonus: 'Average as.'
Complete opposite of the above.
---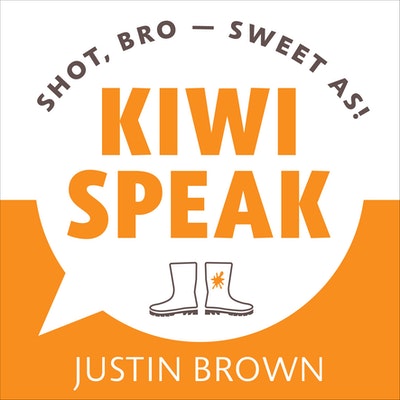 The weird and wonderful ways Kiwis have with the English language.
Buy now
Buy now
---