From Wham!, George & Me, Andrew Ridgely reveals four lesser-known facts about the 1980s pop sensation.
1. Known to friends as 'Yog', Georgios Kyriacos Panayiotou was a bit of a mouthful for suburban UK kids. Plus, it was a tad too long to be pressed onto 7" singles.
Set in print on a record label, 'G. Panos' didn't exactly shout 'superstar' and that realisation prompted a swift decision. Like David Jones changing his name to David Bowie, or Farrokh Bulsara becoming Freddie Mercury, Yog understood the importance of getting the name right. Georgios Panayiotou was never going to cut it. If it was beyond his schoolteachers and friends, radio DJs and TV presenters didn't stand a chance. His pop career required something that was going to be a little easier to pronounce. George Michael.
2. With their single 'Young Guns (Go For It!)' languishing on the brink of pop obscurity, a chance encounter in a club led Wham! to their maiden TV appearance on Saturday Superstore. It was no Top of the Pops, but this lucky break started in motion a string of events that launched the young band into the pop stratosphere.
What happened next was the single most important event in Wham!'s success. Unexpectedly, miraculously, Top of the Pops decided they wanted to have us on the show. There's still something of a mystery surrounding the circumstances of our appearance, but apparently another band had dropped out at the very last minute. I don't know who it was and we were never told, but fate stepped in and gifted us our golden opportunity. Anxious for a replacement act, one that could turn up at short notice, the producers scrutinised the weekly charts. Wham! came to their attention for two reasons. The first was that [on the back of the Saturday Superstore appearance] we were moving up the charts and had jumped to a position just outside the Top 40. The second was that we were a UK band, and able to drop everything at short notice. They called Innervision to ask if we could do it. There was only one answer to that. We grabbed the chance with both hands.
3. As the Wham! juggernaut started rolling and interview requests began flooding in, it took a while for Andrew and George's wardrobes to catch up with their marketing angle of being the hip, vibrant, fashionable face of teenage Britain.
We certainly had no stylist. The white espadrilles that were a key part of the Wham! look cost £9.99 and came from Dolcis. A few photo shoots in and they were looking decidedly grubby. And George had already lost one pair in Stringfellows. George's favourite jeans only cost a tenner from Chelsea Girl and they weren't even his. He had 'borrowed' them from Shirlie and refused to give them back. We shared just one printed, short-sleeved shirt between us. I wore it during an interview with the Melody Maker and George took it for a photo shoot and interview with The Face, leaving me to wear a string vest that George had worn during a record company photo shoot in Corfu. Beyond that, I only had about three shirts and one pair of trousers!
4. Elton John performed alongside Wham! at their final show – joining George and Andrew for a reworked version of 'Candle in the Wind'. Far from the madding crowds of a packed Wembley Stadium, the relationship with John was initially formed over a boozy lunch.
We were both taken aback. Bloody hell! Lunch with Elton John? The idea seemed surreal and we couldn't believe our luck. A few days later, and feeling a little nervous, we drove over to meet our host, who was immediately charming, big-hearted and very kind to both of us as we started an afternoon of drinking and eating. Both of us had heard tales of the legendary opulence of Elton's hospitality, and as two boys from Bushey, then only twenty-one years old, it was quite an intimidating experience. The wit at the table was rapid-fire; it could be acerbic too, with Elton holding court from one end of a lavish feast in the elegant surroundings of his sunny patio…
Good times were such that lunch ran into evening, and our group moved on to a nearby nightclub where Elton's songwriting partner, Bernie Taupin, joined the party. By that stage, all of us were fairly well oiled. Somebody mentioned that the actress Joan Collins had moored her yacht in Saint-Tropez's harbour. Leaving the party, and fuelled by alcohol and the memories of her somewhat racy film The Stud – in which she'd played a nymphomaniac nightclub owner – George shouted across the water, 'Joan! Show us your knickers!'
---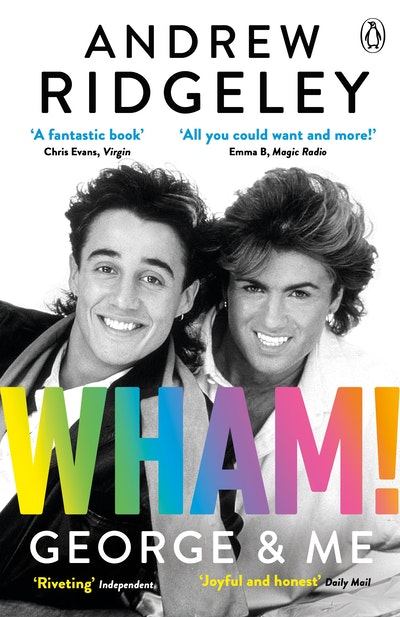 The long-awaited and lovingly told story of Andrew, George and their time together as WHAM!
Buy now
Buy now
---