We asked young Kiwi readers all over NZ to read and review Jamie Littler's debut novel Frostheart. Here's what they had to say about this hilarious and heartwarming frosty magical adventure! 
'If you like adventures in the snow, you should read this book it is definitely for you. I think boys and girls would like this book, but not babies, so 8-9 year olds.'
- Zoe, age 8, Porirua (read Zoe's full review!)
'I loved how this story taught the reader the importance of trust and to be careful of who you should trust but to also trust yourself'
- Taylor, age 10, Pegasus Bay (read Taylor's full review!)
'I felt like I was part of the crew of Frostheart . . . The story helped me use my vivid imagination to see the sunset as if I was along on the journey. I could almost hear the music and congo drums beating which for a girl who likes music was very well described. I could taste and smell the food and that made it even more interesting.'
- Sophie, age 11, Whangarei (read Sophie's full review!)
'I would recommend Frostheart for children aged 9 and 10 as the story requires a good dose of imagination as well as a good understanding of some complex ideas and vocabulary. Frostheart is a story of magic and adventure with plenty of action along the way.'
- Piper, age 10, Christchurch (read Piper's full review!)
'. . . this is a story for all ages. It would even be a good book for a teacher to read aloud to a class.'
- Jack, age 10, Canterbury (read Jack's full review!)
'I liked the action and adventure of the story. It was exciting to read and had funny parts . . . I didn't want to put the book down!  . . . I think this story would suit children aged 7 and up. I even know some adults who would enjoy reading this book. Boys and girls would both like the story, especially if they enjoy fantasy stories, magic and adventure.'
- Thomas, age 8, Te Awamutu (read Thomas' full review!)
'I think Frostheart is a very good book. I would recommend it for 10 to 14 year olds and anyone looking for a good fantasy read.'
- Fred, age 10, Hamilton (read Fred's full review!)
'Frostheart is one awesome adventure novel with a fair share of sad parts with happy ones. Frostheart is suitable for readers aged from nine to thirteen and their parents. The world-building is amazing, I would like to go there. I couldn't stop reading it because it is such a great book.'
- Finn, age 10, Auckland (read Finn's full review!)
'I would recommend this book to people that like enjoy fantasy books, and I suggest this book for people 8+. Overall I rate it a 4/5.'
- Jade, age 10, Wellington (read Jade's full review!)
---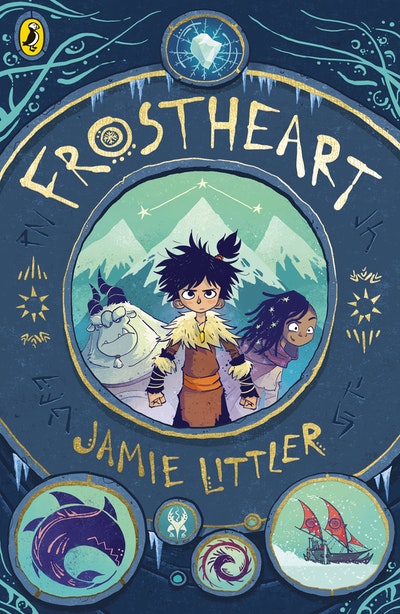 Nevermoor meets Frozen with a splash of How to Train Your Dragon in this hilarious and heartwarming frosty magical adventure!
Buy now
Buy now
---