From Earth's very origins, weather has exerted its mercurial influence and shaped the world we know. Wielding tempests and storms, weather has the power to disrupt and destroy; yet at its most gentle, it can relieve and restore.
Strong winds over mountainous terrain have generated the uplift to form this wave-cloud.The dark ragged cloud protruding from the base has formed in a low-level pocket of increased moisture. Photo by Derek Morrison. 
Weather and climate stories are common place in our media today, and so are stories of damage and increasing insurance pay-outs for the destructive impacts. As a topic of frequent conversation, the weather is one of the most popular due to ourchangeable conditions — New Zealand can literally experience four seasons in one day.
The difference between weather and climate is down to time. Weather is what the atmosphere brings us over a short period of time, and climate is how the atmosphere 'behaves' over relatively long periods. So, weather reflects short-term conditions of the atmosphere and it can change from minute to minute, hour to hour and day to day, while climate is the average weather for an extended period of time at a certain location.
Climate change is increasing the intensity and frequency of extreme weather events. As these events are now more significant, we Kiwis as kaitiaki (guardians) of the land and sea need to consider the consequences for future generations.
It would be remiss to write a weather book that doesn't address our changing climate, so this book uses extreme weather to make climate change impacts more relatable to the readers. As our weather becomes more extreme through climate change, the importance of meteorological expertise and the ability to translate it into meaningful weather warnings and insights is even more essential.
In this book, MetService Te Ratonga Tirorangi, New Zealand's National Meteorological Service, brings the stories and the science of weather together to highlight the impacts of wild weather on Aotearoa, the land of the long white cloud. These stories include eyewitness reports of rivers washing bridges away, of standing in the path of an ex-tropical cyclone, the tingling after a lightning strike, and being thrown by a violent tornado, along with MetService meteorologists' expert explanations of the conditions that caused these terrifying weather events.
Lying within the open oceans, sandwiched between the volatile Tropics and stormy Southern Ocean, New Zealand experiences some of the world's most changeable weather. Antarctic southerly winds, subtropical down pours, temperate breezes, sweltering sun— we encounter it all. Little wonder, then, that such a dynamic weather environment has shaped a body of expertise and knowledge second to none.
In MetService's National Forecast Centre, more than 60 meteorologists, who are trained to the standards of the World Meteorological Organization (WMO), keep a 24/7 eye on the skies, the ocean and the latest weather models and provide New Zealand with its official Severe Weather Warnings.
These meteorologists look to the future using their expertise to interpret model and observational data and predict the incoming weather. This knowledge has grown from its earliest beginnings when the first scientific manual observatories were established in 1861, through to MetService today in a digital age.
Weather forecasts are vital to all aspects of life. New Zealanders — be they farmers, horticulturalists, pilots, mariners, drivers, builders or outdoor enthusiasts — rely on the accuracy and forewarning of the weather forecasts and insights that MetService provide.
MetService is a Kiwi company with a local and global view. It contributes beyond our own shores as part of the WMO, working with our Pacific neighbours in regard to severe weather; the monitoring of tropical cyclones, volcanic ash and the southern ice shelf, as well as inputting observations into global models. Many staff represent New Zealand on WMO constituent bodies to help develop programmes and advance forecasting indeveloping nations. Forecast accuracy has dramatically improved particularly in the last 50 years. Enhancements in technology,along with computer modelling, have enabled meteorologists to forecast the weather with much greater certainty over a longertime frame. So much so that people can forget that meteorologyis still a prediction of a chaotic future state of the atmosphere and all its intricate components.
This book aims to present an understanding of the basics of New Zealand's weather; wild by its very nature.
Stratiform clouds hugging the mountainsin Fiordland. Photo by Derek Morrison.
---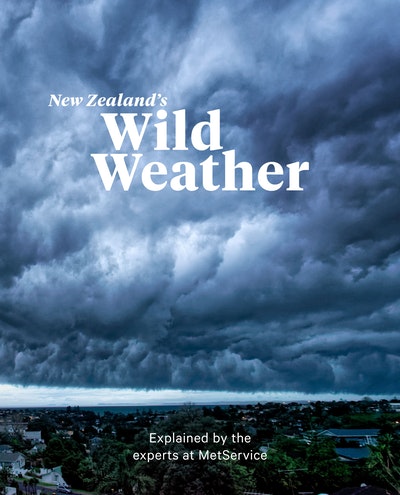 The drama of New Zealand's changeable weather. Are the events we are seeing due to our changing climate?
Buy now
Buy now
---