Read the story being discussed on Jesse Mulligan's show on Radio New Zealand on 4 October 2018
After Birth
by Sarah Laing
It's Good Friday when you wrench your way into the world and lie on the delivery table, your eyes closed. Your head is a hairball dug out of a drain, your skin smudged with wax and blood. Everything is closed – all the shops and the museums, the sushi bars and veterinary clinics. Even the churches have bolted their doors, and I have a song in my head that won't go away, about dying on Good Friday, holding each other tight.
They lie you on my chest and you huff and rustle like a chip packet and still you won't open your eyes. I don't believe you have any. I want to peel back your lids with my thumb because I saw you on screen when you were telecast from space and there was nothing there, only dark hollows. Your head is scabbed from when they scraped your skin to test your pH level, and I think of the beer I baptised myself with to make my hair silky and balanced, a perfect 5.5.
The paediatrician says your lungs are like a bag that won't fully inflate and that's why you're making that funny noise. I remember the mince pies I had for school lunches, the loud bang the brown paper would make when popped. If you don't stop making that noise you will be taken away from me; you will be put in a plastic carton in the sandwich shop of half-made babies.
Your lungs have quietened so you are returned to suckle, and I ask your father Does he have eyes? Yes, he says. I don't believe him, and you won't drink so a woman is called to help. She has a cloche of white curls and glasses on a gold chain, and she describes my breasts as meat patties, and your lips the split bun. I squash the burger into your mouth. But still you won't drink so she harvests the colostrum with a syringe, droppers it into your mouth. She says that I am to take off all your clothes and lie you on my bare chest, to snuffle your way up to my breast when you are ready.
I try that when I am returned to the ward, pushed into my bed because my legs have been deadened. But the midnight midwife is angry at me for letting you get cold and she confiscates you, sealing you in the nursery sandwich carton. She is so angry at me that she lets me go to the bathroom by myself, and when I spill blood all over the white tiles I have to mop it up with towels thinned by bleach. I tell her I need you back to breastfeed, but she has already given you a bottle of formula. I try to express colostrum for later, and she pinches her lips and purses my nipples, telling me that I am doing it all wrong. She squeezes out a few drops and says there's nothing more there.
I have nothing, not even a baby. I lie in my green room with the clock that ticks loudly enough to remind you of my heartbeat. I look at the full moon through the curtain crack but there is no cow jumping over it, and I still haven't seen your eyes. I giggle at my wrists, which bleed from catheter wounds on Good Friday. I cry because there are no flowers for us and your father has gone home. I don't sleep until you are returned with a warning, Don't you go taking off his clothes again; he doesn't have any fat on him to keep him warm.
I have you all to myself now, forty hours after they first applied the gel to make you come early. You didn't want to come at all, and still you shiver and peep, scared of this air which is so easy to fall through, scratched by the cotton and wool, not fooled by the clock. I rise on my half-dead legs and look at you, wondering whether you really are mine. You open your eyes and look back.
'After Birth' © Sarah Laing, published in Coming Up Roses, Vintage, 2007.
---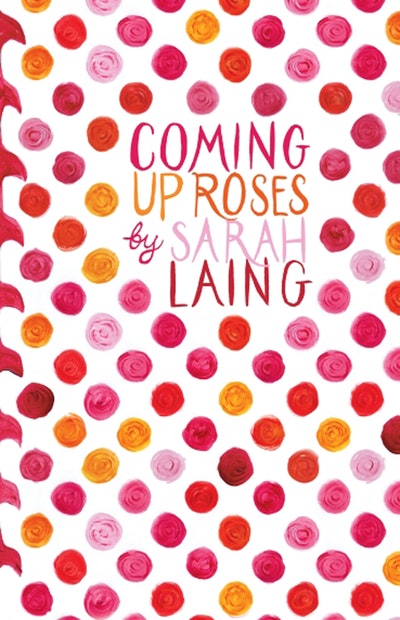 Prize-winning writer Sarah Laing has written a superb collection of stories that are beautifully written, vividly rendered and which stimulate and surprise.
Buy now
Buy now
---