Christine Leunens shares discussion points, ideas and questions for her book Caging Skies in this book club guide. Caging Skies is a gripping, atmospheric novel about obsession and love.
When I began the research for this novel nearly two decades ago at the Memorial Museum for Peace in Normandy, never did I imagine the rise of the far right and extremism to be seen again anytime during my lifetime. Yet because of this unfortunate fact, the story has — since its first New Zealand edition in 2008 — migrated far and wide around the world, in over twenty languages and twenty-five countries. The play adaptation by Desirée Gezentsvey, directed by Andrew Foster, had its world premiere at the Circa Theatre in Wellington in 2017; and the film adaptation, Jojo Rabbit, premiered at the Toronto Film Festival in 2019 winning the People's Choice Award. I wrote Caging Skies to try and understand the mechanics of hatred on a small scale, step by step – how 'Hitler's dream' affected families and the domestic realm, how children, who have such a natural sense of justice, could be taught racism in school and violence at camp. My next challenge was to explore some unexpected, alternative paths and see where the story's main characters and its complex, changing emotions and themes would go from there.​
As Hitler increasingly becomes Johannes' father figure, how does this affect his relationship with his own father? And his mother?
Caging Skies explores individual versus collective responsibility. At what moment do you feel Johannes is fully responsible for his own actions? As a child? A teen? An adult?
What laws, acts, lies and terminology compel Johannes to both fear and hate Jews? Does his evolving relationship with Elsa change his views? Or does he only think of her as an exception?
Pimmichen, Johannes' grandmother, still lives in another world, longing for the former glory of the Austro-Hungarian Empire. By being clueless to what is going on around her, she brings an element of comedy to the story. Does not knowing about Elsa exonerate her from her individual responsibility? In other words, does not knowing exempt her in terms of guilt? How does this apply to the Germans who didn't know what was happening at concentration camps, or didn't want to know?
The title 'Caging Skies' resonated with me in an abstract, metaphorical way. First, the war situation, then Johannes himself cages Elsa in for several years; and though she is never allowed to leave the house, her mind regularly wanders out of it. A mind, like the sky, cannot be caged. On the other hand, Johannes, though he is free to come and go as he pleases, has had something beautiful and innocent in him, also once like the sky, caged in by his childhood indoctrination. There is an important scene in the book, where Johannes and Elsa argue about whether a bird is protected or kept captive in a cage, each offering different views on the meaning of love, life and freedom. How does this scene add to the meaning of the title?
The book often contrasts the imaginative world with reality. How do Elsa's and Johannes' respective imaginations vivify each's own life? How do they at the same time torment each of them? Is the world of the imagination in some way real?
At what point does Elsa suspect the truth? Why would she go along with the lie? What are the complex feelings and reasons that keep her in?
---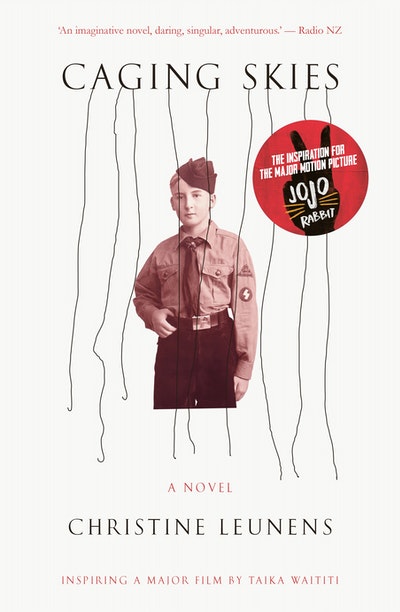 A gripping, atmospheric novel about obsession and love.
Buy now
Buy now
---