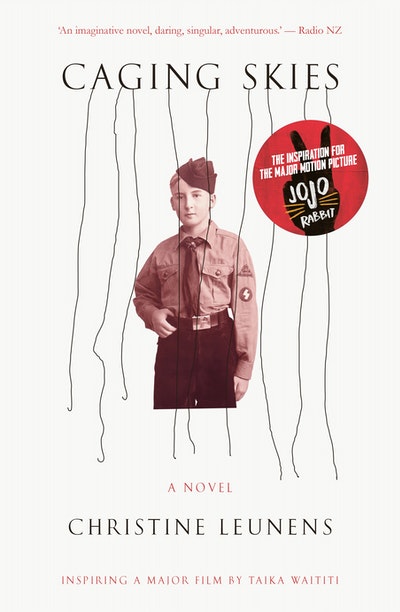 Published:

1 October 2019

ISBN:

9780143773580

Imprint:

RHNZ Vintage

Format:

Trade Paperback

Pages:

304

RRP:

$38.00
Caging Skies
---
---
---
A gripping, atmospheric novel about obsession and love.
Inspiring a major film, this gripping novel examines truth and lies, and lays bare our darkest impulses.
I was sure I heard steps up and down the hall in the middle of the night.
Johannes is an avid member of the Hitler Youth. As the war rages on, he discovers his parents are hiding a Jewish girl called Elsa behind a false wall in their large house in Vienna. His initial horror turns to love and obsession.
Both manipulating and manipulated, Johannes soon finds he is the only one aware of Elsa's existence in the house, the only one responsible for her survival.
'It is a beautiful novel, powerful, different, and ambitious.' — Le Monde
Published:

1 October 2019

ISBN:

9780143773580

Imprint:

RHNZ Vintage

Format:

Trade Paperback

Pages:

304

RRP:

$38.00
A vivid and deeply compelling novel, Caging Skies is an existential battle of moral and ethical extremes. Christine Leunens is an adept and eloquent storyteller.

Georgia Hunter, bestselling author of We Were the Lucky Ones, New York Times
Christine Leunens' novel Caging Skies begins in Austria at the time of its annexation to the German Reich. Narrator Johannes Betzler is [. . .] a boy who innocently embraces the Nazi dream. He becomes a member of the Hitler Youth but soon makes a devastating discovery: his parents are hiding Elsa, a young Jewish woman, behind a false wall in their house. That parents became afraid of their children is an electrifying element of the time. It's rich ground for fiction. The Betzler family is a vital, believable group. For the reader, drawn into the subtle interactions of the Betzler house, Leunens' clear, elegant prose and sometimes blackly comic tone, this would be satisfying enough. There is more to come, however. The madness of the war has entered Johannes.

Charlotte Grimshaw, New Zealand Listener
The opening lines of Christine Leunens's novel are more like poetry than prose. Certainly, it presents a fascinating psychological study in self-justification. Leunens has an ear for language and the ability to create a vividly sensual world for her characters that I found highly satisfying.

Cushla McKinney, Otago Daily Times
Totally compelling.

NZ Woman's Weekly
Leunens has created a powerful, imaginative and clever psychological drama. In dealing with obsessive love and self-delusion, she views truth and lies at the political and personal level.

Nelson Mail
A novel that breaks all the rules. In spite of this, or maybe because of it, the result is a disturbing and gripping novel that has haunted me ever since I finished reading it.

New Zealand Books
A fine range of psychological relationships going on through this big story. It is a major ambition and significant accomplishment as a book. Leunens does a remarkable job capturing the nature of the two people and the complicated relationships among them. An imaginative novel, daring, singular, adventurous. I'm commending it as much as recommending it.

David Hill, Nine to Noon, Radio NZ National
An analysis of the uncontrollable fecundity of a lie, which gives way to life and concrete experience. The lie doesn't mystify or disown reality, but rather becomes the plasma of one's desires and the adjusting to one's necessities. The liar himself falls into a spiral of self deception until he consciously cages himself in a virtual universe, whereby the internal truth and false, fiction and authentic constitute one.

Ruggero Bianchi, La Stampa
The writing of Christine Leunens is a real pleasure to read and boasts beautiful stylistic finds. Caging Skies is a successful autopsy of the empire of passions. It is impossible to never recognise oneself in the setbacks of the protagonist.

Aurélia di Donato, Evene
It is a beautiful novel, powerful, different, and ambitious. It explores a less rare form of relationship, it appears, than one believes: love so total that it locks up, isolates and colonises the partner until destruction; annihilates the outside world. This kind of passion naturally implies the lie, the dressing up of realities and the construction of a wall to protect itself. It's without a doubt in the malaise one feels when reading Caging Skies that one recognises the surprising, surprising power of the novel. A profound malaise, which lasts well after the read, sign of a very rare power, that of a truly good book, which knows how to carry the reader into a story. Christine Leunens . . . always has the immense merit of surprising and captivating. Caging Skies is one of these books that cannot be forgotten.

Jean Soublin, Le Monde
Leunens is a strong writer, her prose supple and darkly engaging. Her depiction of wartime Vienna is nearly cinematic and utterly convincing.

Kirkus Review
Caging Skies is a superbly written story of a young Aryan boy, Johannes, growing up in Vienna at this time.

Margaret Reilly, Stratford Press
Article
Caging Skies - book club guide
Christine Leunens shares discussion points, ideas and questions for her book Caging Skies in this book club guide. Caging Skies is a gripping, atmospheric novel about obsession and love.