Meet the author of The Girl on the Train.
Paula Hawkins, the author of the #1 New York Times bestselling book The Girl on the Train, answers five questions about her brilliant debut thriller and her writing career.
1. The Girl on the Train is a masterfully written thriller – have you always been a fan of the genre?
I developed a taste for crime as a teenager with Agatha Christie, but I think it was Donna Tartt's The Secret History, which really opened my eyes to the possibilities of the psychological thriller. I read a lot of crime fiction now: I particularly love Kate Atkinson's Jackson Brodie series which, like Tartt's work, blend cracking plots with beautiful writing and exceptionally crafted characters. I am also a big fan of Tana French's police procedurals, as well as writers such as Harriet Lane, Megan Abbott and Gillian Flynn.
2. The main characters are all such distinct personalities – were they based on anyone you know?
Like a lot of authors, I'm a bit of a magpie, and I borrow bits of people's personalities and put them into characters. None of my characters is based on any one person, but they may share traits with people I've met.
3. You've been a journalist for many years – has the urge to write a work of fiction been kicking around for a while?
I loved creative writing as a child, and I've actually been writing fiction on and off ever since– I just didn't used to show it to anyone! I have dozens of unfinished novels on stored away on hard drives – some might just be a few pages, some are tens of thousands of words long. I may even return to some of them one day.
4. A real strength of The Girl on the Train is the realistic depiction of alcoholism. What kind of research did you do to create such a compelling portrait of the disease?
We live in a booze-soaked culture in the UK, so you don't have to go far to experience the havoc that heavy drinking can wreak. Nor do you always find alcohol dependence in the most obvious of places: there are plenty of high-functioning, successful people who teeter on the brink of the abyss into which Rachel has slipped.
I did some reading on black outs induced by drinking – why they occur in some people and not others and what exactly is happening in the brain when they do occur is not fully understood. I know anecdotally that memory loss is often something which afflicts heavy drinkers, but the interesting thing is that it doesn't necessarily happen in a uniform or predicable way. In some instances, a drinker's recall of experience is recoverable, in others, it seems that no memory has been formed at all.
5. A lot of readers have described the book 'as exciting as Gone Girl' – how do you feel about those comparisons?
I am a huge fan of Gone Girl. I thought it was an extraordinary book and in Amy I think Flynn created a character that people will be talking about for years, so to be mentioned in the same breath as that book is a huge compliment as far as I'm concerned. I can see why people draw comparisons, but I also think that The Girl on the Train is a very different book. While Gone Girl deals with the disintegration of a marriage, in The Girl on the Train we have already passed that point: Rachel's marriage is gone, she has no job, no home, she has lost everything. Most importantly, she's lost control – whereas Flynn's protagonist is very much in the driving seat.
---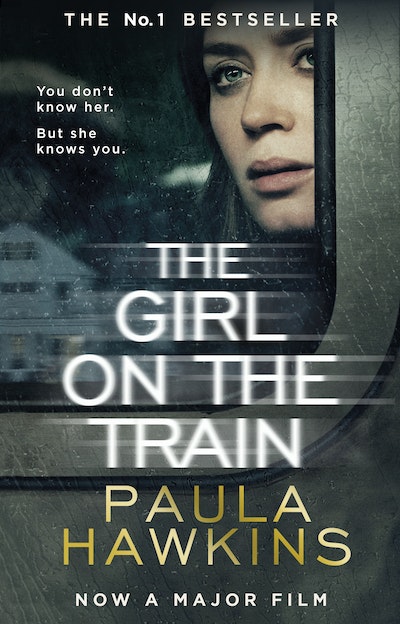 THE RUNAWAY SUNDAY TIMES NO.1 BESTSELLER AND THRILLER OF THE YEAR YOU DON'T KNOW HER. BUT SHE KNOWS YOU.
Buy now
Buy now
---