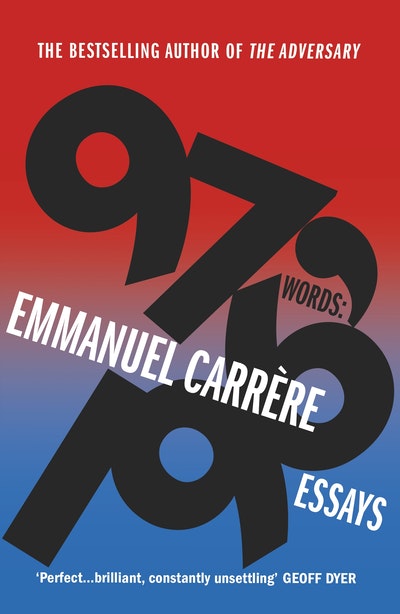 Published:

7 November 2019

ISBN:

9781473547872

Imprint:

Vintage Digital

Format:

EBook

Pages:

304
97,196 Words
Essays
---
---
---
From the bestselling author of The Adversary and 'France's greatest writer of nonfiction' (New York Times), the first collection of Carrère's essays in English.
*The first collection of essays in English from the Sunday Times bestselling author of The Adversary*
Over the course of his career, Emmanuel Carrère has reinvented non-fiction writing. In a search for truth in all its guises, he dispenses with the rules of genre. For him, no form is out of reach: theology, historiography, reportage and memoir – among many others – are fused under the pressure of an inimitable combination of passion, curiosity and intellect that has made Carrère one of our most distinctive and important literary voices today.
97,196 Words introduces Carrère's shorter work to an English-language audience. Featuring more than thirty extraordinary texts written over an illustrious twenty-five-year period of Carrère's creative life, the book shows a remarkable mind at work. Spanning continents, histories, and personal relationships, 97,196 Words considers the divides between truth, reality and our shared humanity, exploring remarkable events and eccentric lives, including Carrère's own.
Published:

7 November 2019

ISBN:

9781473547872

Imprint:

Vintage Digital

Format:

EBook

Pages:

304
A superb collection of essays by Emmanuel Carrère, one of the best storytellers around… When Carrère writes a story, he knows how to stir up powerful and conflicting emotions in his reader, which is one of the reasons he's so good… It's the best book I've read for ages.

William Leith, Evening Standard *Books of the Year*
The most exciting living writer.

Karl Ove Knausgaard
Emmanuel Carrère is known for the way he bends and breaks genres… [he] is the most celebrated writer of high-end nonfiction in France… the core of Mr Carrère's talent is precisely that he brings readers into sympathetic contact with others, powerful and powerless, insiders and outsiders… It is a masterful illusion.

Economist
Impossible not to fall in love with…Carrere is regarded as a superstar writer… it is a joy to be reminded of all the wonderful things that [creative non-fiction] can do.

Kathryn Hughes, Guardian
Emmanuel Carrère, a man fascinated by crime, eroticism and the oddities of human behaviour, is arguably France's most original living writer of non-fiction… he creates reportage, that, with its insight and humanity, is closer to literature than journalism.

Nick Rennison, Sunday Times
97,196 Words is that unlikely thing: a perfect introduction for those who are unfamiliar with the brilliant, constantly unsettling world of Carrère's work and a welcome treat for those of us who are already uncomfortably (and therefore happily) settled there.

Geoff Dyer
A page-turner and a mainstream bestseller in France…Carrère is without doubt extremely crafty… He writes non-fiction as if it were fiction… Gripping essays.

Andrew Hussey, New Statesman
The French polymath writes in a brilliantly unsettling manner, skipping genre from memoir to theological tract.

i
Carrère's transparency about his approach is what sets him apart… In his native France it is precisely because his non-fiction exudes an erudite intimacy and lack of obfuscation that he is hailed as a writer who can be compared with Montaigne.

Tobias Grey, Financial Times