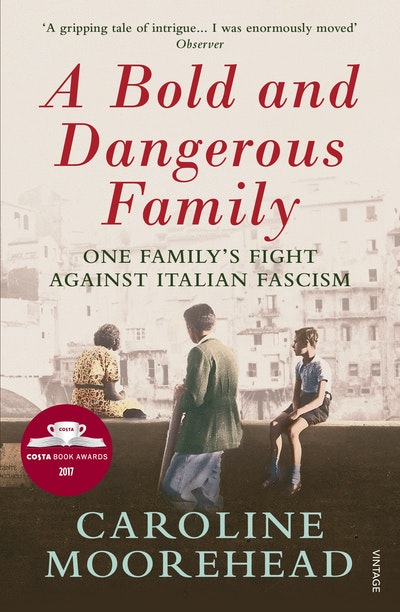 Published:

30 April 2018

ISBN:

9780099590156

Imprint:

Vintage

Format:

Paperback

Pages:

448

RRP:

$30.00
A Bold and Dangerous Family
The Rossellis and the Fight Against Mussolini
---
---
Following two bestselling books on the French Resistance, including the Samuel Johnson-shortlisted Village of Secrets, Caroline Moorehead turns her attention to the anti-fascist movement in Italy.
SHORTLISTED FOR THE COSTA BIOGRAPHY AWARD
Mussolini was not only ruthless: he was subtle and manipulative. Black-shirted thugs did his dirty work for him: arson, murder, destruction of homes and offices, bribes and intimidation. His opponents - including editors, union representatives, lawyers and judges - were beaten into submission. But the tide turned in 1924 when his assassins went too far, horror spread across Italy, and antifascist resistance was born. Among those whose disgust hardened into bold and uncompromising resistance was a family from Florence: Amelia, Carlo and Nello Rosselli. Caroline Moorehead draws readers into the lives of this remarkable family - their loves, their loyalties, their laughter and their ultimate sacrifice.
Published:

30 April 2018

ISBN:

9780099590156

Imprint:

Vintage

Format:

Paperback

Pages:

448

RRP:

$30.00
Praise for A Bold and Dangerous Family
A gripping tale of intrigue… I was enormously moved

Observer
Expertly alternating vivid domestic detail with lucid exposition of the gradual evolution of totalitarianism… It feels like the book she was born to write

Lucy Hughes-Hallett, Guardian
The creepy description by the author of the naivety of the good and the seductive powers of the bad touches a nerve. A Bold and Dangerous Family is a haunting reminder of the fragility of liberty and the dangers of complaisance

Leanda De Lisle, The Times
Moorehead's book, written with sensitivity, erudition and balance, is a fine tribute to the Rosselli family

Financial Times
Much has been written about life under fascist rule… But the study of a nation can never be as emotionally compelling as the study of a family… Expertly alternating vivid domestic detail with lucid exposition of the gradual evolution of totalitarianism, Caroline Moorehead allows her readers not only to know, but also to feel, how it was to endure fascist oppression… A prolific author who has always combined seriousness of purpose with a warm, human touch, she is drawn to good-hearted troublemakers… A Bold and Dangerous Family is animated by the evident admiration and affection she feels for her subjects. It feels like the book she was born to write

Lucy Hughes-Hallett, Guardian
Italy's resistance to fascism and totalitarian rule was more widespread and well organised than in any other European country… Foremost among the opposition to fascism, there were two portly, bookish, Jewish brothers… Lucid, readable and superbly titled biography of the brothers… The fact that this was a family that cared about words gives Moorehead's book a richness and poise that's rare in a political biography, more novel-like than journalistic… It's hard not to feel regular little shivers of horrified contemporary recognition oat the rise of the populist demagogue Mussolini… At once a political history of pre-second world war Italy, a literary portrait of two brave young men, and a gripping tale of intrigue… I finished it impressed, breathless and enormously moved

Alex Preston, Observer
Caroline Moorehead… tells the story of the Rosselli brothers and their mother Amelia, a playwright, with sensitivity, erudition and balance… Her account of the final years of Carlo's life is moving. The Mussolini regime became more radical, invading Abyssinia, intervening in the Spanish civil war and aligning itself with Hitler… Moorehead's book is a fine tribute to the Rossellis, and particularly to Carlo, who might have turned into one of Italy's greatest 20th-century statesmen

Tony Barber, Financial Times
Carefully, and with considerable skill, Moorehead juxtaposes the growth into maturity of the intelligent Florentines, Carlo and Nello, with a vivid account of the turbulent conditions that enabled Fascism to take root

Miranda Seymour, Daily Telegraph
A Bold and Dangerous Family represents a major contribution to the study of anti-Fascism, further enriched by Caroline Moorehead's vivid portrayal of interwar Italy and Europe

Jonathan Keates, Literary Review
A professional historian of modern Italy might… think it about time thay we had a clear and genuine account of the Rosselli's story in English. This is what Caroline Moorehead provides in her engrossing new book

RJB Bosworth, Oldie
It's a shocking and very powerful story, and can hardly avoid putting the question — what would you do in these circumstances?

Philip Hensher, Spectator
Humane and engrossing

Lucy Hughes-Hallett, Observer
Absorbing

Ian Thomson, New Statesman
Fascinating

Gabriel Josipovici, Jewish Chronicle
Spellbinding… A poignant reminder of the high price of freedom.

Simon Shaw, The Mail on Sunday
A fine book… Sound scholarship is wedded to an elegant and captivating narrative style.

Gigliola Sulis, The Times Literary Review