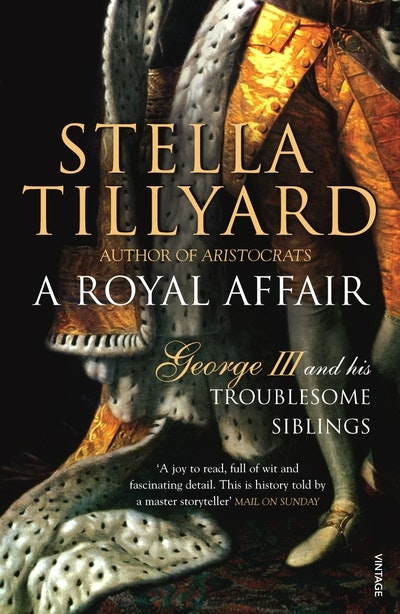 Published:

1 August 2011

ISBN:

9781409017691

Imprint:

Vintage Digital

Format:

EBook

Pages:

400
A Royal Affair
George III and his Troublesome Siblings
---
---
---
The acclaimed, bestselling author of ARISTOCRATS returns with a stunning, major new book about a scandal-ridden family trapped between duty, desire and the protocols of royalty - the dramatic story of a king trying to hold family and state together, as both his siblings and his American colonies rebel... A sweeping picture of 18th-century royalty, politics and family affairs, impeccably researched, with glamorous settings, driving narrative, dazzling characters and provocative ideas.
The young George III was a poignant figure, humdrum on the surface yet turbulent beneath: hiding his own passions, he tried hard to be a father to his siblings and his nation. This intimate, fast-moving book tells the intertwined stories. His sisters were doomed to marry foreign princes and leave home forever; his brothers had no role and too much time on their hands - a recipe for disaster. At the heart of Tillyard's story is Caroline Mathilde, who married the mad Christian of Denmark in her teens, but fell in love with the royal doctor Struensee: a terrible fate awaited them, despite George's agonized negotiations. Around this tragedy, Stella Tillyard weaves the dramas of the rakish Duke of York; the Duke of Cumberland, caught up in a notorious divorce; the Duke of Gloucester, secretly married, to the fury of the King. Desperate for control, George constructed the Royal Marriage Act, which still bedevils the royal family today. At the same time he faced his tumultuous American colonies. And at every step a feverish press pounced on the gossip, fostering a new national passion - a heated mix of celebrity and sex.
Tillyard conjures up a Georgian world of war and peace, the choppy seas and backwaters of international diplomacy in a changing world of ancien régimes and radical ideas - the history of private passions and public disgrace, rebellion and exile, in a curtain raiser to the revolutions which convulsed two continents.
Published:

1 August 2011

ISBN:

9781409017691

Imprint:

Vintage Digital

Format:

EBook

Pages:

400
Praise for A Royal Affair
In this superbly engrossing and revelatory book, Tillyard's detective instincts and clever narrative structure...work together to inform and delight. She writes with a strong and well-planned energy

Min Wild, Independent on Sunday
A Royal Affair is a joy to read, fill of wit and fascinating detail. This is history told by a master story-teller

Princess Michael of Kent, Mail on Sunday
A very good read. There is pace, colour and well-researched writing

Leslie Mitchell, Literary Review
Dr Tillyard's masterful and entertaining accounts of the fates of George's brothers are poignant reminders of the curse of being born royal

Ben Wilson, Spectator
The numerous fans of her Aristocrats (in which number I include myself) will not be disappointed: here is the same judicious mixture of intimacy and scholarship

Antonia Fraser, Sunday Times
A Royal Affair is an entertaining tale ...Tillyard's account of the brothers is heroic...[she] tells this astonishing tale with bravura

John de Falbe, Daily Telegraph
She has returned to what she knows-and does-best, teasing out the bonds of love, hate and pretend indifference that bind siblings, no matter what their historical pedigree, into a cat's cradle of consequence

Economist
The story is brilliantly told. In its descriptive flourishes it is sometimes fearlessly novelistic, yet it travels long distances for scholarly scruples

John Mullan, Times Literary Supplement