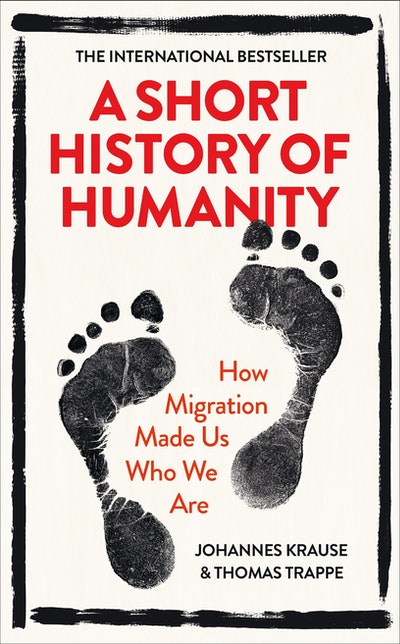 Published:

13 April 2021

ISBN:

9780753554951

Imprint:

WH Allen

Format:

Trade Paperback

Pages:

288

RRP:

$40.00
A Short History of Humanity
How Migration Made Us Who We Are
---
---
---
An international bestseller, covering 2 million years of human history in 250 pages, which proves that migration has always been an essential part of our success as a species.
Migration isn't just part of our human history; it is in our DNA - and it's been key to our survival as a species.
'"Send them back", it seems, is the lowest common denominator among many right-wing populist movements worldwide. Migration may be a hot-button topic right now, but it's certainly not a new phenomenon. On the contrary. The recent waves of immigration pale in comparison to those that swept across Europe thousands of years ago. We know this not from history books but because it can be read in ancient skeletons. Revolutionary new technology has made it possible to decode human DNA even if it's hundreds of thousands of years old, uncovering the story that we tell in this book.'
In A Short History of Humanity, Johannes Krause and Thomas Trappe take us on a whistlestop tour through the history of our ancestors, from the ice age to the present day, and demonstrate that migration and mass resettlements are not modern age phenomena. In fact, since Homo erectus, mankind 'was always on the move' and spread from his native Africa into the whole world, including what later became Europe.
Thanks to revolutionary new technologies, scientists understand mankind's history in greater depth than ever before. Archaeogenetics has become a fast-growing field with Johannes Kraus at the very forefront of it. Based on ground-breaking new findings, it reveals that much of what we take for granted about modern human culture arose directly from successive waves of migration, and tackles universal questions: Where do we come from? Is there any such things as 'native people'? Why did some species of human succeed where others failed?
Published:

13 April 2021

ISBN:

9780753554951

Imprint:

WH Allen

Format:

Trade Paperback

Pages:

288

RRP:

$40.00
Praise for A Short History of Humanity
'Extremely enriching. Rarely, have I been able to learn so much and get such radically new insights on 250 pages.'

Süddeutsche Zeitung
'Modern archaeogenetics provides compelling new facts for the current migration debate, but also some real explosives. [A] cornucopia of new knowledge [...], easily accessible as gripping as a historical thriller.'

FAZ