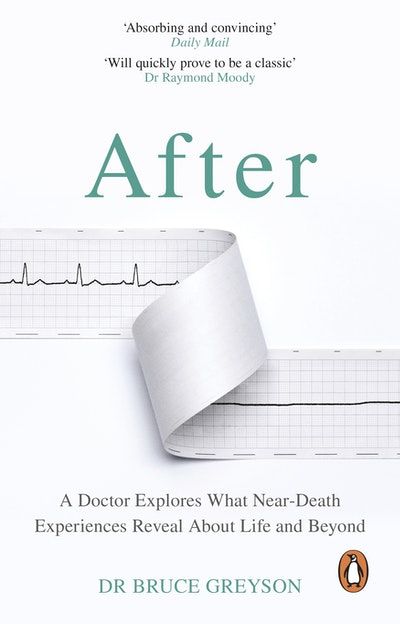 Published:

4 March 2021

ISBN:

9781473573390

Imprint:

Transworld Digital

Format:

EBook

Pages:

272
After
A Doctor Explores What Near-Death Experiences Reveal About Life and Beyond
---
---
---
The world's leading expert on near-death experiences reveals his journey through forty years of pioneering research which led him to reconsider his understanding of life, death and continuing consciousness.
What happens after we die? Reportings of lights, tunnels and loved ones had been relayed and dismissed since ancient times. Yet after witnessing several near-death experiences, Dr Greyson dedicated his life's research into these occurrences. Drawing on dramatic true stories and scientific findings, Dr Greyson investigates the possibilities of a consciousness beyond death.
Approaching his work with scepticism, logic and reason, the conclusions he draws are profound and challenging, those that have returned from a near-death experience do so armed with invaluable lessons for leading more meaningful and fulfilling lives.
Through irrefutable evidence and witnessed encounters, Dr Greyson challenges us to open our minds and to entertain a marriage of science and spirituality. AFTER is the first scientific book that enters this territory and it forces us to re-consider life, death and what lies beyond.
Published:

4 March 2021

ISBN:

9781473573390

Imprint:

Transworld Digital

Format:

EBook

Pages:

272
This very captivating book by Dr. Bruce Greyson chronicles his personal, spiritual and professional quest to understand the meaning of near-death experiences. His long-awaited and amazing book is a major contribution to the study of what happens when we die, and will quickly prove to be a classic in near-death studies.

Raymond Moody, MD, PhD, Author of Life After Life
Bruce Greyson is the most influential medical doctor-investigator over the last 40 years of this world-changing analysis. His work has done much to organize the scientific investigation of these experiences, to take them from fascinating anecdotes to systematic and objective study that will truly enable the world to benefit from these deep lessons. His work has the potential to completely change our fractured and confused world, offering insights that may lead to an explanation of the nature of consciousness. It will also help to nudge the entire scientific community towards realizations that can alter human history — bringing far more peace, harmony, and comfort to uncountable millions of souls both now and in future generations.

Eben Alexander, MD, New York Times bestselling author of Proof of Heaven
What happens when we die? Dr Bruce Greyson takes on this age-old mystery as one of the world's leading and most qualified investigators. After is loaded with fresh, exciting, and enormously valuable new understandings. The most relevant and important research is masterfully presented in a remarkably easy to read format. For everyone interested in life after death, science and spirituality, and life's meaning, this book is a treasure trove of insights and inspiration.

Jeffrey Long, M.D. Author of the New York Times bestseller Evidence of the Afterlife: The Science of Near-Death Experiences
In this very important book, Dr. Bruce Greyson helps elucidate the near-death experience with a scientific sensibility that makes what was exquisitely personal more accessible to a general audience. He bridges the gap between science and spirituality with elegance, and offers those who have not had such a transformative experience a glimpse of the changes possible in their own lives from reading his book. I believe all who read this book will be led to positive and permanent insights that will have profound and lasting effects in their own lives.

Anita Moorjani, New York Times bestselling author of Dying to Be Me: My Journey From Cancer to Near Death, to True Healing
As a practicing surgeon and near-death experiencer, I appreciate Dr Bruce Greyson's dual position as a scientist and psychiatrist, and have an even deeper appreciation for Dr Bruce Greyson's more than forty years of dispassionate and methodical research into the experience of dying and his commitment to rigorous investigation of this threshold between life and death. This book addresses the nature and meaning of life through Dr Greyson's interweaving of personal stories and scientific evidence and in doing so, provides hope to the dying and comfort to those left behind.

Mary Neal, M.D. Former Director of Spinal Surgery, University of Southern California, New York Times bestselling author of To Heaven and Back: A Doctor's Extraordinary Account of Her Death
Bruce Greyson is the towering figure in the research on death, the brain, and consciousness. Now, after four decades of meticulous study, he urges us to consider the deepest mystery of life: Whether we live and die as solely material beings, or experience death as a transition to an unseen reality. With compelling case studies and careful investigation, this book represents the best of scientific exploration. It is guided by a scientist with impeccable credentials and who has the humility and courage to follow the evidence to some surprising – and hopeful - conclusions. This book will define near-death research. It will change the way we live our lives.

Barbara Bradley Hagerty, M.L.S., Religion Correspondent, National Public Radio, author of Fingerprints of God: The Search for the Science of Spirituality