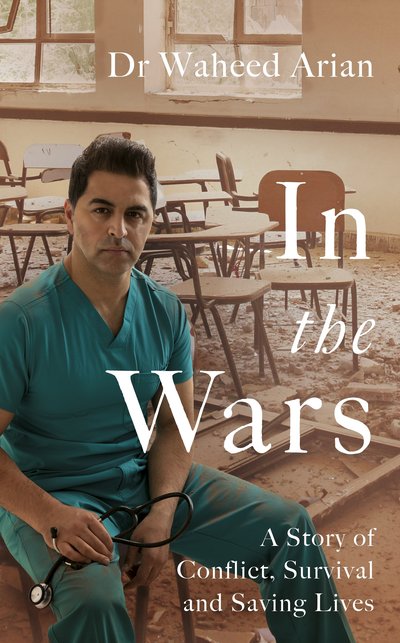 Published:

16 June 2021

ISBN:

9781787633971

Imprint:

Bantam Press

Format:

Trade Paperback

Pages:

304

RRP:

$40.00
In the Wars
An uplifting, life-enhancing autobiography, a poignant story of the power of resilience
---
---
---
For readers of War Doctor and Educated, a doctor's story of grit and resilience, from the war-torn streets of Kabul to saving lives around the world.
'A thrilling and absorbing read from first to last. What a life and what an inspiration.' Stephen Fry
Born in war-torn Afghanistan, Waheed Arian's earliest memories are of bombs. Fleeing the conflict with his family, he spent much of his childhood in refugee camps in Pakistan, living sometimes ten to a room without basic sanitation or access to education. After he contracted tuberculosis, his first-hand experience of the power of medicine inspired Waheed to dedicate his life to heaing others. But how does a boy with nothing hope to become a doctor? Waheed largely taught himself, from textbooks bought from street-sellers, and learned English from the BBC World Service. Smuggled to the UK at fifteen with just $100 in his pocket, he found a job in a shop. He was advised to set his sights on becoming a taxi driver. But the boy from Kabul had bigger ambitions. He studied all hours and was accepted to read medicine at Cambridge University, Imperial College and Harvard, and went on to become a doctor in the NHS. In 2015 he founded Arian Teleheal, a pioneering global charity that connects doctors in war zones and low-resource countries with their counterparts in the US, UK, Europe and Australia. Together, learning from each other, they save and change lives - the lives of millions of people just like Waheed.
Published:

16 June 2021

ISBN:

9781787633971

Imprint:

Bantam Press

Format:

Trade Paperback

Pages:

304

RRP:

$40.00
'A thrilling and absorbing read from first to last. What a life and what an inspiration.'

STEPHEN FRY
'Anyone who reads Dr Arian's remarkable memoir will put it down inspired by the immense power and resilience of the human will. Spanning from war-wracked Kabul to the lecture halls of Cambridge, Dr Arian tells a riveting story of loss, exile, and rebirth. At a time when displacement has become increasingly politicized, this book is a gift, a dazzling testimony to the extraordinary contributions that refugees make to the host communities that welcome them.'

KHALED HOSSEINI
'A powerful, heart-warming account of a young man's escape from war and deprivation to extraordinary success in serving the people of his new country. his is a book which thoroughly deserves to be read and celebrated. I was moved and delighted by it.'

JOHN SIMPSON
'A story of unflinching, relentless determination to fulfil a dream...The reader discovers that miracles can and do happen when intelligence and resolve meet individuals and institutions prepared to offer a helping hand.'

Filippo Grandi, United Nations High Commissioner for Refugees
'A remarkable story. I thought this book was brilliant.'

NAGA MUNCHETTY
'A phenomenal story of a boy's realisation that saving others was the way to help himself. From war in Afghanistan to refugee camps and escaping to Britain, he understood that by educating himself he could benefit the world.'

Alice Thompson, THE TIMES
'An extraordinary achievement'

ALAN JOHNSON
An immensely powerful and moving account of a child who endured war, trauma, displacement and racism, yet who never faltered in his passion to help others through becoming a doctor. Dr Arian's journey, resilience and heart are truly remarkable.

DR RACHEL CLARKE
'A moving and amazing story.'

SUNDAY MORNING LIVE
'A story of astonishing resilience. An incredible story about an incredible man.'

DAVID BECKHAM
· 'An NHS hero.'

THE MIRROR
· '(Waheed's) life story is utterly remarkable.'

THE JEREMY VINE SHOW
· 'An inspiration.'

EDDIE NESTOR, BBC Radio London
· 'Waheed's story is one of ambition, hope, healing past traumas, inspiration, giving, generosity and compassion and moving the needle of progress. I can't recommend his book enough.'

THE EMMA GUNS SHOW
· 'One of the most incredible life stories... A lesson to be drawn for others.'

JAMES O'BRIEN
· 'Unbelievably inspiring . . .everyone has to read In the Wars,'

MO GAWDAT
· 'One of the most incredible stories. So much so that it genuinely sounds as unbelievable as the plot of a Hollywood movie.'

DR RUPY AUJLA
· 'A moving and amazing story.'

SUNDAY MORNING LIVE
A vivid memoir. It's such a moving journey and horribly topical.

Michael Berkeley, BBC Radio 3 Private Passions