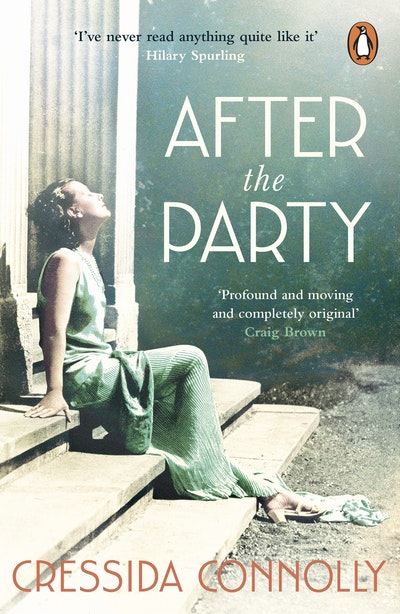 Published:

7 September 2018

ISBN:

9780241327739

Imprint:

Penguin General UK

Format:

Paperback

Pages:

272

RRP:

$26.00
After The Party
---
---
---
An enthralling novel about class, politics and sisterhood, set against the rise of Fascism in 1930s Britain
'Had it not been for my weakness, someone who is now dead could still be alive. That is what I believed and consequently lived with every day in prison.'
It is the summer of 1938 and Phyllis Forrester has returned to England after years abroad. Moving into her sister's grand country house, she soon finds herself entangled in a new world of idealistic beliefs and seemingly innocent friendships. Fevered talk of another war infiltrates their small, privileged circle, giving way to a thrilling solution: a great and charismatic leader, who will restore England to its former glory.
At a party hosted by her new friends, Phyllis lets down her guard for a single moment, with devastating consequences. Years later, Phyllis, alone and embittered, recounts the dramatic events which led to her imprisonment and changed the course of her life forever.
Published:

7 September 2018

ISBN:

9780241327739

Imprint:

Penguin General UK

Format:

Paperback

Pages:

272

RRP:

$26.00
Praise for After The Party
[A] virtuoso novel

Telegraph Magazine
A wonderfully acute writer

Allison Pearson, Sunday Telegraph Summer Reads
A wonderfully subtle and interesting account of the Mosley women, with a compelling voice

Linda Grant
Chilling

Spectator
Connolly [is] an unerring storyteller who excels at both period and place

Daily Mail
Connolly gives an object lesson in how to tell a story in a non-judgmental way. The result is a brave, engrossing and unexpectedly moving novel

Mail on Sunday
Connolly has tremendous fun with her posh characters' class-obsessed milieu, but the privations of Holloway Prison, with its rope-thick dust, bone-chilling cold and maggoty food, are equally sharply drawn

Daily Mail Summer Reads
Connolly is a terrifically subtle writer... [she] slyly sweeps her readers into the period drama as tensions tauten between families and social classes

Daily Telegraph, Five Stars
Deeply impressive.... quietly devastating tale of world affairs played out on an intimate scale

Metro
I finished it in two days flat and I've never read anything quite like it. Everything about the book rings true, politically, psychologically, and in period detail, from the sunny beginnings to the grim end

Hilary Spurling
In her latest novel, Cressida Connolly expertly evokes a changing nation, and a woman whose life is altered forever

Vogue
One of the best books published this year

The Lady
Polished and reflective... a salutary masterclass on the values that really matter

Country Life
Profound and moving and completely original, with a storyline that is completely satisfying. It'll be one of those novels that stays in my mind forever... it's a work of art

Craig Brown
This historical novel is an absorbing, nuanced look at extremism dressed up with social niceties and class privilege, and is sure to resonate today

Stylist
Uncanny, evocative.... Connolly skilfully sets scenes in pared yet atmospheric prose

Sunday Times
Wonderful, tragicomic... beautifully researched

Kate Saunders, The Times
Extraordinary, gripping... Exquisitely written with lyricism and a stiletto-sharp and humorous pen, Connolly takes on a subject which resonates powerfully with current politics

Sofka Zinovieff, The Lady
Beautifully written... Connolly's perfect control of tone and detail makes this very compelling. Excellent

Evening Standard
Connolly's research is immaculate... well-imagined

The Times Saturday Review
In pared yet atmospheric prose, Connolly skilfully evokes the scents of an English summer and hedonistic parties

Sunday Times Culture
Connolly has an ear for how people really speak. It's the gift of a proper writer

Daily Telegraph
Cressida Connolly's flawless new novel After the Party, for all its darkness, seems suffused with the "soft, buttery" light of an English summer afternoon. But in June of 1938, infernal shadows lengthen. Ms. Connolly is a master, revealing character while sustaining an effect of lightness and ease. We follow Phyllis through an indolent prewar season beautifully conjured, often in heady, sensual detail. Ms. Connolly is too astute and compassionate a novelist to provide neat conclusions. The novel leaves us with the mysterious sense of having inhabited a time and a life whose emotional gravity holds us still.

Wall Street Journal