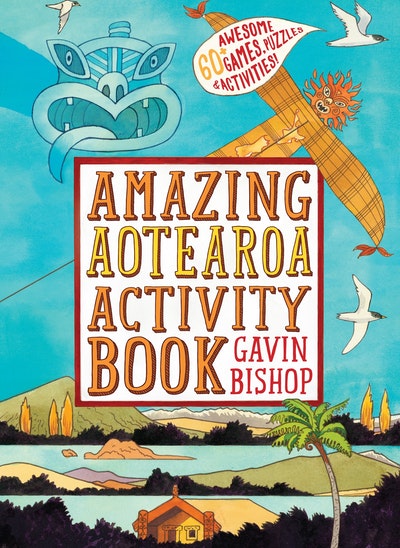 Published:

29 September 2020

ISBN:

9780143775256

Imprint:

Puffin

Format:

Paperback

Pages:

96

RRP:

$25.00
Amazing Aotearoa Activity Book
---
---
There are 60+ awesome games, puzzles and activities in this fun, creative and high-quality activity book based on Gavin Bishop's bestselling Aotearoa.
You'll have lots of creative fun with this book full of puzzles, quizzes and activities that explore Aotearoa New Zealand and its people.
Based on Gavin Bishop's bestselling Aotearoa: The New Zealand Story and Wildlife of Aotearoa, this activity book is a place for you to tell your own story in words and pictures.
You'll . . .
- learn to introduce yourself in Maori
- solve puzzles and crack codes
- play games
- invent a superhero
- draw your future home
- make maps
- curate your heroes in a wall of fame
- design a flag
- create a menu
and much more!

Packed with quizzes, mazes, colouring pages and activities designed to stimulate bright minds, this is the ideal activity book for creative children aged 5-12.
Published:

29 September 2020

ISBN:

9780143775256

Imprint:

Puffin

Format:

Paperback

Pages:

96

RRP:

$25.00
Praise for Amazing Aotearoa Activity Book
Amazing Aotearoa Activity Book is perfect for children aged 6 to 12 years, and it's designed to encourage creativity and imagination, so it's really the must have book for the school holidays. There are hours and hours of fun to be had here...this book is a real winner.

Karen McMillan, NZ Booklovers
There's so much to learn and do in this book, from creating your own imaginary country, to inventing your own mode of transportation, and designing your own house. There are also plenty of other activities like maths puzzles, spot the difference images, and crosswords/wordfinds that will keep your brain active on the days you're not feeling up to creating. One thing's for sure, Amazing Aotearoa Activity Book will keep every member of the family occupied for hours over the summer holidays.

Nida Fiazi, The Sapling
Amazing this is! ... Activities, Non-Fiction and Beautiful Art all packed into an activity book like no other. Would be wonderful to share with a child or grandchild, sibling or just on your own. Truly Amazing! Love it.

What Book Next
for older kids...drawn from his bestselling history and natural history titles, and designed to match.

Ann Packer, NZ Listener Best Children's Books 2020
What I particularly love about this book is that it is truly Aotearoa-centric and it is bursting with great activities that children (and even adults) will want to do. This book has to be my pick of the year. Every page is an artwork in itself and would stand alone as a meaningful and fun exercise...Every child in Aotearoa deserves a copy of this book.

The School Library
Article
Amazing Aotearoa activity pack
We've put together this activity pack so you can take a sneak peek and try out a couple of the activities. Use your hunting skills in Wordfind Warrior, crack the Land Loss Labyrinth code and get creative thinking about what your Atua would be as a supernatural being!
Article