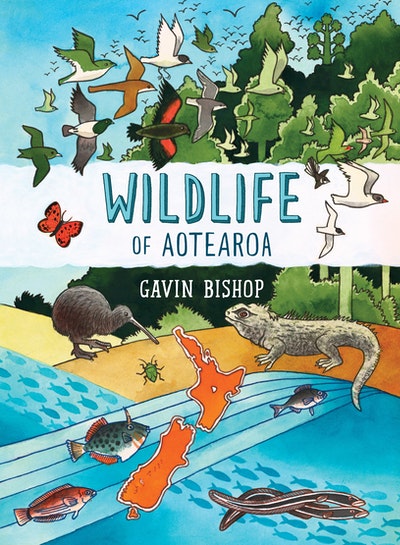 Published:

1 October 2019

ISBN:

9780143772514

Imprint:

Puffin

Format:

Hardback

Pages:

64

RRP:

$40.00
Wildlife of Aotearoa
---
---
Encounter New Zealand's amazing array of wildlife in this award-winning illustrated companion volume to Aotearoa: The New Zealand Story
A spectacular illustrated picture book exploring New Zealand's unique landscapes and its incredible wildlife by the author of Aotearoa: The New Zealand Story.

Winner
NZ Booklover's Best Children's Book Award 2020
Storylines Notable Non-Fiction Award 2020
IBBY Honour List 2022
Long before waka touched Aotearoa's shores, the land of the long white cloud was home to an array of creatures uniquely adapted to its environments and protected by its isolation.
Encounter New Zealand's incredible wildlife in this spectacular visual exploration.
Journey through ocean, sky and land to meet a marvellous range of organisms.
Discover fascinating facts, and learn how we influence the survival of our living treasures.
In this award-winning and magnificent companion volume to Aotearoa: The New Zealand Story, Gavin Bishop weaves a compelling visual narrative of our land, our people and our wildlife — past, present and future.

Published:

1 October 2019

ISBN:

9780143772514

Imprint:

Puffin

Format:

Hardback

Pages:

64

RRP:

$40.00
Praise for Wildlife of Aotearoa
It is destined to become a classic, a book that should take pride of place in homes, classrooms and libraries around the country. Ostensibly for children, it is for everyone, especially those with an interest in New Zealand wildlife from our seas through to our homes. You can't read it in one sitting—nor would you want to. It is a treasure box to be delved into, each page read and looked at—and looked at again—with wonder, care and amazement. Amazement that Aotearoa New Zealand is home to such an array of species; amazement that one person was able to bring all this together in vivid and rich detail...it really is a stunning achievement.

Dionne Christian, Weekend Herald
We are at a wildlife crisis point in Aotearoa so this sumptuous utterly gorgeous book is necessary reading. You will find animals that are thriving, endangered animals and animals no longer with us. And that makes me both sad and glad. You will find tricky questions that people are fighting hard to solve. We can't swim or fish in many of our waterways because more than half are polluted. Farmers work hard to make a living and feed people who eat meat but some farms may not survive as we try and deal with climate change. There is a growing movement of young people wanting to save the planet. Laws will be passed, we will be educated on what we can do to help protect our wildlife, our waterways, our bush and our skies. People have worked hard to create predator-free sanctuaries for birds and sealife under threat. A book like this brings our wildlife so much closer into view and that matters. This is a book to share and talk about. This is a book to leap and think and write and draw from. Gavin has worked hard on this stunning book and his mahi and aroha shows. It is a labour of love that comes out of a love of drawing and writing, and a love of Aotearoa. This book deserves a place on a bookshelf in every school library and every home.

Paula Green, Poetry Box
Gift books don't get much better than Gavin Bishop's Wildlife of Aotearoa, a companion to his award-winning Aotearoa: The New Zealand Story. The large format, the doublepage spreads to pore over, the copious facts that the kids in your life will regurgitate and make them seem to have a better memory than you… Buy it.

Stacey Anyan, North and South
[C]ompelling...with a Maori context throughout the book and a strong emphasis on conservation. As a child (and as an adult) I would have enjoyed pouring over the pages, the facts and allowing my imagination to drift back to the past, this is a book to take your time with and go where your interest lies as well as learning new and interesting facts about Aotearoa – our home.

Swings and Roundabouts
Beautiful presentation of wildlife from land, sea and sky, there is so much to absorb and learn. A true visual joy to delight all ages and become a family favourite.

Sue's Reviews, Wairarapa Times-Age
What an assignment – beginning with the watery world of newly hatched longfin eels, this comprehensive overview of our fauna is both historical and forward-looking. Museum collections and famous animals lighten the mix while younger readers can follow the (mis)fortunes of tuna larvae Tahi to Rima as they elude predators page by page. Seamless integration of te reo with English in the text and an extensive glossary add immensely to the resource.

Ann Packer, NZ Listener Best Children's Books 2019
Informative for adults as well as children, this book is designed to ensure young Kiwis truly appreciate just how special our native species (including kiwis) are.

Rural Living Auckland
Wildlife of Aotearoa is a stunning book that looks incredible and it also has a lot of interesting facts. I read the book and learnt so much about different creatures I hadn't heard of, as well as more about wildlife I already knew about. So I think it's a fun book that you can learn a lot from.

Milla McKenzie-Brown, NZ Booklovers, TV3 The Cafe
Wildlife of Aotearoa is a beautifully written, meticulously crafted and vividly illustrated book with appeal to all ages, a treasure chest to be pored over and passed through generations. The judges were impressed by the way narrative, history, myth, conservation, hope for the future and the use of te reo Maori are woven together to create richness and depth. This is a wonderful compendium of all the animals which have graced this land.

Judges, NZ Booklovers Award
NZ Booklovers Award
Winner • 2020 • NZ Booklovers Award Best Children's Book
Storylines Notable Non-fiction Award
Awarded • 2020 • A Storylines Notable Non-fiction Book
New Zealand Book Awards for Children and Young Adults
Shortlisted • 2020 • Russell Clark Award for Illustration
International Board on Books for Young People
Nominated • 2022 • IBBY Honour List