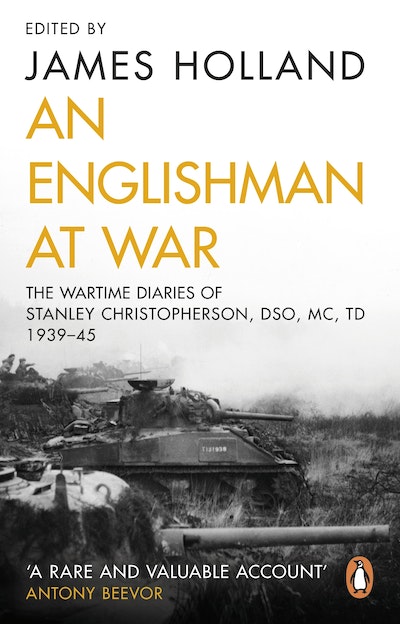 Published:

24 April 2014

ISBN:

9781448127498

Imprint:

Transworld Digital

Format:

EBook

Pages:

560
An Englishman at War: The Wartime Diaries of Stanley Christopherson DSO MC & Bar 1939-1945
---
---
---
A wartime diary of the Second World War unlike any other
From the outbreak of war in September 1939 all the way to the smouldering ruins of Berlin in 1945, via Palestine, Tobruk, El Alamein, D-Day, Nijmegen and the crossing of the Rhine, An Englishman at War is a unique first-person account of the Second World War.
The Sherwood Rangers Yeomanry, Stanley Christopher's regiment, went to war as amateurs, equipped with courage but very little else, and ended up one of the most experienced, highly trained and most valued armoured units in the British Army. Their journey through the war, learning through mistakes and tragedy as well as from a determined desire to improve, can, in many ways, be seen to reflect the experience of the British Army as a whole. From Alamein onwards, the Sherwood Rangers were in the vanguard of almost every action in which they took part, and over the course of the conflict, they amassed an astonishing thirty battle honours.
Christopherson himself was to rise from a junior subaltern to become the commanding officer of the regiment soon after the D-Day landings. He took part in all thirty battle honours, and collected a Distinguished Service Order, two Military Crosses and an American Silver Star, as well as being Mentioned in Despatches four times. His is an extraordinary story.
Published:

24 April 2014

ISBN:

9781448127498

Imprint:

Transworld Digital

Format:

EBook

Pages:

560
Praise for An Englishman at War: The Wartime Diaries of Stanley Christopherson DSO MC & Bar 1939-1945
An astonishing record...There is no other wartime diary that can match the scope of these diaries, that can demonstrate the range of command within a British regiment, or that touches on so many of the key engagements of the British Army during the Second World War. Quite simply, there is nothing like it, and the opportunity to publish a complete narrative of the war, such as these diaries represent, will almost certainly never arise again.

James Holland
The Sherwood Rangers was one of the outstanding armoured regiments of the Second World War and Stanley Christopherson's diary, taking us through the desert war and the whole of Northwest Europe from Normandy to the end is a rare and valuable account.

Antony Beevor
There are many published diaries of British army officers in the Second World War, but Stanley Christopherson's is one of the best I have read. He gives a detailed picture of life as a tank officer in the Desert and Normandy, and pulls no punches. This is an outstanding contribution to the literature of the Second World War.

Professor Gary Sheffield
Brilliant. A really important source for the study of British war-making during the Second World War. It is also a tremendously observant account from the perspective of a brave and resolute army officer.

Professor Jeremy Black