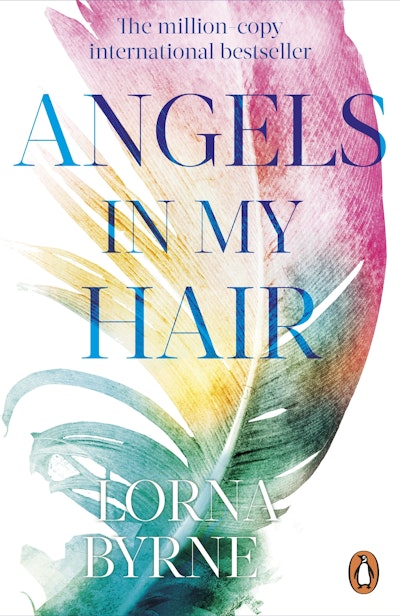 Published:

1 November 2010

ISBN:

9780099551461

Imprint:

Arrow

Format:

Paperback

Pages:

352

RRP:

$28.99
Angels in My Hair
---
---
---
A reissue of this phenomenonally bestselling book with new material about how to connect with your angel
**The iconic bestseller, now celebrating its tenth anniversary**
When she was a child, people wondered why Lorna Byrne didn't seem present in the world around her.
They never knew she was seeing angels.
In her own words, Lorna tells the story of her life, and the remarkable visions that have shaped it. Through her eyes the reader meets creatures from the spirit worlds who, in our own world, watch over us and protect us - including angels of an astonishing beauty and variety, the prophet Elijah, an Archangel, and even the spirits of people who have died.
Many of us have often felt like a guardian angel must be watching over us - but Lorna Byrne has seen them with her own eyes. This extraordinary document is the personal testimony of a woman who sees things that nobody else does. Lorna has looked past the range of our everyday experience, and this incredible book, now celebrating its tenth anniversary, is our window to a world beyond.
________________________________
Here's what Angels in My Hair has meant to Lorna's readers:
'A wonderful book full of hope, love, positive energy and many happy thoughts'
'Enlightening and inspiring'
'An absolutely brilliant book, full of joy and inspiration'
'Convincing and sincere'
'She tells her story so simply, so truthfully. It feels like a conversation between friends'
Published:

1 November 2010

ISBN:

9780099551461

Imprint:

Arrow

Format:

Paperback

Pages:

352

RRP:

$28.99
Praise for Angels in My Hair
Angels in my Hair is more than just an autobiography. It is a revelation that will open your eyes and change your life. Angels in My Hair has a message that the world needs to hear.

Matthew E. Adams, New York Times bestselling author of Chicken Soup for the Soul of America
Lorna's wisdom and insights are breathtaking. This is a woman I have known for many years and admire enormously. She has made a big difference to my life and that of many others.

Daniel O'Donnell
In times of universal deceit, never more so than now, the world needs guidance and hope. Angels in My Hair is an amazing book by an incredible woman, who shares her unique and fascinating experience of the guides at work with her in her own life and the messages they have for us all.

Jim Corr, The Corrs
Nobody is going to argue with her underlying message of love and compassion and forgiveness and her hopes for "peace among nations and peace in families". Spending time with her is both challenging and inspirational.

The Irish Times
Despite the crunch, spiritual merchandise is proving a winner.

Sunday Times
So great has Lorna Byrne's reputation become that her book has sold 70,000 hardback copies in Britain and Ireland alone. The world has discovered a modest mystic that it might do well to listen to

Daily Mail
Byrne is not alone in believing in angels: three quarters of Americans and more than a third of Britons are also convinced that such heavenly helpers exist.

Daily Telegraph
Angels In My Hair is a solid gold sensation

Daily Express
I cannot tell you whether Lorna Byrne is a fraud or a mystic.I don't believe the cleverest scientist could tell you either.But I can tell you that if she is a fraud, she is the most compassionate fraud I ever met. ... What is evident is that we cannot reject something because it sounds beyond reason, because our understanding or "reason" evolves.

Scotland on Sunday
Lorna's amazing story is set to be worldwide best-seller.She has an engaging otherworldly air. There are several ways to look at Lorna, her life, her book and her belief in angels.She could be completely deluded.Seeing angels with wings in a spiral of bright light and getting messages from them, lays anyone open to charges of fantasy.She could be scamming, but I don't think so.Or there's always the chance that Lorna Byrne is telling her truth...Plenty of people seem to want to hear it.

Scottish Sunday Post
Intimate autobiography

Ladies First Magazine
People are increasingly turning to angels for guidance with everyday problems.We've seen this trend growing for sometime among [the] spiritually savvy... but now it looks like this belief has hit the mainstream.Angel books, such as Lorna Byrne's Angels In My Hair and Doreen Virtue's How To Hear My Angels are topping the bestsellers list.

Soul and Spirit
Remember the name Lorna Byrne.It's a name already familiar to celebrity fans of hers such as William Roche MBE and Jim Corr of The Corrs.This shy 54-year-old woman, originally from Kilmainham in Dublin, has gone from a poverty stricken childhood, to bestselling author with Angels In My Hair...

Woman's Way
You believe she is telling the truth

Woman's Weekly
She is, it has to be said, an unusual person, with a calm and peaceful presence. Spending time with her is both challenging and inspirational.

The Irish Times
If you met a woman who said that she talked to angels every day, you might be forgiven for raising a discreetly cynical eyebrow.But somehow Lorna Byrne is different.Thousands of people say that she has changed their lives for the better, and a hard headed publisher believed in her story enough to get her to write a book - and that book is now right up there near the top of the Irish best-sellers list.

Belfast Telegraph
Lorna Byrne has been seeing angels since she was a child.Her remarkable gift has lead people from all walks of life to seek her spiritual insight.Her autobiography Angels In My Hair is the rare testimony of a modern day mystic

The Irish Catholic
I went to meet her with a typical journalist's scepticism - and came away feeling strangely energised.'

Irish Independent
Before reading Lorna's book, in my cynicism I saw her claims as psychobabble...But the book surprised me, I really enjoyed it.It's a very simply and softly written narrative, one that managed to grip me emotionally (tears were shed) and made me reflect.

Sunday Independent
Those who see angels are close to being angels. In this book, Lorna beautifully and graphically describes angels and how they work.

William Roache, MBE, author of Soul on the Street