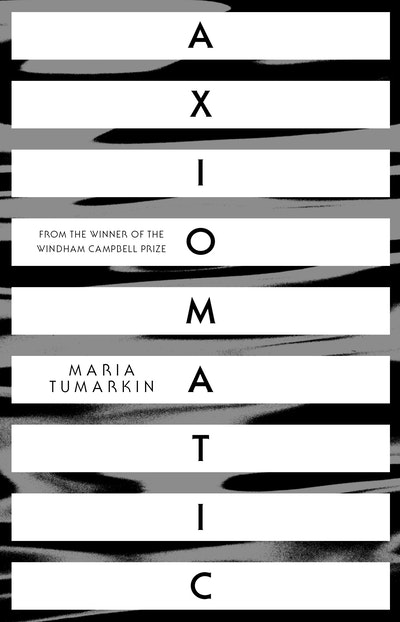 Published:

4 May 2021

ISBN:

9781761043581

Imprint:

Penguin

Format:

Paperback

Pages:

240

RRP:

$30.00
Axiomatic
---
---
---
From the Winner of the Windham Campbell Prize.
Longlisted for the 2019 Stella Prize
Shortlisted for the NSW Premier's Literary Awards 2019 for The Douglas Stewart Prize for Non-Fiction
Longlisted in the 2019 Indie Book Awards for Nonfiction
This boundary-shifting fusion of thinking, storytelling, and meditation takes as its starting point five axioms:
'Give Me a Child Before the Age of 7 and I'll Give You the (Wo)Man', 'History Repeats Itself…', 'Those Who Forget the Past are Condemned to Repeat It', 'You Can't Enter The Same River Twice', 'Time Heals All Wounds'.
These beliefs — or intuitions — about the role the past plays in our present are often evoked as if they are timeless and self-evident truths. It is precisely because they are neither, yet still we are persuaded by them, that they tell us a great deal about the forces that shape our culture and the way we live.
The past shapes the present – they teach us that in schools and universities. (Shapes? Infiltrates, more like; imbues, infuses.) This past cannot be visited like an ageing aunt. It doesn't live in zoo enclosures. Half the time, this past is nothing less than the present's beating heart. How to speak of its aliveness? Stories are not enough, history and psychology – not enough.
Maybe this is how.
Published:

4 May 2021

ISBN:

9781761043581

Imprint:

Penguin

Format:

Paperback

Pages:

240

RRP:

$30.00
There is a convention, towards the end of a review, to compare the writer with their peers, contemporary or long gone, to situate them in a continuum, to give a curious reader an idea of what they would expect. But to compare this work to anything on the shelves would be a disservice and, besides, the sheer breathtaking ambition of it has humbled and shamed me out of it ... With Axiomatic, Tumarkin is simply operating on a higher level to the rest of us.

Liam Pieper, The Australian
Nobody can write like Maria Tumarkin: she charges headlong into the worst and best of us, with an iron refusal to soften or decorate; sentences bare of artifice, stripped back to the bone, to the nerve; fired by raging grief and love.

Helen Garner
Maria Tumarkin writes of difficult topics with utmost integrity. Axiomatic is a dark gift: heartfelt, painful, full of sorrowful compassion. From schools, courtrooms, prisons, refugee camps, Soviet spaces and more personal inner life, come stories that break open the silence of suicide and the mystery of spirited persistence.

Gail Jones
A brilliant kaleidoscope of arresting observations on suffering and innocence in modern times, Axiomatic is by turns illuminating, infuriating, engrossing and even amusing. I feel ambushed.

Robert Dessaix
Everyone is looking for the next Helen Garner, and Maria Tumarkin shares with Garner a gimlet eye for the flaws in official systems, along with a fascination for the narratives nested in everyday lives. Axiomatic's symphonic structure, however, recalls Svetlana Alexievich, the Belarusian journalist and Nobel Laureate. She is another for whom reality attracts like a magnet, who has made a career out of appropriating and braiding voices and documents, seeing the world as a chorus and a collage. With this remarkable, wild, risk-laden book, Tumarkin has earned the right to be mentioned in the same breath as both of them.

The Saturday Paper
In taking injustice and the legacy of trauma – global, cultural, personal – as her subject, Maria Tumarkin's writing embodies how form and content can osmose. The fragmentary narratives in Axiomatic resist cohesion, but the author's extraordinary gift for language and story ultimately unites them. Axiomatic is an extraordinary enquiry into humanity, infused with empathy, from a hugely talented writer.

Sinéad Gleeson, author of Constellations
Maria Tumarkin's shape-shifting Axiomatic deploys all the resources of narrative, reportage and essay. It is a work of great power and beauty.

Pankaj Mishra, author of The Age of Anger
Again and again in Axiomatic, Tumarkin confronts the meagreness of the written word in the face of trauma ... Again and again, she herself demonstrates what literary prose can do.

Jeff Sparrow, Sydney Morning Herald
Axiomatic is a series of open-ended essays about different people, as well as Tumarkin's own intense experiences of love and friendship. Consoling pieties do not interest her. There is no resolution, no comfort. It is a bleak view of the world, but for many people, including Tumarkin's friend Vera, 'That's how it goes.' This happened. That happened. I am here. You are here. Lucky for us Tumarkin is here, too. Trying.

Helen Elliott, The Monthly
An explosion of a book. Plumbing the depths of injustice, trauma, prison, and the flaw of good intentions, Maria Tumarkin is an important voice. Her eye is razor-sharp, her writing unsparing.

Mark Haber, author of Reinhardt's Garden
What Tumarkin has produced is unlike any work of non-fiction I have read to date. To call it experimental or poetic does not cover the breadth and originality of her work. Not only in style, but in content, in the way she draws out the human experience and lays bare something fundamentally true, honest and almost unbearably tender. There is power in this, and strength. Tumarkin does not shy away from the uncomfortable, from the too-hard-to-be-written-or-even-contemplated, but faces it head on, with dignity, and with knowledge of her own fallibility.

Caitlin Cassidy, Right Now
No matter who you are, or what you have read before, I can guarantee you that you have not read anything like Maria Tumarkin's Axiomatic. To say that you 'read' it doesn't even seem accurate to the experience of the book. You encounter her language like you encounter a strange object, the contours of which you aren't able to trace just yet, not without returning to it again and again, settling into its peculiar curves. Tumarkin's achievement is that she makes phenomena we have become overly familiar with – not just language, but also gun violence, genocide, persistent structural poverty – wholly unfamiliar, unsettling our assumptions about how trauma and the histories that shape our lives are transmitted.

Ismail Muhammad, National Book Critics Circle
The book is comprised of restless, gorgeous essays, each of which uses an aphorism to reflect on ... trauma, the ongoingness of the past, and the unworkability of language.

Katy Waldman, The New Yorker
...the work of a virtuoso, someone who has relentlessly honed her ability to make ideas progress rapidly through sentences, using an order and style that she has innovated, such that the path to a reader's enlightenment is steep and narrow but clearly marked. Like Maggie Nelson's, Tumarkin's is the kind of writing that makes much creative nonfiction seem clumsy and rudimentary, as if everyone else is writing way too many words about smaller, pettier ideas.

Katharine Coldiron, The Believer
As a writer she pushes at the edges, and then pushes further; she wants to shout, and sometimes she does. Axiomatic is a bracing ride. At its heart is the big question of the past and its traumas. How do they play out? Where does trauma begin? In history? Genes? Family? Society? Is comfort to be found in the familiar truisms we're so quick to roll out?

Drusilla Modjeska, Inside Story
In Axiomatic, her fourth book, Tumarkin unleashes a freewheeling energy that was restrained in her previous books. ... In many of its most lucid passages, Axiomatic achieves gravitas and a psalm-like plaintiveness. Memorably, Tumarkin draws upon a creation mythology to liken human beings to "broken vessels" full of divine light. Spilling out of this vessel, shards of this light, our past experience, lodge in the present. Axiomatic reminds us that our word 'poignant' comes, via French, from the Latin pungere: 'to prick, to sting'.

Darius Sepehri, Australian Book Review
What a wonderfully idiosyncratic, distinctive and rather wise book this is. Maria Tumarkin takes five familiar sayings – axioms – to meditate on, challenge and interpret by talking, sometimes over years, to a range of people whose experiences enlighten, educate and enliven in surprising ways. Tumarkin, who brings her own experiences to play, writes in a sometimes fierce voice that is utterly her own and brings with it an inquiring mind that together make for a thought-provoking experience.

Jason Steger, The Age
That the essays come across as original is a testament to their artful construction, as they organically navigate the networks of a community and evoke a larger system through its smaller components.

Publishers Weekly
Tumarkin is attuned to the realities of unconquerable, systemic inequalities, as well as the crushing burdens that often come with one's familial history, recognizing the real limits of human agency to affect personal change in such circumstances.

Joel Pinckney, Full Stop
By inhabiting and embodying the spectrum of human pain and suffering, Tumarkin fights for every person encapsulated in Axiomatic, and in doing so has created something deeply original and essential to understanding the core of the human experience.

Sonia Nair, Feminist Writers Festival
This is a highly original collection unlike anything I've read by an Australian author. Tumarkin's writing style is unflinching and unique and her insight into human behaviour is extraordinary.

Kara Nicholson, Readings