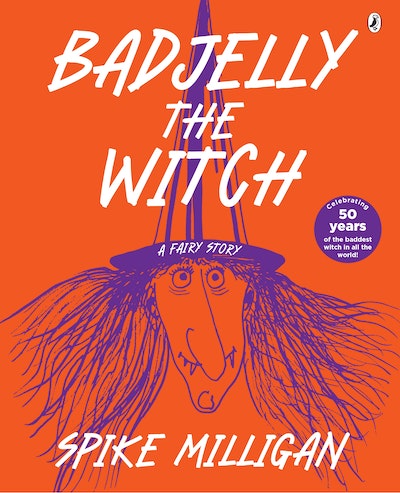 Published:

3 October 2023

ISBN:

9781776958115

Imprint:

Puffin

Format:

Hardback

Pages:

56

RRP:

$28.00
Badjelly the Witch
A Fairy Story
---
---
---
A special hardback 50th anniversary edition of much-loved fairy story, Badjelly the Witch.
Badjelly the Witch has been delighting children for 50 years! Celebrate with this gorgeous gift edition of the classic story.
Badjelly, the baddest witch in all the world, is coming to get you!

Badjelly the Witch can turn children into sausages or chop them up to make boy-girl soup. She can turn policemen into apple trees or bananas into mice!
Tee hee hee hee!
Tim and Rose's terrifying encounter with Badjelly is a classic fairy tale, loved by children for 50 years. This celebratory gift edition contains comic genius Spike Milligan's original hand-lettered story and illustrations, and an introduction written by his family. Hardcover with Badjelly in a deliciously shiny purple foil, this special story will delight today's children just as much as it did 50 years ago.
Published:

3 October 2023

ISBN:

9781776958115

Imprint:

Puffin

Format:

Hardback

Pages:

56

RRP:

$28.00
Praise for Badjelly the Witch
It more than stands up after 45 years. Milligan's original handwritten text is delightful, full of eyes in the OOs and Ys with antlers like stags. The larger illustrations are also brilliant, including the classic portrait of Fluffybum the cat, drawn of course from his best side: behind. In the story itself, the language is constantly surprising and charmingly punctuated: They came to a big big mountain, but it had a big white beard on. "What a silly mountain! Why has it got a beard" said Rose, a little mouse popped his head out of a hole and said 'He's got a beard because hes lost his razor" (sic). Milligan's madcap delivery in the radio play brings the story even more alive, barrelling through it in much the way I imagine he told it to his daughter Jane at bedtime all those years ago. The music too, transported me straight back to where I first heard it, in my grandmother's floral-carpeted lounge...Recommended for ages 5-100.

Holly Walker, The Sapling
Although Spike penned plenty of songs and stories to delight young ones - and mad old EastLife writers too! - perhaps none is as amazingly strange, delightful and weird as Bad Jelly the Witch . . . the most beautiful gift of nonsense

Eastlife
I used to listen to this on the radio on Sunday mornings as a kid - it's good to have it for my kids to read!

John, Good Reads
Great book for reading aloud to kids. They all love the characters especially Fluffy Bum the cat. I have read this to my own children numerous times and now to my grandchildren . . . the recording, narrated by Spike Milligan, is great.

Ash, Good Reads
my favorite book of all time

Stephanie, Good Reads
Read this book (in Spike's own handwriting!) to my children countless times . . . Glorious nonsense!!

Kay, Good Reads
The radio play used to air on Sunday mornings every single weekend when I was growing up . . . I never got sick of hearing it.

Lynley, Good Reads
I recall reading this book aloud at the dinner table many many years ago. My family were quite reserved types, but not long into the story we were all in stitches. A delightful tale for all ages. Loved it then and love it now. Recommend to all.

Margot, Good Reads
This is the book that made me want to be a writer. Thanks Spike!

Peter Millett, Good Reads
A book every child should read.

Les, Good Reads
Hilarious, scary story for kids. It's Spike Milligan, need I say more.

Deborah, Good Reads
Article
Spooky stories to read this Halloween!
All young ghouls and boils need for a hauntingly good celebration this year is a comfy reading spot and one of these spooky stories (costumes and sweet treats optional).