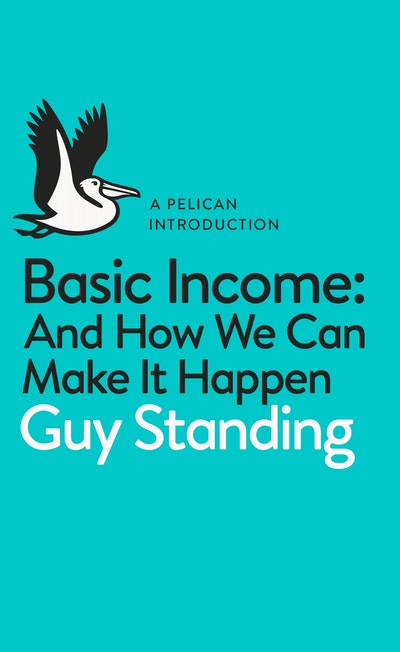 Published:

4 May 2017

ISBN:

9780141985480

Imprint:

Penguin Press

Format:

Paperback

Pages:

400

RRP:

$28.00
Basic Income
And How We Can Make It Happen
---
---
---
The essential guide to understanding the real economics behind a universal basic income
Shouldn't everyone receive a stake in society's wealth?
Could we create a fairer world by granting a guaranteed income to all?
What would this mean for our health, wealth and happiness?
A basic income is a regular cash transfer from the state, received by all individual citizens. It is an acknowledgement that everyone plays a part in generating the wealth currently enjoyed only by a few. Political parties across the world are now adopting it as official policy and the idea generates headlines every day. Guy Standing has been at the forefront of thought about Basic Income for the past thirty years, and in this book he covers in authoritative detail its effects on the economy, poverty, work and labour; dissects and disproves the standard arguments against basic income; explains what we can learn from pilot studies across the world and illustrates exactly why a basic income has now become such an urgent necessity.
Published:

4 May 2017

ISBN:

9780141985480

Imprint:

Penguin Press

Format:

Paperback

Pages:

400

RRP:

$28.00
Basic Income is an idea whose time has come, and Guy Standing has pioneered our understanding of it - not just of the concept but of the challenges it is designed to meet: rapid automation and the emergence of a precarious workforce for whom wages derived from work will never be enough. As we move into an age where work and leisure become blurred, and work dissociated from incomes, Standing's analysis is vital.

Paul Mason
Praise for The Precariat: 'A very important book' Noam Chomsky. 'Buy Guy Standing's book, The Precariat. Or nick / borrow it' John Harris,

The Guardian
Guy Standing's work in this area has been invaluable...I would urge all parliamentarians to pore over his findings and consider his conclusions

Ronnie Cowan MP
In Basic Income, Guy Standing provides a compelling and thoughtful review of the motivations and options for as well as common objections to universal basic income, making this an important book for anyone interested in ensuring we collectively create an inclusive, human-centered future

Professor Klaus Schwab, Founder and Executive Chairman of the World Economic Forum
This is a compelling and thoughtful book that looks into the case for a universal basic income. Guy Standing tackles the history behind basic income by presenting economic, financial, technological, and medical studies that give us a glimpse about what a world with basic income might look like. Economic inequality and ending poverty are some of the defining issues of our time, Standing's book lays out a future.

Sam Altman, President of Y Combinator
For a radical idea to become accepted as common sense, it often needs a practical guide to the concept and its implementation. This book makes a significant contribution to the heavy lifting needed to move basic income from an idea on the periphery to a policy of the mainstream in a rapidly changing and challenging economy

John McDonnell MP
Universal Basic Income may be the most promising social idea of our time. Guy Standing has been at the forefront of the movement for nearly 4 decades, and in this superb and thorough survey he explains how it works and why it has the potential to revitalise life and democracy in our societies. This is an essential book.

Brian Eno
A universal basic income is clearly an idea whose time has come. Guy Standing's book powerfully explains why and also makes the ethical and ecological case. It's an essential read for anyone interested in social and economic justice and an important contribution to the debate about introducing a basic income.

Caroline Lucas MP