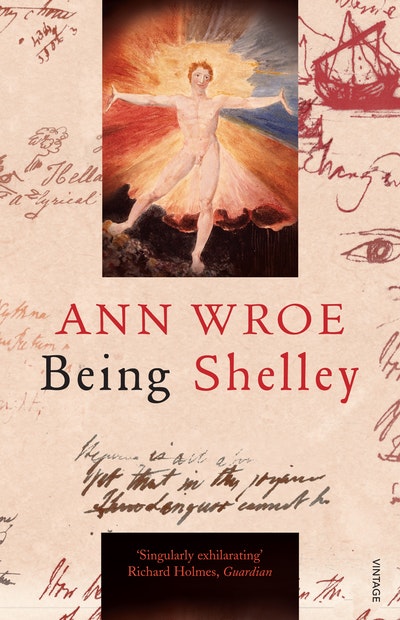 Published:

15 February 2011

ISBN:

9781446414040

Imprint:

Vintage Digital

Format:

EBook

Pages:

464
Being Shelley
The Poet's Search for Himself
---
---
---
A startlingly original new look at Shelley, a stunning work of scholarship and imagination by one of the most remarkable non-fiction writers in Britain
This book takes the life of one of England's greatest poets and turns it inside out. Rather than following a daily round in which poetry erupts occasionally, it tracks the inner adventures of a spirit struggling to escape and create. This is the life of the poet, rather than the man.
Four questions consumed Shelley and coloured everything he wrote. Who, or what, was he? What was his purpose? Where had he come from? And where was he going? He sought the answers in order to free and empower not only himself, but the whole human race. His revolution would shatter the earth's illusions, shock men and women with new visions, find true Love and Liberty - and take everyone with him.
Now, for the first time, this passionate and radical quest is put at the centre of Shelley's life. The result is a spiritual journey that is as dangerous and exhilarating as it is astonishing. This is Shelley as he has never been seen before.
Published:

15 February 2011

ISBN:

9781446414040

Imprint:

Vintage Digital

Format:

EBook

Pages:

464
A wonderful achievement... At any single point the narrative is aware of the entire trajectory of Shelley's mind and career, so thorough is the assimilation of his intellect, imagination and emotional life. It succeeds wonderfully in getting inside what it was like to 'be' PBS'

Nicholas Roe
Being Shelley becomes a mirror of the poet himself - whimsical, various, subtle, and iridescent and evanescent. That is, no doubt, the book that Wroe proposed to write and she has succeeded

Peter Ackroyd, The Times
Fascinating, experimental... A voyage into the mind that wrote the poetry and struggled with ideas, some mad, some sane, all interesting... As a history of how an unusual creative mind worked, it offers a new departure in the way biography is written

Lucasta Miller, Sunday Times
Amazing new book on the poet... Abandoning the usual conventions, she relates Shelley's life in an incomplete and non chronological way... It's a bold and risky concept and she pulls it off brilliantly... this really does convey the poet's mind and the excitement of reading the original ... Ann Wroe's wonderful, effortlessly eloquent book is like sharing a corner of his mind

Claire Harman, Evening Standard
There is biographical information in the book - a wondrous, copious flow of it

Suzi Feay, Independent on Sunday
Indispensible to anyone writing or thinking about the poet from now on... This is a startlingly good book, destined, I fear, to be widely and very badly imitated...Wroe is a writer of unusual excellence, and a reader of exceptional sensitivity

Sam Leith, Spectator
Her collage shimmers like reflections on water, trembles, dissolves and returns to form under the action of an invisible breeze or current... Wroe's emotional responses to her research are palpable

Sunday Herald
Ann Wroe wanting to do Shelley's exasperating spirit justice, sets herself a challenge... She persuades us; we read Shelley with new eyes, freed of the gossip of conventional biography and academic doggedness... she reads process back into the work, occasions back into the poems. And she gives us what we need to read the work whole

Independent