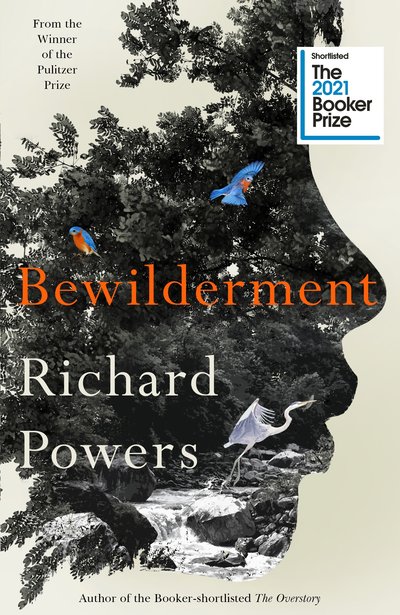 Published:

28 September 2021

ISBN:

9781785152641

Imprint:

William Heinemann

Format:

Trade Paperback

Pages:

288

RRP:

$35.00
Bewilderment
Shortlisted for the Booker Prize 2021
---
---
---
A magnificent new novel by Richard Powers, his first novel since the Booker Prize-shortlisted, Pulitzer Prize-winning The Overstory.
THE BRAND NEW NOVEL FROM THE PULITZER PRIZE-WINNING, BOOKER PRIZE-SHORTLISTED AUTHOR OF THE OVERSTORY
'It changed how I thought about the Earth and our place in it. . . . It changed how I see things and that's always, for me, a mark of a book worth reading.' Barack Obama on The Overstory
'Really, just one of the best novels, period.' Ann Patchett on The Overstory
'Breathtaking.' Barbara Kingsolver on The Overstory
_________________________Picked as one of the 'Best Books of 2021' in the Sunday TimesTheo Byrne is a promising young astrobiologist who has found a way to search for life on other planets dozens of light years away. He is also the widowed father of a most unusual nine-year-old. His son Robin is funny, loving, and filled with plans. He thinks and feels deeply, adores animals, and can spend hours painting elaborate pictures. He is also on the verge of being expelled from third grade, for smashing his friend's face with a metal thermos.
What can a father do, when the only solution offered to his rare and troubled boy is to put him on psychoactive drugs? What can he say when his boy comes to him wanting an explanation for a world that is clearly in love with its own destruction? The only thing for it is to take the boy to other planets, while all the while fostering his son's desperate campaign to help save this one.
_________________________'The best book I've read in 10 years. A remarkable piece of literature ... a lodestone.' Emma Thompson on The Overstory
'Radical and exciting.' Jessie Burton on The Overstory
'A remarkable piece of fiction.' New York Times on The Overstory
'An extraordinary novel.' Guardian on The Overstory
Published:

28 September 2021

ISBN:

9781785152641

Imprint:

William Heinemann

Format:

Trade Paperback

Pages:

288

RRP:

$35.00
With its first few pages, Powers' novel completely captivated us and with its last, it bowled us over. Powers creates a texture and specificity to our future that feels simultaneously sweepingly large and breathtakingly intimate, told through the most relatable point of view: the ferocious love of a parent for his child and his struggle to provide him a better tomorrow.

Leigh Kittay, Black Bear's Head of Film
On The Overstory: Really, just one of the best novels, period

Ann Patchett
On The Overstory: Monumental . . . breath-taking . . . a gigantic fable of genuine truths

Barbara Kingsolver
On The Overstory: Exhilarating . . . on almost every page you will find sentences that combine precision and vision

The Times
On The Overstory: The best book I've read in ten years. A remarkable piece of literature

Emma Thompson
It's not possible for Powers to write an uninteresting book

Margaret Atwood
On The Overstory: An extraordinary novel . . . an astonishing performance . . . he is incredibly good at turning science into poetry

Guardian
One of our most lavishly gifted writers

New Yorker
Nothing less than brilliant

John Updike
On The Overstory: It changed how I thought about the Earth and our place in it . . . It changed how I see things and that's always, for me, a mark of a book worth reading.

Barack Obama
Powers is a former computer programmer whose ideas-rich fiction grounds the grandest scientific concepts in everyday experience. For him, environmental crisis means that we must share the pain not just of fellow-humans but other life-forms threatened by our botched stewardship of Earth.... Powers's unchained imagination stretches its empathy circle from lichen to nebulae, in finely crafted prose

Financial Times
Mingling ideas about neurodivergence, astrobiology, political radicalisation and environmental collapse... There is no question that Powers is a novelist of considerable, well, powers.... Bewilderment is both touching and finely written

Telegraph
Powers has the rare gift of being able to deal with big ideas while keeping you interested in the lives and emotions of his characters

Sebastian Faulks
Intense and disturbing

Mail on Sunday
Reading a Powers novel is like boarding a tour bus when you have a single day to explore an unfamiliar city. Bewilderment, his Booker-longlisted new novel, is a hop-on, hop-off trip around astrobiology, climate breakdown and neuro-feedback therapy... it is impossible to deny the importance of Powers's message

Sunday Times
A heartfelt cry for climate awareness, with fantastical digressions to other planets and a rueful celebration of our own

Guardian
It's a wonderful story - taut, touching and wholehearted

Psychologies
A beautiful and thoughtfully written novel

Good Housekeeping
Refreshing, original and moving

Evening Standard
Impressively precise in its scientific conjectures, Bewilderment is no less rich or wise in its emotionality.... Bewilderment channels both the cosmic sublime and that of the vast American outdoors, resting confidently in a lineage with Thoreau and Whitman, Dillard and Kerouac. It's also a ghostly and affecting love story... We are into the terrain here of myth, metaphysics and religion. Sorrowing awe is Bewilderment's primary tone, and its many remarkable scenes are controlled with high novelistic intelligence.... Robin is as compelling a fictional creation as I've encountered in some time - fierce, lovable and otherworldly. In dreaming him up, Powers was clearly working out a bold fictive question: what must it be like to father a Greta Thunberg?

Observer
It's deftly crafted, packs an emotional punch, and Powers's urgent environmental message, delivered by the Greta Thunberg-like Robin, comes through loud and clear

Daily Mail
Powers is extremely good at creating a very specific emotion in the reader: a potent mix of sadness and guilt. He's also a wizard when it comes to telling us about trees, rivers, insects and birds

Spectator
Bewilderment is a compelling story about love in a dying world

Irish Independent
Powers succeeds in engaging both head and heart. And through its central story of bereavement, this novel of parenting and the environment becomes a multifaceted exploration of mortality

Economist
It is a thoughtful exploration of individual grief, a study in empathy for the biosphere, a questioning of the medical profession's pathologising of children and a beginner's guide to eco-biology... Bewilderment is both cerebral and heartfelt, a rigorous and damning assessment of the state of the world today. A call to arms for empathy and action

Irish Times
The success of the story - and a success it is - comes not from the ingenious scientific speculations, nor the shrewd literary connections (on the "emotional telepathy" of a work of art, or Daniel Keyes's Flowers for Algernon), but the human story between father and son, as Theo finds out 'how my brain learns to resemble what it loves

The Critic
Richard Powers's Booker Prize-shortlisted novel is both brutal and heartwarming, intimate and profound. A masterfully curated story of love, grief and loneliness, quietly building to an inevitable and devastating close

Press Association
He composes some of the most beautiful sentences I've ever read. I'm in awe of his talent

Oprah Winfrey
In Bewilderment, the Pulitzer Prize-winning American novelist has crafted a story of great beauty and power

Business Post
Utterly absorbing

Daily Mail