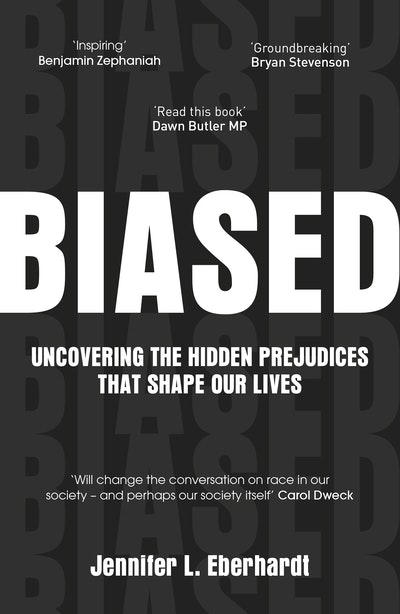 Published:

5 March 2020

ISBN:

9781786090195

Imprint:

Windmill Books

Format:

Paperback

Pages:

368

RRP:

$30.00
Biased
---
---
---
From one of the world's leading experts on unconscious racial bias comes a landmark examination of one of the central controversies and culturally powerful issues of our time.
'Jennifer Eberhardt makes it clear that racism operates at all levels, and it fills me with hope to know that she is fighting it at all levels. More power to you, sister. The world needs you.' BENJAMIN ZEPHANIAH
'Poignant... striking... important and illuminating.' NEW YORK TIMES
______________________
No matter how fair-minded we think we are, we still don't treat people equally.
Why not?
Every day, unconscious biases affect our visual perception, attention, memory and behaviour in ways that are subtle and very difficult to recognise without in-depth scientific studies. In a single interaction, they might slip by unnoticed. Over thousands of interactions, they become a huge and powerful force.
Jennifer Eberhardt is a pioneering social psychologist one of the world's leading experts on unconscious bias. In this landmark book, she lays out how these biases affect every sector of society, leading to enormous disparities from the classroom to the courtroom to the boardroom.
But unconscious bias is not a sin to be condemned. It's a universal human condition, and as Eberhardt shows, one that can - and must - be overcome.
______________________
'A critically important book.' DAVID OLUSOGA, author of Black and British
'Groundbreaking... essential reading for anyone interested in how we become a more just society.' BRYAN STEVENSON, author of Just Mercy
'This book should be required reading for everyone.' ROBIN DIANGELO, author of White Fragility
'Jennifer Eberhardt's ground-breaking work has the power to shift the debate and help shape a fairer society.' DAVID LAMMY MP
'Jennifer Eberhardt gives us the opportunity to talk about race in new ways, ultimately transforming our thinking about ourselves and the world we want to create.' MICHELLE ALEXANDER, author of The New Jim Crow
'An illuminating and readable account of how racial stereotypes and assumptions can cause social devastation and keep huge inequalities in place.' DR PRIYAMVADA GOPAL, University of Cambridge
'Read this book. Biased will enlighten your journey through race relations and associations.' DAWN BUTLER MP
Published:

5 March 2020

ISBN:

9781786090195

Imprint:

Windmill Books

Format:

Paperback

Pages:

368

RRP:

$30.00
This book is deep. Deep because Jennifer Eberhardt digs right down to the lowermost areas of mindsets, customs and attitudes. She does so logically, thoroughly, and comprehensively, in a way that I really believe has never been done before. It is very rarely that you can call something highly intellectual, deeply personal, and beautifully accessible at the same time. This book is rational, honest, depressing but inspiring. Jennifer Eberhardt makes it clear that racism operates at all levels, and it fills me with hope to know that she is fighting it at all levels. More power to you, sister. The world needs you.

Benjamin Zephaniah
Jennifer Eberhardt's work is essential to helping us understand racial inequalities in our country and around the world. Her groundbreaking research and deep insight makes it possible for individuals and communities to face our deeply-rooted human biases with greater compassion and courage. We avoid talking about race for fear it will divide us, but avoidance inevitably leads us to repeat past mistakes and create conditions in which old wounds fester rather than heal. Eberhardt gives us the opportunity to talk about race in new ways, ultimately transforming our thinking about ourselves and the world we want to create.

Michelle Alexander, author of The New Jim Crow
Jennifer Eberhardt is one of the great thinkers and one of the great voices of our time. Everything she writes transforms the way people see things. Every talk she gives changes people's lives. There is nobody like her. She has unique insights into contemporary society and a unique ability to evoke images, emotions, and understandings that people will never forget. I believe her book will change the conversation on race in our society – and perhaps our society itself.

Carol Dweck, author of Mindset
In the next decade there is a chance to make unprecedented progress in confronting America's history of racial inequality which has created a society where racial bias remains one of the most challenging problems our nation faces. The hope for progress is greatly increased by Jennifer Eberhardt's groundbreaking new book on implicit bias. Biased presents the science of bias with rare insight and accessibility, but it is also a work with the power and craft to make us see why overcoming racial bias is so critical. Jennifer Eberhardt is one America's preeminent social psychologists and her book will be essential reading for anyone interested in how we become a more just society.

Bryan Stevenson, author of Just Mercy
An illuminating and readable account of how racial stereotypes and assumptions can cause social devastation and keep huge inequalities in place. It seeks to show how things can change for the better if we are honest and embrace a degree of discomfort about understanding how race works in reality.

Dr Priyamvada Gopal, University of Cambridge
This is the codex: this is the great unveiling of us to ourselves; the progression and harmony of the species will turn on our ability to surmount our racial biases, and as such Jennifer Eberhardt has written a book not just about the human mind but about our hope for the triumph of the human spirit. Essential reading for concerned citizens; should be mandatory reading for everyone in positions of power, authority and influence.

Dexter Dias, author of The Ten Types of Human
When racism and social bias is analysed scientifically, it highlights and illuminates the experience that I have experienced and navigated throughout my life. By showing us the workings of the subconscious mind, Dr Eberhardt challenges the reader to reassess their instinctive judgement. This is a very important book.

Natasha Gordon
Drawing on her pioneering research, Jennifer Eberhardt's new book offers a powerful exploration of how racial bias seeps into our classrooms, college campuses, police departments, and businesses. Bias is commonplace because it is built into human psychology. To overcome it, Eberhardt argues, we must understand not just how it works; we must also overcome the inequalities on which racial bias is built.

Bruce Western, author of Punishment and Inequality in America
Ever wondered why there are so many white men in positions of power, and why it is so important to have diversity around the table? Then read this book. Biased will enlighten your journey through race relations and associations.

Dawn Butler MP, Shadow Women and Equalities Secretary
The next time someone says, 'I was taught to see everyone the same', 'I don't see colour', 'I treat others as they treat me', hand them this book. In accessible language and compelling examples, Dr Eberhardt draws on copious empirical research to challenge the idea of human objectivity and the tragic outcomes of this false belief. Rather than offering unrealistic reassurance that we can be free of bias, she offers strategies for managing bias. This book should be required reading for everyone, especially those who hold the life-outcomes of others in their hands. Thank you, Dr Eberhardt.

Robin DiAngelo, author of White Fragility: Why It's So Hard For White People To Talk About Racism
Brilliant.

Nimco Ali, social activist and co-founder of Daughters of Eve and the Women's Equality Party
Biased is an excellent blend of personal anecdote and scientific evidence that explains the phenomenon of racial bias. Dr Eberhardt takes the reader on a journey behind police precincts and correctional facilities, through the 'dust bin' of the history of science and our own thought processes to illuminates a most poignant and difficult topic. A must read for anyone concerned with egalitarian values, and a necessary read for those who are not.

Lasana Harris, UCL
This book, by the black American psychologist Jennifer Eberhardt, is about these unconscious biases, weaving together observations on the science of human categorisation and stereotyping with personal histories and anecdotes drawn mainly from the black-white divide in the US.

Evening Standard